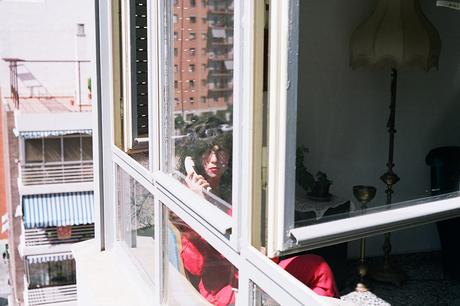 I have no idea what Maria Usbeck is singing about so beautifully on "Moai Y Yo," but maybe that's part of the point. On her debut solo album Amparo, Usbeck explores themes of language barriers, losing touch with a mother tongue and how to internally preserve one's culture. The former frontwoman of English-speaking band Selebrities, Ecuadorian-born Maria Usbeck has shifted with Amparo, as she embarks on a new musical venture singing in her native Spanish.
On the reasons prompting the language shift, Usbeck notes: "I've been in the States for 13 years, and after a while I began to think mostly in English. One day I was sitting on my couch with a friend and I realized I forgot the word for 'lamp'–which is embarrassingly close, lampara — and I basically had an existential reckoning with myself. I began obsessively reading about endangered languages, cultures, music, and finding opportunities to practice my first language."
Amparo was put together during Usbeck's three year travel through Ecuador, Buenos Aires, Santiago, Barcelona, Lisbon, Easter Island and Costa Rica, and features sprinklings of native languages throughout the album; "Moia Y Yo," for instance, incorporates Rapa Nui, Easter Island's Polynesian dialect. The track includes equally compelling instrumentation, incorporating a wide range of musical elements including marimba, harp, xylophone, piano, and quena flute. Press play to listen to the resulting serene musical mishmosh, and let Maria Usbeck take you on a trip with her.