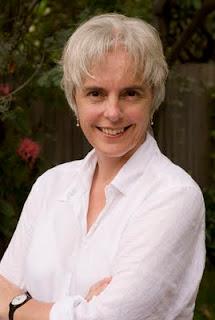 Margo Lanagan
is a four-time World Fantasy Award winner (for best collection, short story, novel and novella), and has won and been shortlisted for many other awards.
What authors/books did you read as a child? When did you first discover your love of books?
I was the third of four children, so I had two readers going ahead of me. There wasn't a time when books weren't part of my life. My mom read to us at bedtime all through our childhood.
I read, and continue to read, all over the place in a very undisciplined way. As a child I remember enjoying fairly white-bread books from the US (Elizabeth Enright's Melendy family series, Eleanor Estes' Moffatt books) and the UK (Noel Streatfeild), and perhaps slightly-less-white-bread Australian books (Patricia Wrightson, Nan Chauncy). Tove Jansson's Moomin books, the Narnia chronicles and Alan Garner's books were favourites.
When did you first realize you were a writer?
I started writing (poetry) for my own interest when I was about 14. I don't think I thought of myself as a writer, though, for another decade or so, after which I'd published a dozen or so poems and received a Literature Board grant and residency at the Nancy Keesing Studio in Paris. Even then, being a writer wasn't something I 'realised I was' as much as it was a goal that I set myself.
What do you hope your readers will take away with them from reading your books?
A strong emotional impression; an atmosphere they can't shake off for a while. Curiosity about what I might try next.
Do you find it difficult to read purely for pleasure? Does everything you read come under your 'writer' microscope?
I don't have a problem finding books that are pleasurable to read. Sometimes it's difficult to pick up a novel and read for pleasure after a day of reading grant applications or Vogel entries, but that's more burnout than writerly-microscope problems. I certainly have lower tolerance for sloppy or inexpert writing than I used to.
Do you have to avoid reading certain types of fiction while writing your own? Does what you read while writing have an effect on what you write? In what way?
Undoubtedly what I read affects what I write. Sometimes there's a kind of stain across my own writing that I can identify as the influence of my reading at the time; it can be removed during revision, though, and I don't swear off particular styles of writing if I'm enjoying them. The effect of other writers' work can just as often be positive as negative, adding a different energy to a story I'm working on. It tends to be more at the idea-generation level than an echo of their writing style, though.
Name five authors or books that have influenced or inspired your own writing in some way.
Russell Hoban's Riddley Walker and Greer Gilman's Cloud and Ashes show me how far you can push language and still retain sense and story. Anne Tyler and Ursula Dubosarsky are great at creating characters I get attached to. Tove Jansson in both her children's and her adult books is a wonderful inhabitant of the worlds she creates, and her fine, serious, pared-back style is an inspiration.
If you were traveling and were told you could only take one book with you, what book would it be and why?
I'd take the latest issue of The Lifted Brow magazine, because it's always jam-packed with so much good and interesting material, it'd last a while and would provide something for whatever mood I found myself in.
What makes a book 'too good to put down'?
Characters whose fate I care about and whose company I enjoy (and I can enjoy thoroughly nasty characters just as much as amiable ones); a strong plot; a setting that the author has clearly spent a lot of love constructing; confident, correct, flexible use of language and good control of shades of meaning.
What makes you put down a book without finishing it?
The opposites of the above, all of which can be summed up in a word: boredom.
Do you have a favorite author? Who is it and what is it about their writing that draws you to them?
I don't really have a favorite author, or even a favorite genre; within the constraints of what's 'too good to put down' I like to roam widely from literary to all the different kinds of speculative fiction, and also take in some crime, non-fiction and poetry.
If you had to list them, what would be your 'top ten' reads of all time (excluding the classics) and why?
Hm, I don't like to be too definitive about these things, as some reads are good for some times and not for others. However, here's a stab:
Anne Tyler, Noah's Compass (beautifully drawn characters in a strong, relevant story characteristically tinged with both sadness and humour)
George Saunders, Pastoralia (well, anything Saunders writes is so much his own thing – odd, funny, tragic and oblique)
Anne Enright, Taking Pictures (dark humour, lean storytelling)
William Mayne, Earthfasts (a tense and creepy story, set in a place the author knows like the back of his hand)
Kelly Link, Magic for Beginners (I'm happy to follow wherever Kelly's distinctively serious, fantastical stories take me)
Jennifer Stevenson, Trash Sex Magic (a lush, steamy world I wanted to stay in for a lot longer)
W. G. Sebald, Austerlitz (or any Sebald, really – it's just a privilege to see inside his brain)
Gail Godwin, The Good Husband (for intelligence and humanity)
Ursula Dubosarsky The Red Shoe (a decent self-respecting Australian story, peopled as all Ursula's novels are by worried children and worrying grown-ups)
William Least Heat-Moon, Blue Highways (a lovely rich journey around the backroads of the US)
What was your 2010 'best read'? What was it that made it number one?
John Crowley's Little, Big. The worldbuilding was so complex, yet he made it seem so effortless; there was a wonderful array of characters; the mood of it was so dreamy and magical, but kept cutting back to real-world details that anchored the story in modern times. I just thoroughly enjoyed inhabiting that book.
What do you think of the non-traditional publishing methods – eBooks etc? Do you think the new technology will encourage more people to read? Do you think there's a future for print books?
I welcome eBooks and look forward to the difference they'll make to my cabin baggage and my daypack. I don't think new technologies can help but attract new segments of the population to reading who found print books too cumbersome. But I don't think we're going to get rid of print books any time soon, and I think they'll happily co-exist for a long while yet. Children's picture books, for example, don't translate easily into electronic forms, and I'm pretty sure children brought up on print picture books will always have an attachment to print formats.
Margo has published four collections of short stories, White Time, Black Juice, Red Spikes and Yellowcake, and a novel, Tender Morsels. She grew up in the Hunter Valley and Melbourne, and now lives in Sydney and works as a technical writer. She is currently working on a novel about selkies based on her award-winning novella, Sea-Hearts.
Margo blogs at
http://amongamidwhile.blogspot.com/