New to little Indiana? Subscribe for free to my RSS feed. Thanks for stopping by!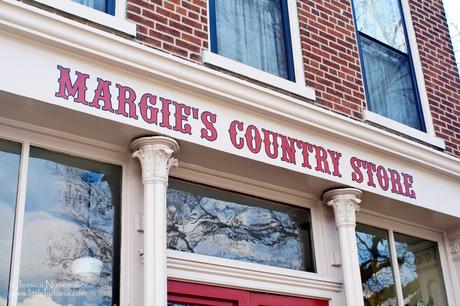 Margie's Country Store in Madison, Indiana
Downtown Madison, Indiana holds a fabric and notions store and more: Margie's Country Store.
You'd never guess that this warm and lovely space was once a butcher shop back when it was built in 1850!
Margie's Country Store in Madison, Indiana
Today, this fun shop houses all the things you need to make your own quilts, blankets, clothing, and then some.
The first floor is a rainbow of color! Fabric and thread line the warm wooden shelves. Finished products nestle here and there among the bolts of brightly patterned cottons.
It's inspiring for those of us non-sewers in the crowd. Just wait until you see what's in the basement!
Indiana Country Store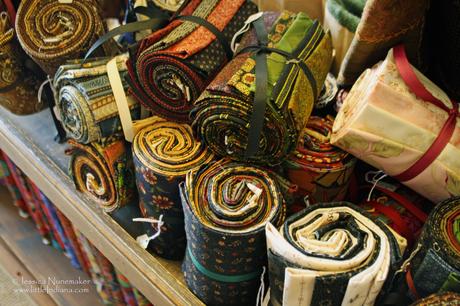 Margie's Country Store in Madison, Indiana
There's more than sewing items in this Jefferson County shop! Venture down the stairs into the basement and prepare to be awed by the gorgeous country decor.
Seriously, this is amazing. Candles, garden decor, dishware, table settings, and plenty of awesome gift items…there's so much here! It's a very nicely-sized series of rooms that just get better the further you go!
The brick is so pretty. Really, this is just a super nice space and a great complement to the items held inside.
I found some seasonal items at a steal. Even hubs was impressed!
Go There
This is what it's all about: fun places to shop and chatty, friendly folks to meet and greet.
With so many unique shops in downtown Madison, Indiana you have got to add it to your little Indiana travel list!
Find pictures in Indiana on my Flickr photostream or on the new little Indiana Tumblr blog.
Just don't forget to tell 'em that  little Indiana sent you!
Margie's Country Store
721 W Main Street
Madison, Indiana 47250
812.265.4429

View Larger Map
Don't miss a moment. Subscribe to little Indiana and receive instant updates to stay on top of everything "little."
little Indiana: Where to Stay, Play, and Eat in Small Towns in Indiana. Discovering Indiana's best small towns! Now get little Indiana on your Kindle.
Targeted. Relevant. Affordable! little Indiana advertising.