For the most part, in the mid-1980′s, Contemporary Christian Music was dominated by protestant southerners with the occasional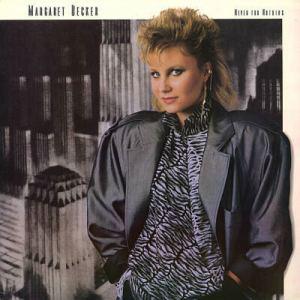 Californian tossed in. Enter Margaret Becker: an Irish-German Catholic-raised native of Long Island, NY whose hard-rockin' powerhouse vocals could easily compete with the likes of fellow Long Islander Pat Benatar.
With Becker's 1987 Sparrow debut, Never For Nothing, she bursts onto the Christian music scene with her own hard-rockin' sound. She was and always will be the true female rocker of her genre. Becker doesn't waste her time in showing us what she's got on such tracks as Fight For Godand Love Was Waiting. Becker proves one thing is certain: she can rock hard!
One of the coolest things about this album is that it sounds like arena rock in the vein of some of her nonChristian counterparts, such as Poison and Lita Ford on Giants Will Fall. I can imagine that, on the tour that supported this album, this was the absolute showstopper.
However, this album is not void of any weaknesses. Sacred Fire, at best, sounds a bit repetitive. The same rings true also for What You Feel, which talks about how a person feels. Margaret Becker is a talented songwriter and that song is a waste of her talent both vocally and lyrically.
Overall Never For Nothing is a classic of its own genre.
A-