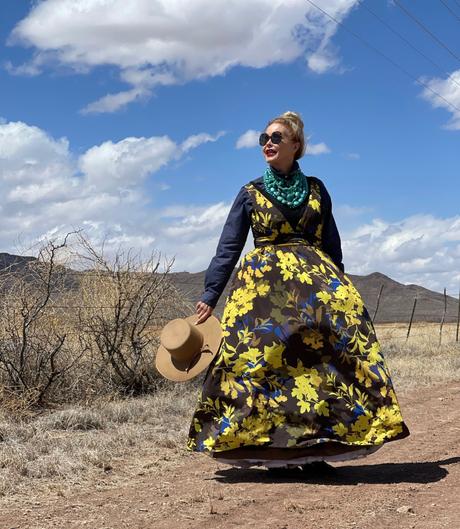 We set out on a road trip adventure to Austin Texas to celebrate our granddaughter turning two.
But we were determined to take a Road Less Traveledso we decided to drive through 
Marfa Texas
located in West Texas near Big Bend.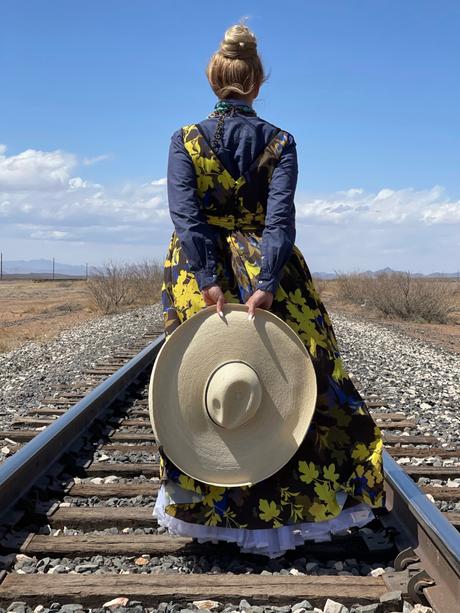 Turning off the main highway coming from CaliforniaMarfa is two hours outfrom what feels like anything.Just huge, vast skies and plains.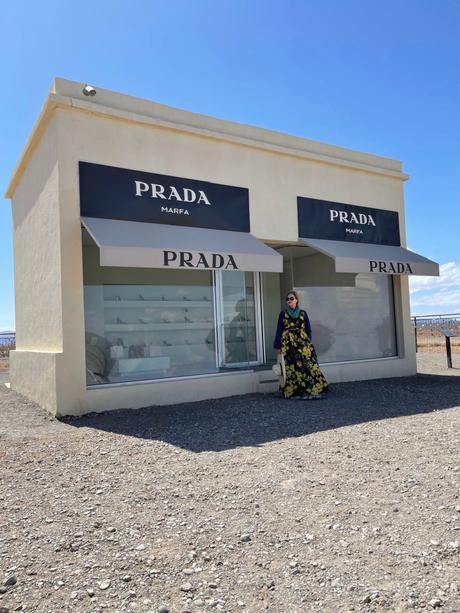 We came up with the idea of spending the night in Marfaout of curiosity and wanting to go somewhere completely new to us.
Marfa came up while researching our drive to Austin.I have to admit turning off Interstate 10it started to feel like a questionable ideaespecially since all we really knew about the townout in the middle of nowherewas the Art Installation we had been seeing for years of the 
Marfa Prada
It's a permanent sculptural art installation built in 2005 by
 Elmgreen and Dragset
The artists describe their work as a 
"Pop Architectural Land Art Project"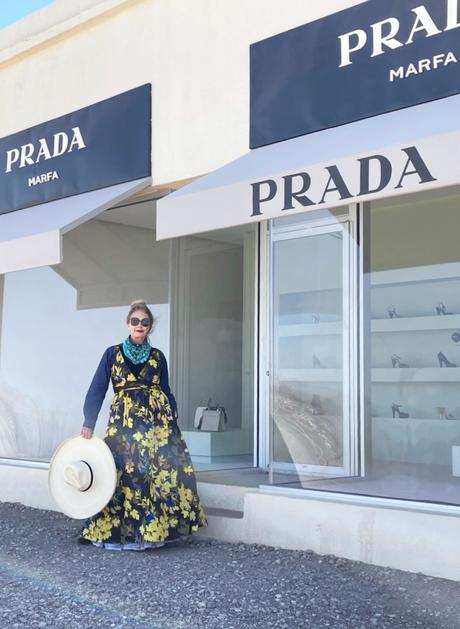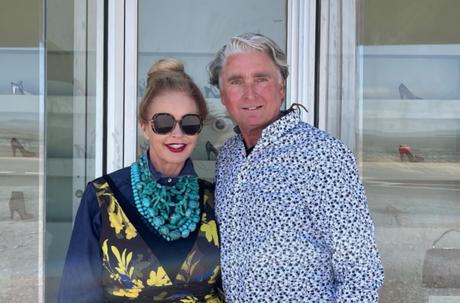 Everyone who stopped at 
Marfa Prada
 was exceedingly friendlyfrom all over not only the countrybut internationally as well.Where did all of these people come from?We had barely seen anyone on the road out.But there was almost a feeling of kinship among everyonean  aknowledgement  that we had all decided to make the trek out to this remoteArt Installation!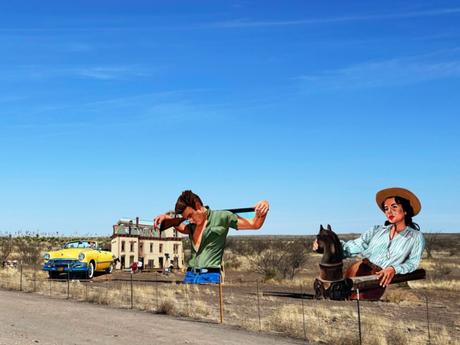 Marfa is also the famous location for the 1956 western movie
 Giant
starring Rock Hudson, Elizabeth Taylor and James Dean,It was Dean's final movie before his tragic death in a car accident.
This photo is of a new art installation at the site of filming.A plywood tribute to the movie by artistJohn Cerney in 2018.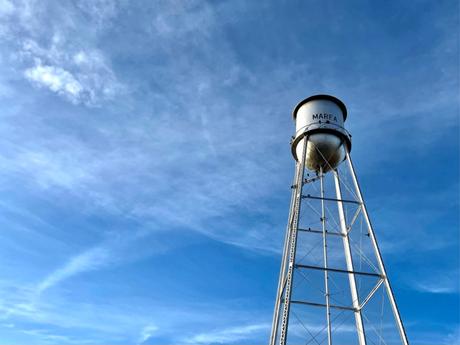 I remember driving into Marfa the first daywondering if this small townso far off the beaten pathreally had something to reveal to me.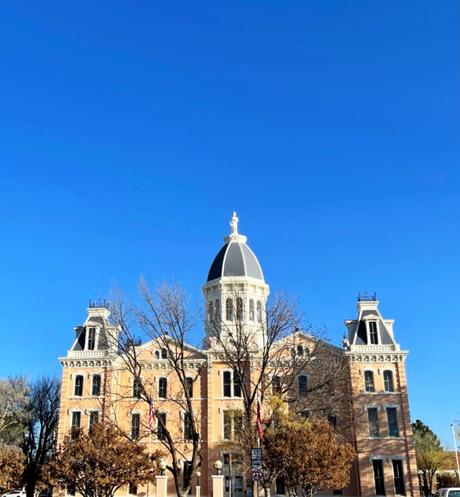 Why the big fuss about a small townthat looked 'nice' from first glance.I wondered if things would look different to mebefore I left.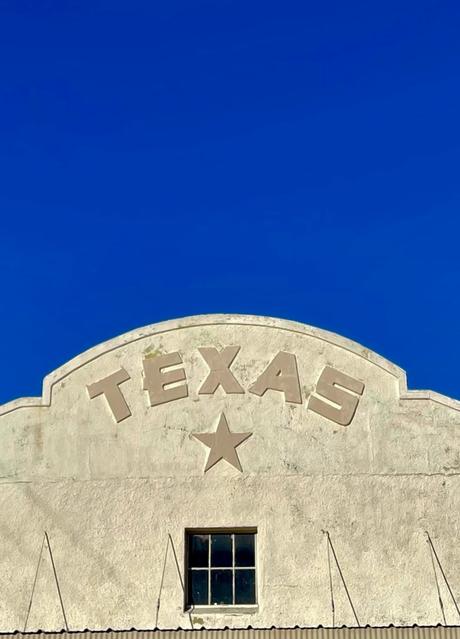 It was time to find our hotel and check in.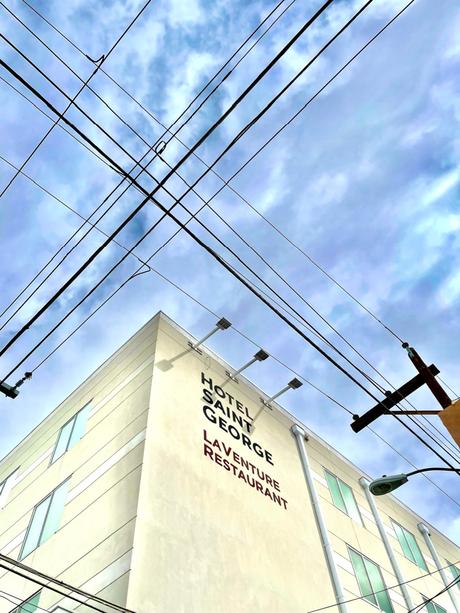 We had spent much time researching our hotel pick.
I am an anxious traveler by natureand am overly affected by my hotel room.
I cry with bad ones.It's not pretty.I'm not proud.But it is what it is.I am who I am.I think it as much about expectationsas the room itself.
After much deliberation we chose
Hotel Saint George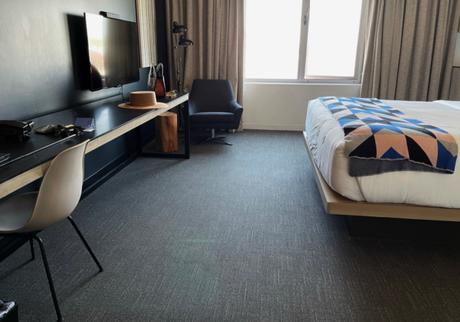 It did not disappoint.We had a large spacious room, with good lightand a window that opened.Another must requirement for a hotel roomfor me.
Fresh air is a definite must for me.Even before the pandemic.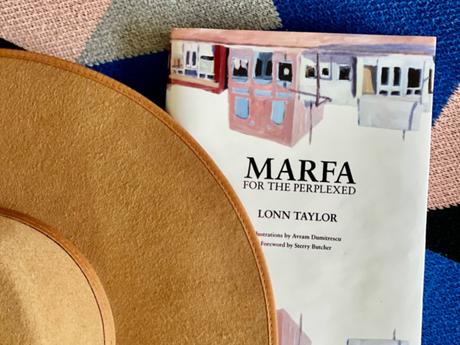 The American artist
Donald Judd
is credited with bringing the 
Art World
to Marfahelping to turn 
Marfa into the 
Art Mecca 
it is today.
Judd moved from New York City to Marfa Texasin 1972.
This decision took Marfa from a struggling townwhich had fallen into a depressed stateafter losing  military bases after the war.
Judd bought up buildings for art installationsand the Art Community followed.
Today almost forty years laterMarfais still a working cattle town and a thrivingArt Mecca.
Just one of the many juxtapositions here.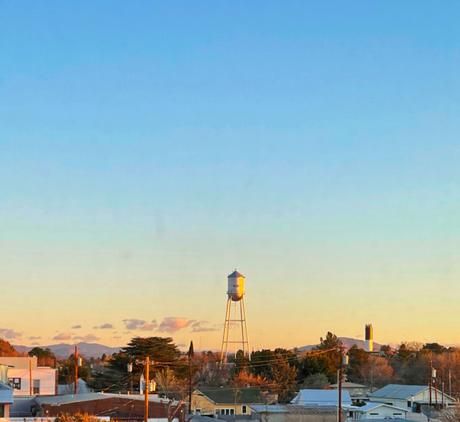 Our view from our hotel room at the Saint George was sublime.We had a lovely view of their iconic water towerand the freight trains that  ramble by into the vastness of the plains.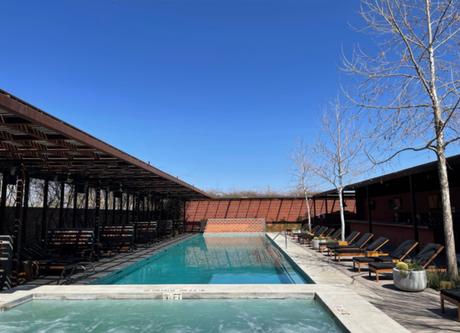 My favorite part of the hotel was the gorgeous pool.We ended up loving 
Marfa 
and 
Hotel Saint George
so much we stayed several days more on our return trip to California.
There is something in Marfa that completelycaptured my soul.And a great hotel only amplified the experience!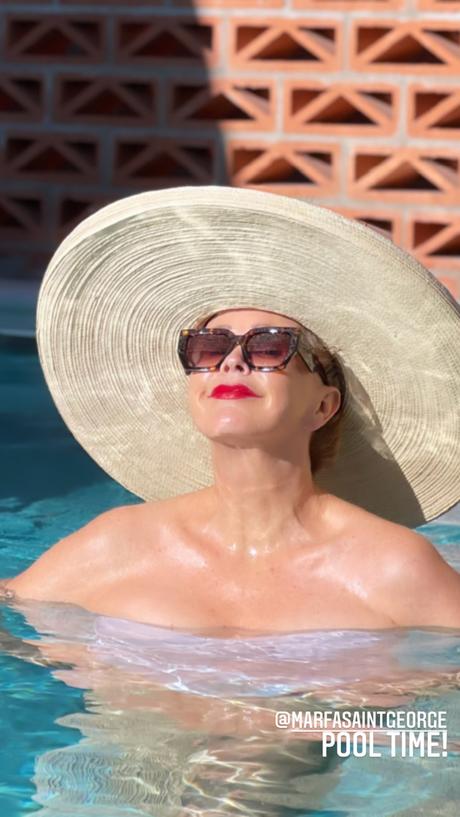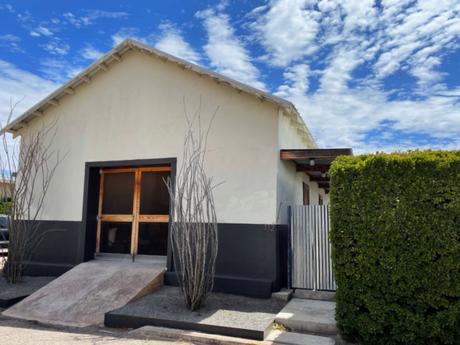 So many spots of innovative design and landscaping.in Marfa.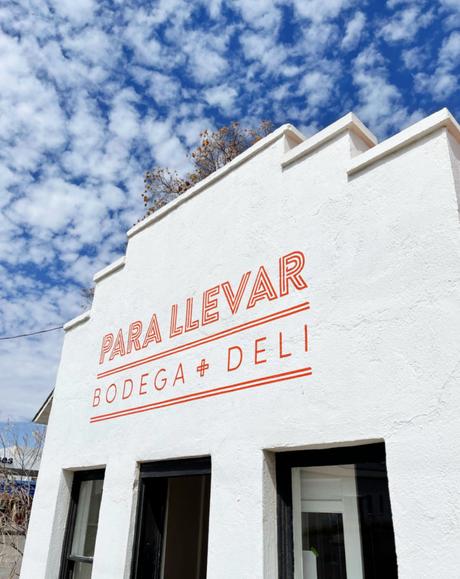 We were very impressed with the food choices.Even though there were limited spotsthe quality of what was opendefinitely had an artisanal flairalmost everywhere.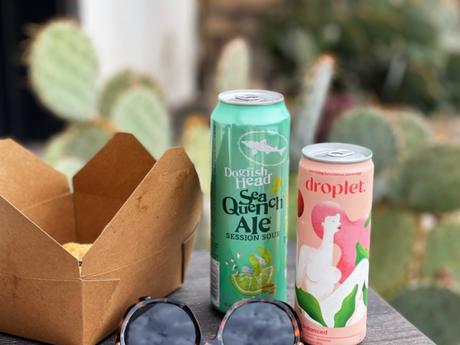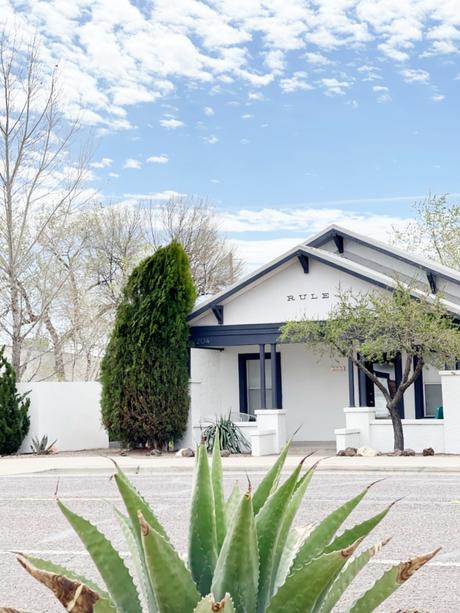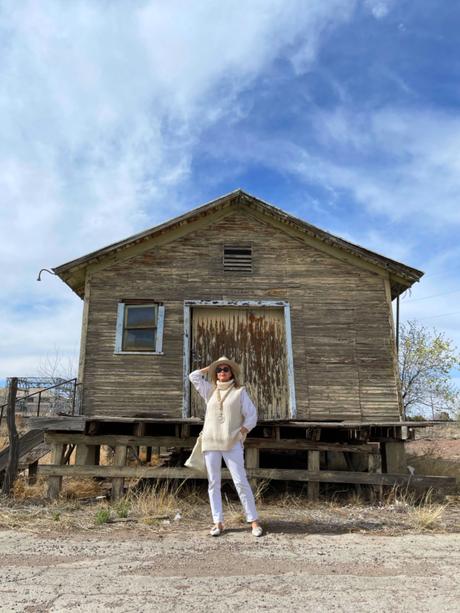 Jeff and I have always had been  intrigued with old buildings.Marfa is full of them.So many left behind in complete disrepair.Each one with a story to tell.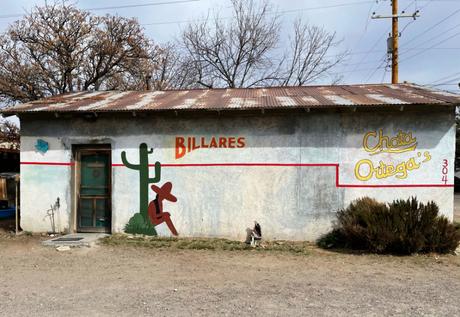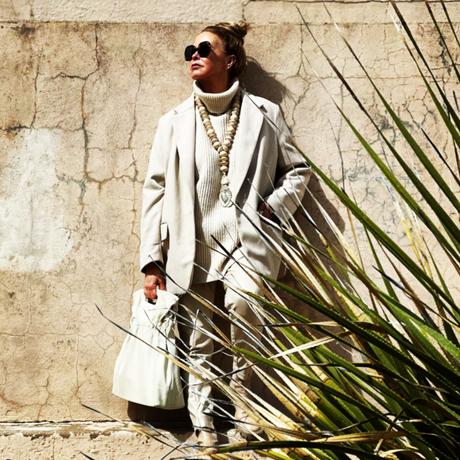 Marfa has a remarkable array of photoshoot possibilities!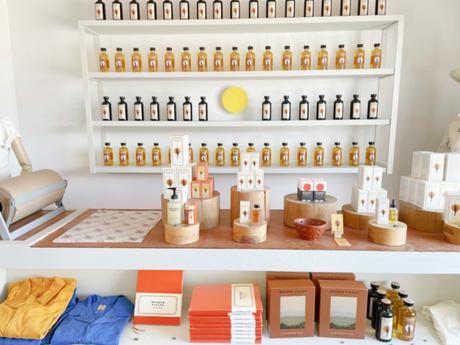 I was most surprised with the level of shoppingwithin the town.
Best curated selections I have seen in a long time.Many from local arts in the area.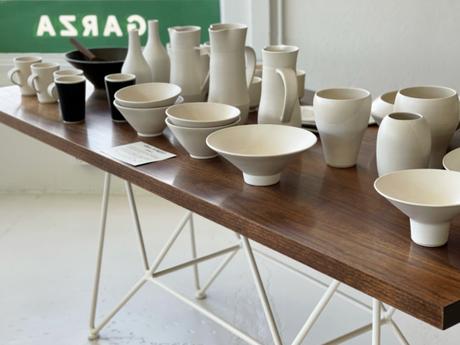 Especially 
Garza
which has stunning pieces for the home.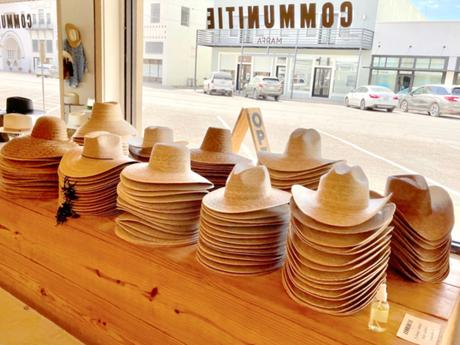 Communitie
 another beautifully curated storewith a big hat collectionby long time NYC designer John Patrick
He designs accessories to'last a lifetime and resonate with a global audience'
Here you can find  an impressive array of modern strawsmade from palm straw crafted by hand in Mexico.
Three of these beauties came home with me!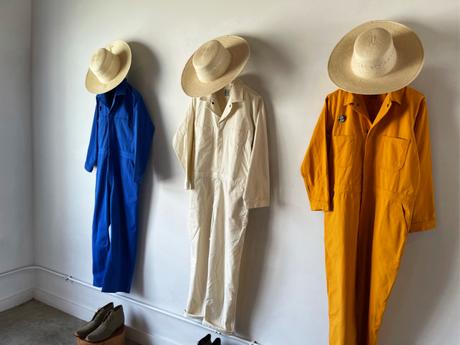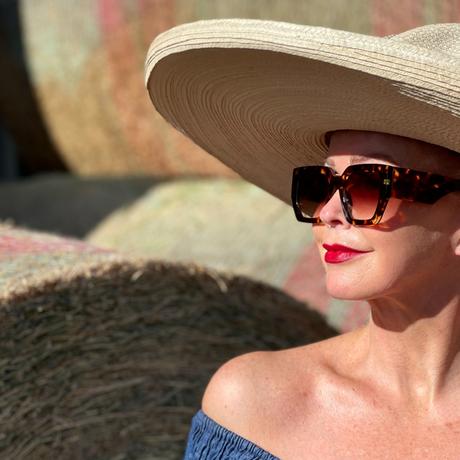 One of my favorite hat photo backdrop in Marfa ...gigantic hay bales!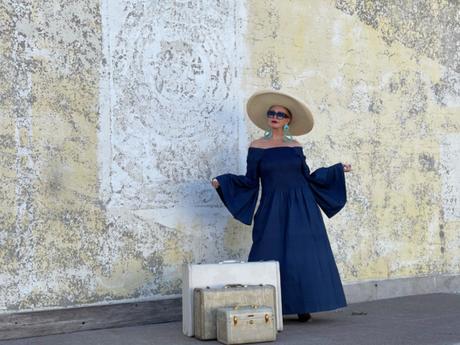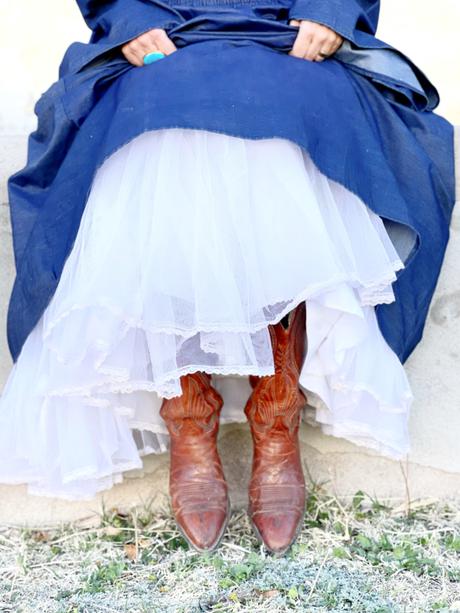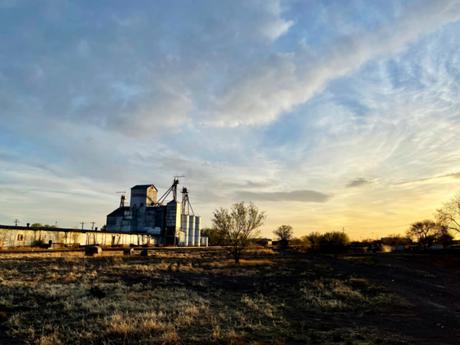 Marfa lightingfeels magical.another siren song for artistic souls.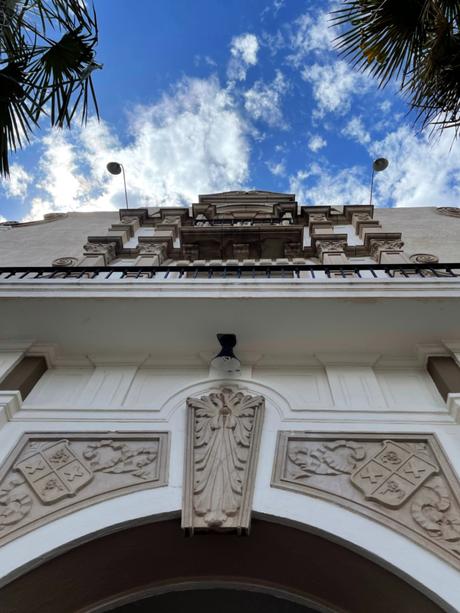 Varied beautiful architecture.
The Paisano Hotel
Built in 1930Warner Brothers made the hotel their headquartersfor the 1955 filming of the now iconic movie Giant.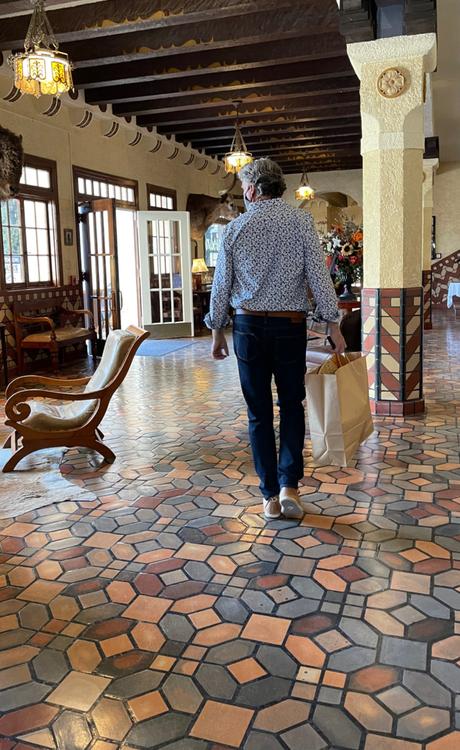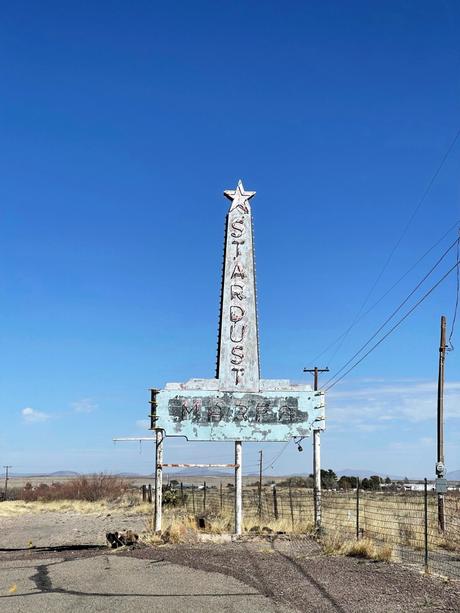 So many relics of the past still sing their haunting melody.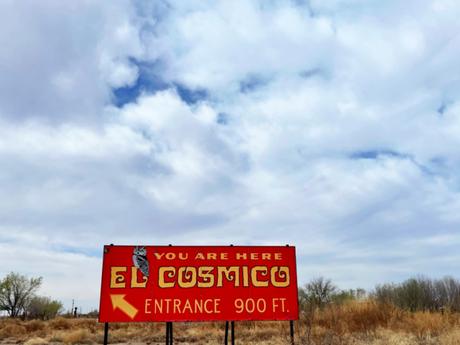 If your looking for a bit more adventurethan a hotel room can providewelcome to 
El Cosmico
'A bohemian Nomad hotel'
Owned by the famed Bunkhouse GroupEl Cosmicooffers the most unique of accommodations!
From sleeping in
 a tent
teepee
vintage trailer
or even 
a Yurt!
It's all here!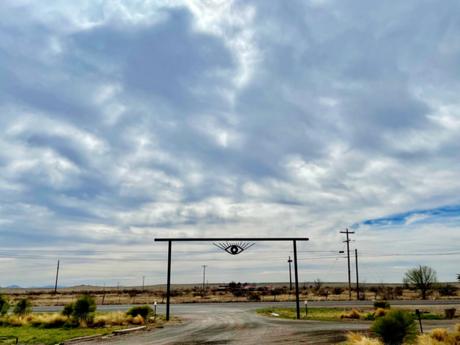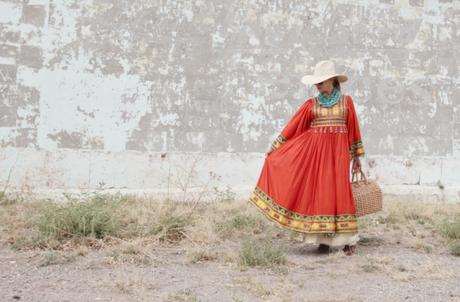 And of course  you will find more amazing photo backdrops.I brought this vintage silk dress with mejust for a photo shoot with my turquoise necklaces.
Jeff and I had the best couple timecreating artistic imageson our trip.But Marfa was hands down the bestcreative fun we have had shooting!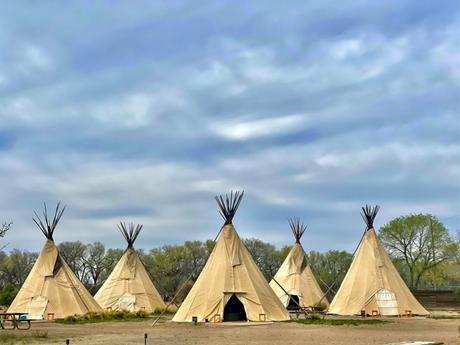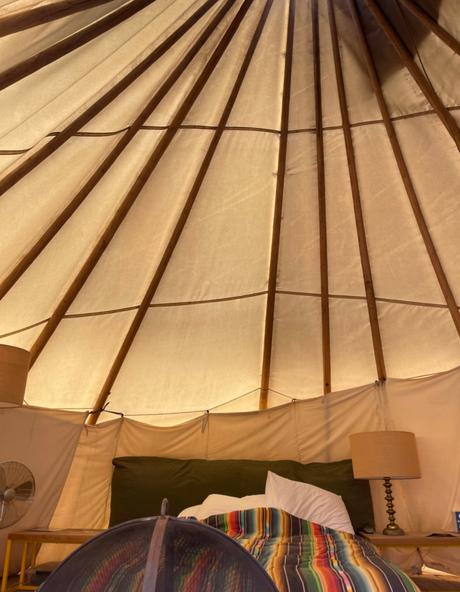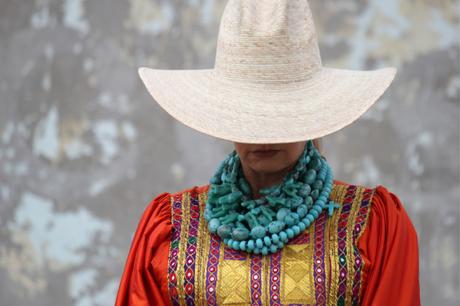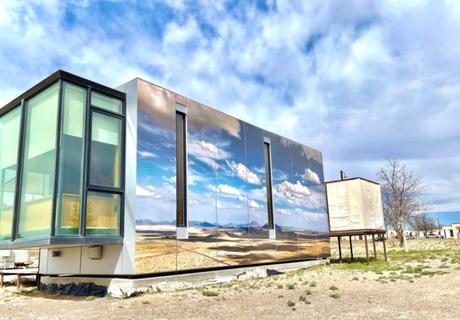 El Cosmico 
Their modular unit comes complete with an outdoor shower and patio.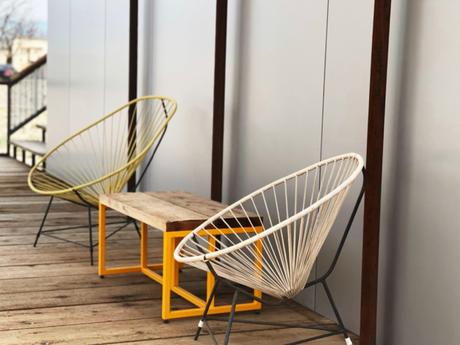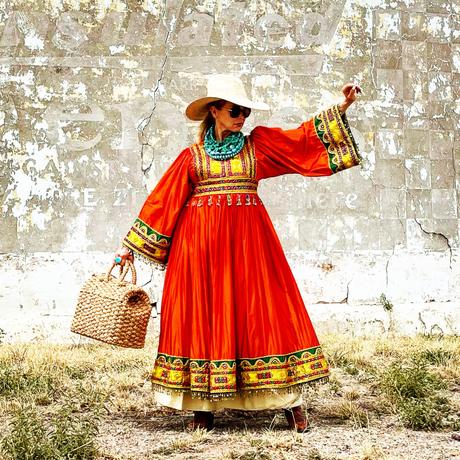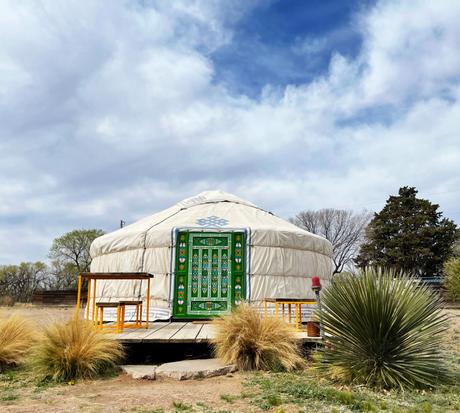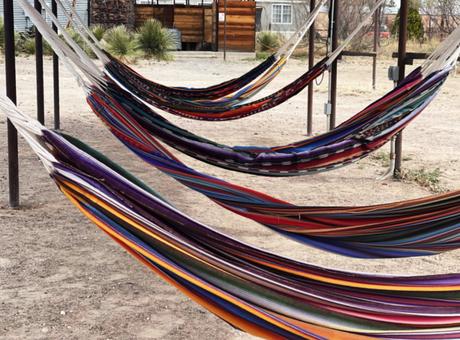 El Cosmico calls this their 'hammock grove'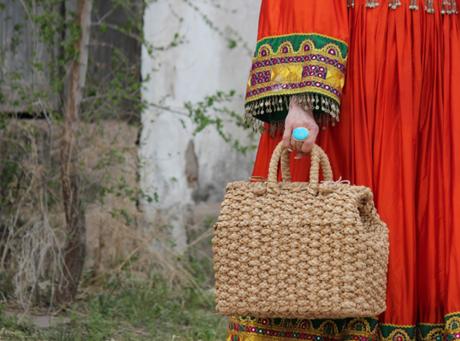 How wonderful does my favorite turquoise ring from
Luxuria Jewellery
look styled here.
Talk about a statement piece.It hails from Londonbut looks like it was made for Texas!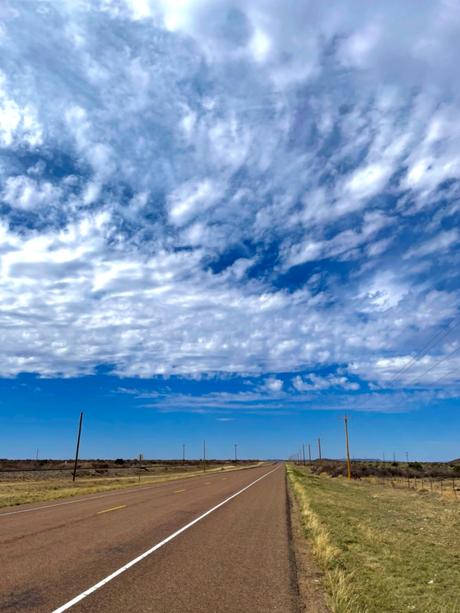 Marfa for me is the epitome of a road tripwhere the sky and plains seem to stretch out indefinitely!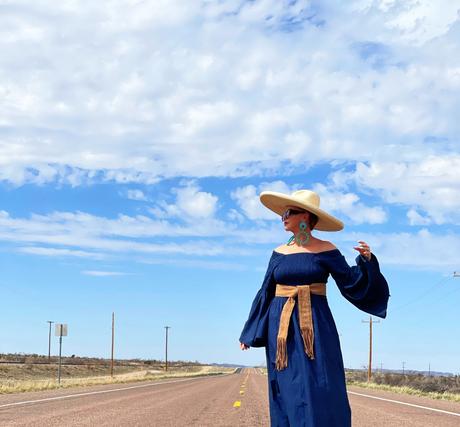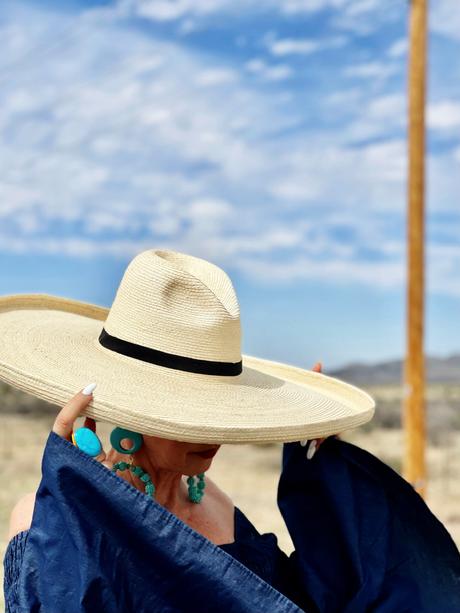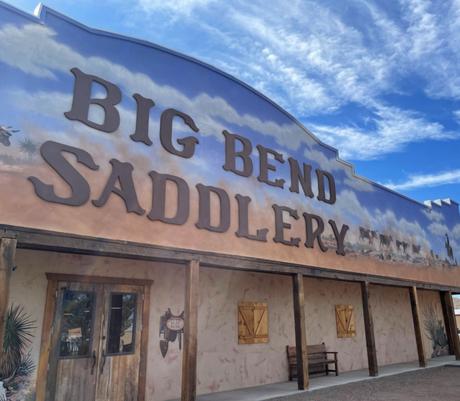 Did you know I get some of my favorite hats at Saddlery shops.Huge selectionsGreat prices for the quality!
We drove 30 minutes to the town of Alpine to visit 
Big Bend Saddlery
What a gorgeous, authentic store!Literally everything for the cowboy life!
We met Gary the ownerwho has been at the store over 30 yearsmaking the most exquisite saddlesthat ship all around the world!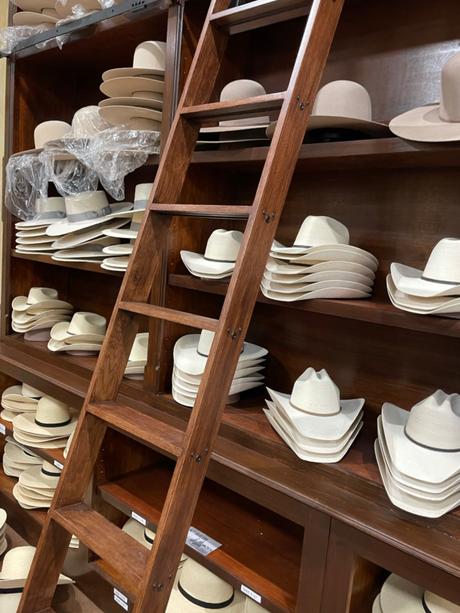 Sights like this always get my hat loving hearta fluttering!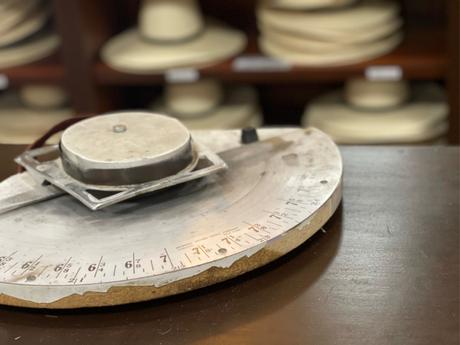 Here you can get a hat custom sized to fit!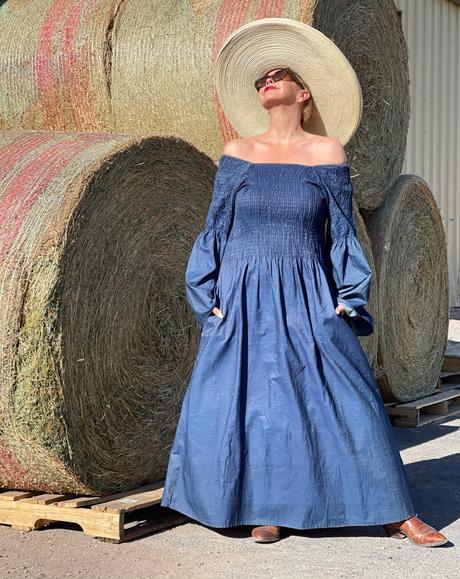 Yes, this beauty came from a saddlery shop in Los Olivos California!It's one of my very favorites to this day!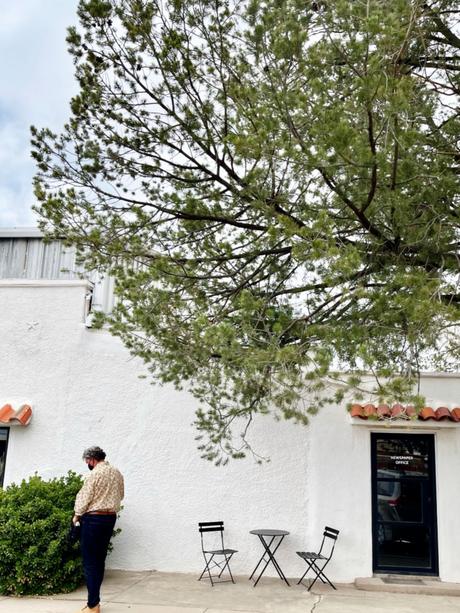 The Sentinel
 in Marfais one of my favoritesit offers coffee, cocktails, breakfast and lunch ....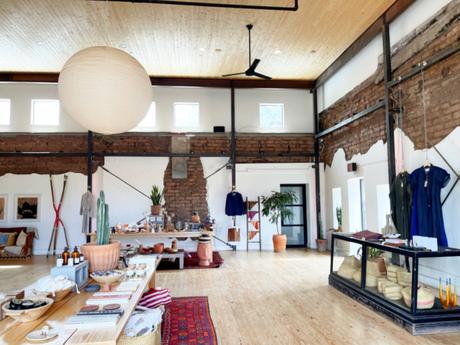 And some more beautifully curated shopping!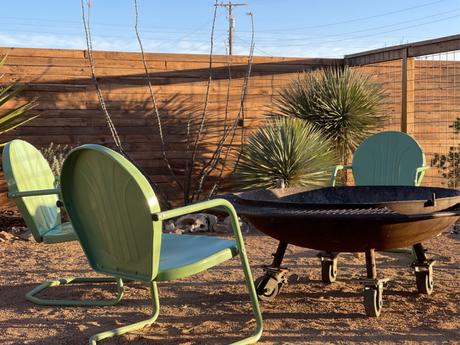 The Sentinel
 also has an expansive outdoor areawith not one but two fire areas.We met the most interesting peoplejust sitting around the fire.People who had traveled far to be thereotherswho grew up in town.
There is a slowness in Marfathat is unusual to me.But I found myself so drawn to it.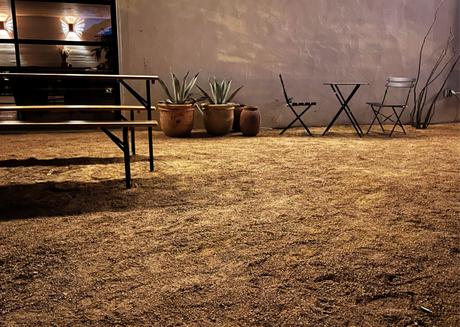 I don't know exactly what it was.
But maybe because the town was smalland choices were more limited(think three places to choose from for dinner while we were there)that simple experiences became more meaningful.
I'm not sure.But it has reawakened this artist's soul.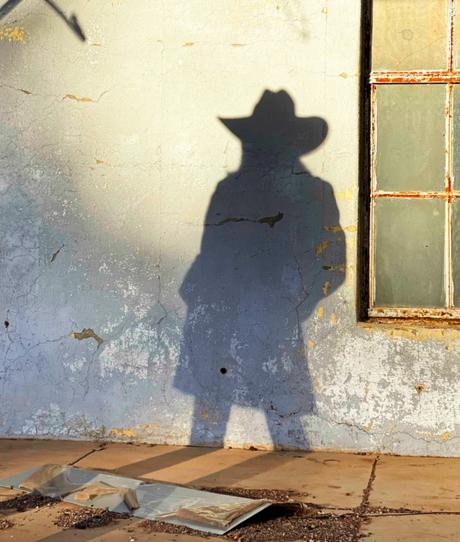 I felt a contentment therethat was unusual for me.
Maybe it was the slow paceset in a majestic openness.
Maybe that it's an artist communitythat attracts like souls.
Maybe it's being in the midst of a real cattle townthat feels exotic to someonewith a lifetime in suburbia.
Maybe that at night you can see such an abundance of bright starsthat your heart achesthinking that you have missed this realityyour entire life.
Maybe it's the reminder that there is a whole vast world out thereto be explored.
The old and new to be experienced.
Maybe I'm really asking myselfhow I want to spend my remaining years.
Now that both of my parents are goneand the kids have all moved onit's literally the first time since choosing a college I feel I can pick up and move.
I felt a need to stay nearby my parents after my sister died.
I also knew when I had kids I owed it to them to have extended family close.
Now the whole world is opened up.
I had a flash when I was in Marfa the first time.What if I didn't want to spend the rest of my life in suburbiawith rules about what I could and couldn't do to my house.What if I wanted to make a huge leap.
I really have no idea.My house now is one of my great loves at this point in my life.
But it all felt so excitingto even think about.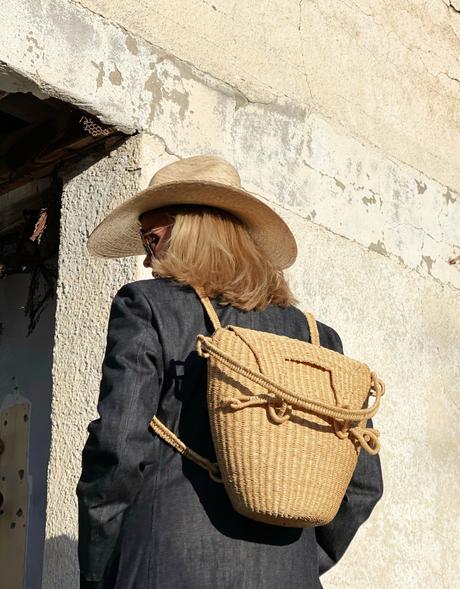 I found my new favorite backpack in Marfaat the Sentinel as well.
Believe it or not I don't usually spend a lot of time shopping when we travel.But we stayed several days on our return homeand we kept stumbling onto the most amazing pieceslike they were doing a slow revealand suddenly called out.
Which is exactly what Marfa did for us.The more time we spent therethe more we quietly discoveredand fell in love with the town.
It is an enchanting town.Full of juxtapositions.
The old and new.
The high and low.
Vast opennesswith a feeling of cozy envelopment.
It's magical really.
And I still struggle for wordsto fully express just what the magic is.
But can you ever really describetrue magic?
Maybe you just really need to experience it.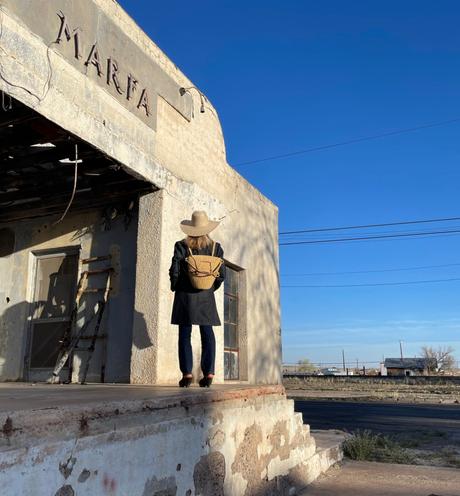 Until next time my dearest Marfa.I miss you so already.I can't wait to return!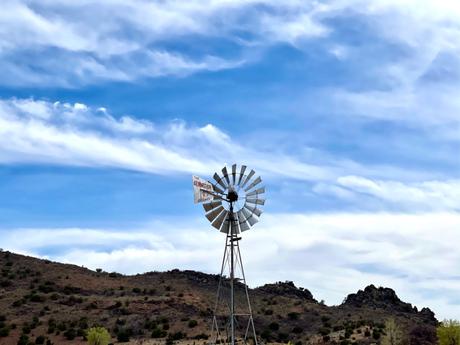 As always my friends
I wish you love and joy
as you style your life