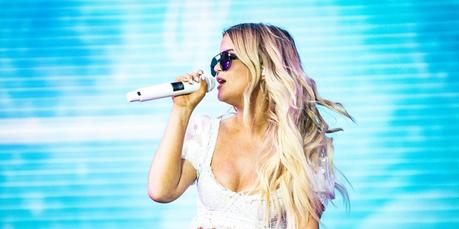 Maren Morris came out onto the Boots and Hearts stage for the first time in her career and played it like it was made for her. The GIRL star fulfilled every hope and expectation we had going into her 19 song set. And whether it was someone's first time seeing her, or their tenth, we're sure we all can't wait to see her again.
There's this undeniable/ je ne sais quoi/ cool/ sexy/ talented/ sensitive/ sweet/ bad-ass thing that Maren Morris has got going on. Sometimes one or more of those sides come a little more forward, but they are all always there and just the next song away from reminding you that the Texas native is able to make you cry, or get you ready to stand up and fight for what you believe in.
From the opening moments of GIRL, with Maren Morris standing at the back of the stage on a set of stairs, looking out over her crowd, this was her time to shine. All eyes were on her, or the screen showing her, as the songs continued and Morris started to move around the stage and continued the opening segment of her set with The Feels and 80s Mercedes.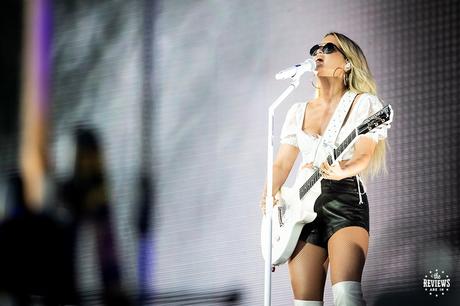 That opening trio of songs set the tone. The energy and excitement were palpable. And the 16 songs that came next continued those feelings without missing a beat or losing anything.
There were some great moments in the show that we didn't necessarily expect. Ryan Hurd came out to sing All My Favourite People. It was cool and sweet to see the husband/wife duet go down live in front of thousands. Morris also told the story of a male executive telling her that I Could Use A Love Song was a bad choice for a radio single because nobody wants to hear girls sing sad songs. She picked it anyway, and 42 weeks later, it became her first number-one single, and that guy doesn't have that job anymore.
But the biggest moment was one that we knew we were waiting for, but still weren't really ready for. When Maren Morris and her band start played My Church and she asked the crowd if they would be her country gospel choir, the place exploded. And they sang loud, and with that unexplainably amazing harmony that comes with putting all of those separate voices together. It was special. We hope it was special for her too.
Here are the simple takeaways from Maren Morris's Boots and Hearts 2019 set.
♦ She can sing the hell out of a song.
♦ She owns the stage and everyone in the crowd while she's on it.
♦ Whether it's a slow song that breaks your heart or a sassy song like Rich, she nails it completely.
♦ She should be a headliner.
♦ We would have listened to a 30 song set if she'd had time to play it.
In all honesty, the entire show was highlights.
During every single song in the set, you could take a glance around you and see people singing along. When the tempo was up, you could see people dancing and having a party. The fans cheered loudly when Maren Morris came onto the stage, and they cheered even louder in appreciation when she finished The Middle and was done.
Before the end of her set, Maren Morris told the Friday night crowd at Boots and Hearts that she hopes she's back soon. When that happens, she'll be headlining, and we can't wait to see it.
This slideshow requires JavaScript.
Maren Morris Setlist, Boots and Hearts 2019
💎 GIRL
💎 The Feels
💎 80s Mercedes
💎 Song For Everything
💎 All My Favourite People with Ryan Hurd
💎 I Could Use A Love Song
💎 I Wish I Was
💎 Gold Love
💎 Great Ones
💎 Flavor
💎 Make Out With Me
💎 Once
💎 Second Wind / Halo
💎 Rich
💎 RSVP
💎 The Bones
💎 My Church
💎 Shade
💎 The Middle