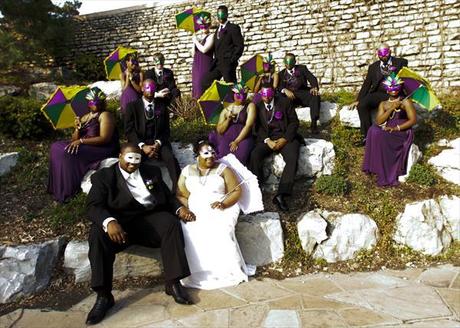 Mardi Gras (Fat Tuesday) is next week and while Mardi Gras itself has more of a "party hearty" vibe than a romantic wedding vibe, there's no place more romantic than the city of New Orleans. To help get you in the mood, we offer some great wedding music inspired by New Orleans and Mardi Gras.
It Had to Be You – Harry Connick Jr (anything Harry Connick Jr has a New Orleans feel)
Crescent City – Lucinda Williams
Go to the Mardi Gras – Professor Longhair
I'm Walkin' to New Orleans – Fats Domino
Iko Iko – Dixie Cups
King Creole – Elvis Presley
Need more Mardi Gras party ideas or songs? Check out our Mardi Gras tag on our sister blog, Life of the Party.
Mardi Gras Wedding Party image courtesy of  The Knot.