A packed cobble-stone street covered in colorful confetti, shaking with thousands of festively dressed people all dancing and singing as beads, kisses and much more, are exchanged between strangers. This is Rio de Janeiro during Carnival season. And this setting is most likely a "blocos," an open-air dance party where crowds sing along to a medley of Carnival songs.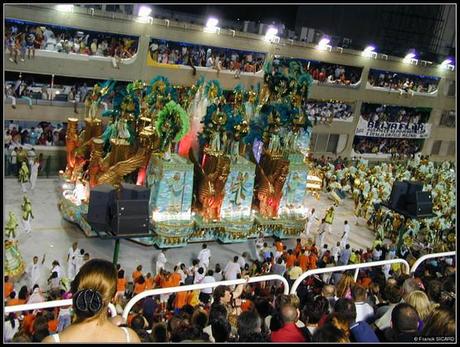 Source: google.com via Shea on Pinterest
Rio de Janeiro, also known as the "marvelous city," is the party capital of Brazil, not only during Carnival, but year-round. Of course, the Mardi Gras holiday draws more crowds to the city than usual, with as many as two million people on thre streets of Rio for the five-day festival.
The main Carnival parades usually take place on the Sunday and Monday evenings before Fat Tuesday, with the Sambadome as the main arena for the events. However, many of the participants can be found in other locations, mostly at the 40 some odd "blocos" and street parties that are common during the festival and are frequented by most of the locals. Anyone can participate in the street parties, where music and dancing are just as lively, if not more so, than the elegant and extravagent balls that take place in the Copacabana Palace. Anyone who finds themselves at these gatherings better expect to be dancing the Samba, the heartbeat of Carnival. While Samba is the main dance, others include the lundu and maxixe. But even if you don't know all the steps, it really doesn't matter. As long as your dancing, twisting and shaking your body to the rythm, you'll fit right in.
One of the most exciting parts of the celebration in Rio is the samba dance competition between the major schools in the area. Each school picks a theme to portray in their floats, costumes and routines. Each entry can include as many as eight floats and thousands of participants. The competition moves into its second and final day on Monday, and is the culmination of the parade event. The winner will be announced at the end of the week.
To keep your energy up for all the dancing, make sure you pick up some traditional Brazilian food. Feijoada is seen as the national dish of the country, and can be found all over the city. It is a pork and bean stew, origianlly prepared by African slaves when they first arrived. Now, it is a delicacy, and should not be missed. Since you will be spending most of your time on the street, why not sample some great street food, like Acaraje, fried dumplings of shrimp, onions and black-eyed peas, or Coxinha, chicken croquettes that resemble drumsticks. Finish all that off with some dessert--like Quindim, made of egg yolks, ground coconut and sugar, or Brigadeiros, chocolate bonbons--and you'll be good to go!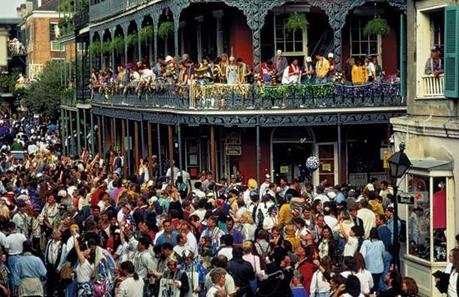 Source: google.com via Marci on Pinterest
Since making it down to Brazil is not exactly the easiest trip to make for many of us in the U.S., why not venture somewhere a little closer, but just as wild and exciting during Mardi Gras. You all know where I'm thinking: NEW ORLEANS!!  The Crescent City is invaded every year by thousands of tourists for Mardi Gras. There are over 50 parades that take place in the city during the Carnival season, and the 12 days leading up to Fat Tuesday offer some of the best options.
Many of these take place on less hectic routes outside of downtown, so for those looking to ease into the insanity, these might be good starting points. Although, you really shouldn't miss one of the "super-krewe," the large-scale parades like the Endymion or Bacchus. And here's a little bit of Mardi Gras history for you. A Krewe is an organization that puts on a parade or ball for the Carnival season, and the term was believed to be coined as early as the 19th century. Usually, a Krewe parade features a hierarchy, with a king and queen chosen from among the group's members, and each one features floats and aspects that are unique to each one. The Endymion has its own motto, "throw til it hurts!" And it has its own beads, cups and extremely popular doubloons. The parade I would try to catch is the Bacchus Krewe, as it is named after the Greek God of wine. The group was also the first to allow tourists to participate in the parade. Attendees of this parade will get grape cluster beads that blink, Bacchus medallion necklaces, theme medallion necklaces, themed cups and plush animals.
While wandering the streets, maneuvering through the crowds of people and trying to manage all the beads you've collected, why not stop off somewhere to grab some of NOLA's fantastic bites. Po' boys are a classic and delicious option, made with toasted French bread, butter, lettuce, pickles, tomatoes and freshly fried oysters. If you want another traditional sandwich, try a muffuletta, made with layers of italian meats, cheeses and olive salad on a flat loaf of muffuletta bread. New Orleans is also known for its sweet treat, the beignet, French-style, powdered donuts.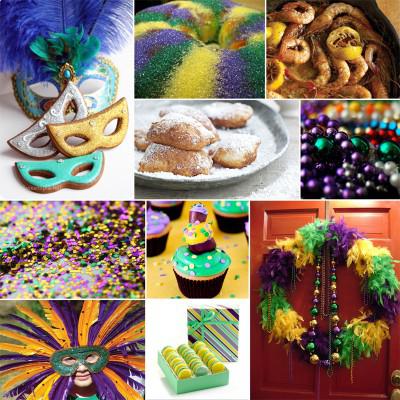 Source: cakeeventsblog.com via Laura on Pinterest
New Orleans is known as a part city, especially during this time of year, and many people may not want to get pulled into the craziness, but still want some of that atmosphere. Pretty much every major city around the country features Mardi Gras celebrations on a smaller scale than NOLA. Here in Chicago, I could hit up Heaven on Seven for some great Cajun-style food. The restaurant will feature jazz bands and other entertainment for the night, and perhaps I'll even get some beads.
 Bottom line, no matter where you go to celebrate, make sure to indulge just a little, because after Fat Tuesday, it's time for 40 days of Lent...and we all know what that means. Goodbye chocolate, I'll miss you.