What an exciting time.  Don Giovanni is opening next week at the Conservatory and I should be hearing back about my audition with the Lyric Opera of Kansas City soon - it seems like I am constantly looking forward to something. Even if there is bad news, there seems to always be something to get excited about.
The Conservatory opera, Don Giovanni, will open next Thursday and I am very excited for it.  Our preparation has been stellar - I am still trying to get used to the level of proficiency that is expected.  I am very excited that there is always someone trying to push me further.  On the other hand, it can get mentally draining at times.  I have learned so much about dealing with these situations, and if anything, it has made me take time to appreciate when I can relax, because they mean business here.  Hopefully, I haven't had too many "tenor" moments to make anyone frustrated.  I feel bad for my wife who will one day have to deal with both my "tenor" moments and "senior" moments (she probably already does deal with that).
The opera is double cast, which means that there are two complete casts.  I will be performing on Friday, March 18 and Sunday, March 20.  As part of the role of Don Ottavio, I am singing two arias (in addition to many recitatives and ensembles) that will hopefully be amazing - one of them is legitimately one of the most difficult things that I have ever had to sing.  I will give lots of information next week on that.
Also, I had my costume fitting.  We have been having a difficult time with costuming and other aspects of the production for various reasons and I won't go in to those details, but it was the location of the costume fittings that was a surprise.  The costume department is in the Kansas City Underground.  Literally right underneath downtown Kansas City there is a giant abandoned salt mine with hundreds of businesses.  You can drive right down into it from 31st street and it is HUGE.  It is a very daunting drive though - definitely not for the claustrophobic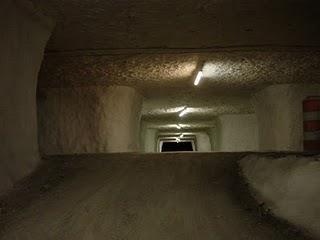 .
Last Saturday, I was the tenor soloist for a production of Haydn's Lord Nelson Mass, with a 200 person choir and orchestra.  But what really blew me away was the venue.  It is one of the largest churches that I have been to in this part of the country.  It was in Independence, MO at the world denominational headquarters for the Community of Christ.  There are two venues there, the auditorium - which on the outside looks like a mix between New York's Grand Central Station and Basketball Arena (enormous to say the least).  And the temple, which I posted a picture of last week.  It was probably one of the very best performing venues I know of or have ever performed in.  It was spectacular with a giant spiral-cone roof (I later found out that you can walk an enormous spiral staircase to the top!).  To put it another way, it was like there were two capital buildings across the street from each other.
I have a secret passion for architecture, but I will spare you the nerdy-ness of that for now.  As far as the concert was concerned, it went very very well.  The orchestra was incredible and the choir was so vibrant and energetic.  It really is an exciting piece with war marches and large choral blocks of sound that can't help but send goose bumps down your body.  I had a brief "freak-out" moment however.  In a small quartet section, I breathed in and the back of my throat dried up very fast.  I needed to cough really loud, but forced myself to fake a couple of words until it subsided.  I have never had something like that happen before.  Luckily it wasn't a solo line and it happened at a point that other voices and the orchestra were doubling what I was singing.  Nevertheless, it was scary - and it kept my blood pumping at a nice rate for the rest of the piece.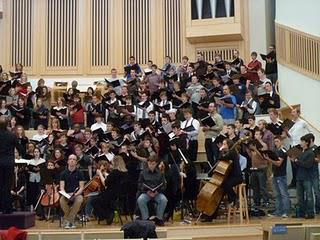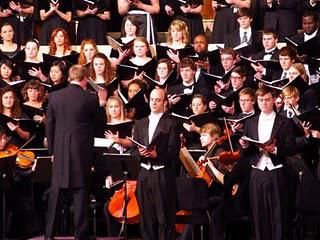 Also, this week I received the recording of the Monteverdi Vesper's Concert from last December with a chamber group made up of members from several ensembles including the St. Louis and Kansas City Symphonies.  I practically had solos in every moment (except the two all female movements).  I have put together some highlights of my solos from the piece (these are just some of the things that I did, there are many more awesome choral movements that aren't featured here - if that's what you're in to).  If you are interested in getting a complete recording, please shoot me an email at
[email protected]
 Remember this is REALLY old music - 400 years old - and the style and ornaments are weird at times, with weird instruments.  Hopefully you will find it interesting.  We spent a lot of time trying to figure out some of these performance techniques.  Another interesting part was that the singers move during the piece to different parts of the church and sing from different areas giving echo effects and other exciting elements.  You should be able to tell in the recording what a difference it makes.  I find it really interesting and exciting!  Enjoy!
Another schedule addition (sort of).  I will have a short solo in the Poulenc Gloria concert in April.  This is one of my favorite pieces of all time.  And I have just learned that the Royals wanted me to perform the US and Canadian National Anthem for the Toronto series.  Unfortunately, it already conflicts with SCI in June.  Hopefully, I will be able to sing another time.
UPCOMING SCHEDULE
Don Giovanni (Don Ottavio)- Conservatory Opera - 3/18 & 20
Wichita Symphony Orchestra Naftzger Young Artist Auditions - 4/2-3
Conservatory Finale  - Poulenc Gloria (probably on my top 10 favorite pieces ever) featuring the Conservatory Choirs and Orchestra - 4/23
National Anthem - DOE Small Business Conference & Expo - Kansas City Convention Center - 5/10
Administrative Director of the 33rd Annual Summer Choral Institute - 6/5-11
Sugar Creek Opera Festival (Chicago) - role: tba, opera: Daughter of the Regiment, maybe Little Women as well - 7/20-8/7
Kansas City Symphony Chorus Auditions - tba