(Warning, pretty graphic)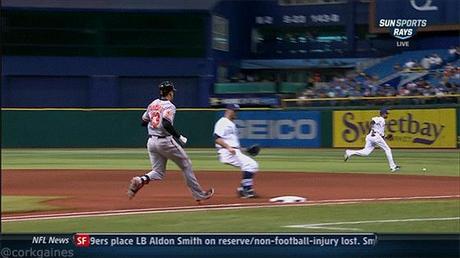 This couldn't have come at a worse time for the O's.  Trying to make one last push for the Wild Card, Manny Machado's knee buckled as he attempted to beat out an infield single.  He beat it out, but as he crossed first base, he sustained a gruesome looking knee injury.  I haven't heard anything definitive, but any time a player has to leave via a stretcher, he didn't just pull a muscle.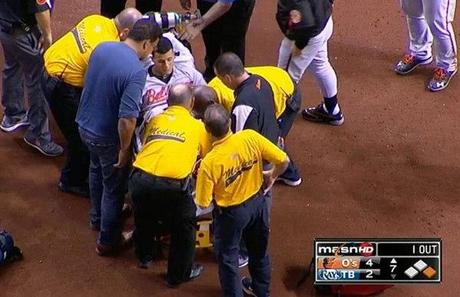 If there is any positive to come out of this, if it is a knee injury such as a torn ACL, MCL, etc, he's going to have plenty of time to heal.  Spring training is six months away and typical healing time is 8+ months.  That means, Machado could join his teammates early in the 2014 season.  Here's hoping the kid has a quick and healthy recover because he's just about the best thing to happen to the Baltimore Orioles since Cal Ripken Jr.
P.S. In a nerdy baseball way, this injury will probably make the off-season really interesting for the O's.  With Hardy heading into his last year, will the O's look to deal him for a pitcher/ outfielder/ prospects and try to sign or trade for someone, or will they try to extend him and keep shortstop locked down for a few more years.  In my opinion, they should deal Hardy with the expectation that Machado will play shortstop when he returns.  His numbers at shortstop make him a top 2 or 3 shortstop in the league and the O's can get someone with a little more pop to man the hot corner.