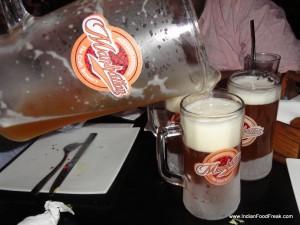 Even though it was a Tuesday, my friends wanted to go out for a drink. So though they prefer to be a vegetarian on Tuesday, somehow liquor consumption is considered okay. I am a foodie to the core and treat all days as equal, still given my friends preferences I decided to stick to their choice of vegetarian-ism for a day.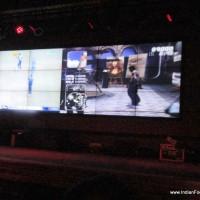 A new place Manhattan opened at Global Foyer was our destination. The huge sized two-level seating was impressive. Even with extra big screens with free video game station connected to them, this place so much looked like another restaurant Downtown in sector 29 Gurgaon which too impressed with its ambience. The server spilled the beans and told us that the owner of Downtown had come up with this new place. The music was not too loud and the ambience struck a chord. Except that it was too dark and to read the menu is a task in itself.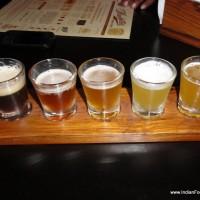 Manhattan being a new micro brewery in town, we decided to go with their in-house beer. On request, a beer taster was kept between three of us. So we had two options, either to rely on someone else opinion or to taste a micro portion of the taster. We decided to go with the safe German wheat beer.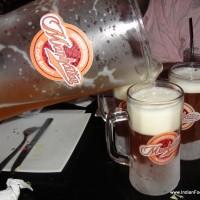 Beer was served in chilled glasses and was much appreciated. The beer that tasted good at the first sip, tasted overly sweet with each subsequent sip. Yes, the orange flavours were there, but notes of cinnamon and banana that can be felt on the cheek for most good
German beer
were completely missing. The next round of beer was premium lager which like Brookawyn gets its dark color due to roasted barley and hops. It was better than the wheat beer but the floral hop flavours that should have been predominant in it were missing.
N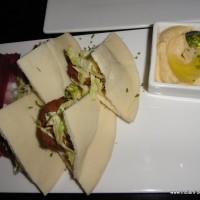 achos were commercially produced, cheese was only sprinkled on top rather than layered and salsa was too less for nachos quantity. Falafel with pita bread was much nicer. Here too hummus could have been better with a little more tahini. Salad served along was stale and best avoided.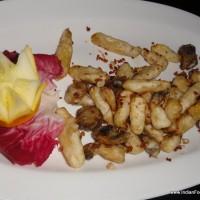 The
veg kebab platter
had two pieces each of hara bhara kebab, tandoori paneer, tandoori broccoli, and dahi kebab. It took some time for the platter to arrive but it was the best of the lot except that hara bhara kebab which was dry. With little cheese mixed in it could be easily taken care of. And lesser said about the
veg salt & pepper
, the better. Soggy pieces of veggies with excess oil were in order.
With average food and beer, no happy hours and prices comparable to a fine dine restaurant, there is nothing going in favour of Manhattan except its ambience. In future I am going to give Manhattan a miss.
Ratings out of 5
Drinks: 2.5 | Food: 2.0 | Ambiance: 4.0 | Service: 3.0 | Overall: 2.5
Meal for two: Rs 2500 | Alcohol: Yes | Credit Card: Yes
Address: Manhattan, 1st floor, Global Foyer, Sector 43, Golf Course Road, Gurgaon | Phone: 88006-97554
-Pawan Soni