Mango Kesari recipe - seasonal sweet. I hope this post is useful for those who are having mangoes in the pantry and looking for the recipe what to prepare for. Yes, it will definitely be the successful attempt. I am sure you can make it easy and delicious on first attempt itself.if you want to serve guests different from usual rava Kesari, go and make a try on this Mango Kesari recipe.undoubtfully it receives bow for your work.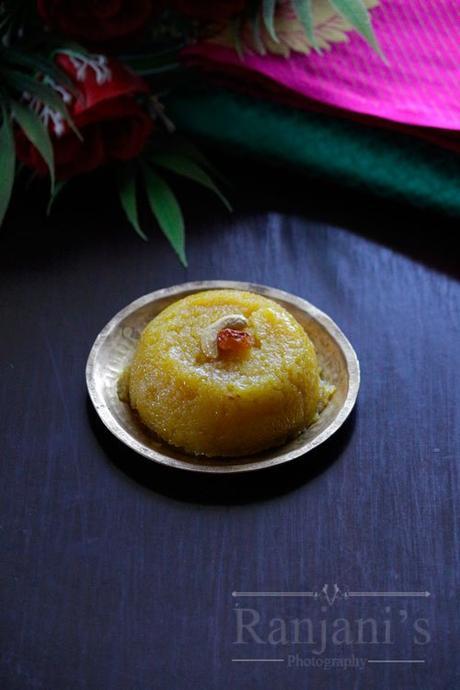 Mango Kesari Recipe - Ingredients
Rava/Sooji - ½ cup
Mango pulp - ½ cup (any mango variety)
Sugar - ¾ to 1 cup
Water -1 ½ cups
Ghee - ¼ cup
Cashews - 8 nos
Raisins - 8 nos
Salt - a generous pinch
Cardamom powder - ¼ tsp
Check out these recipes also:
How to make Mango Kesari recipe:
Heat a strong bottomed pan, add 1 tbsp ghee and roast cashews and raisins. Drain the ghee and place it on a separate plate.
In the same pan, add rava, roast in low flame till nice aroma comes. Place it on another plate.
In the pan add water and let it boil. Once it starts boiling, add mango pulp and mix well without any lumps.
After it starts boiling, add roasted rava in batches and mix well. Keep the flame low while doing this.
Cover with lid and cook for 4 to 6 mins. Now add sugar and salt and mix well. Once the sugar starts melting. The Kesari becomes little thin than before.
Keep stirring by adding the remaining ghee little by little.
Once the Kesari starts leaving ghee on sides, add cardamom powder, roasted cashews, and raisins. Mix well and turn off the flame.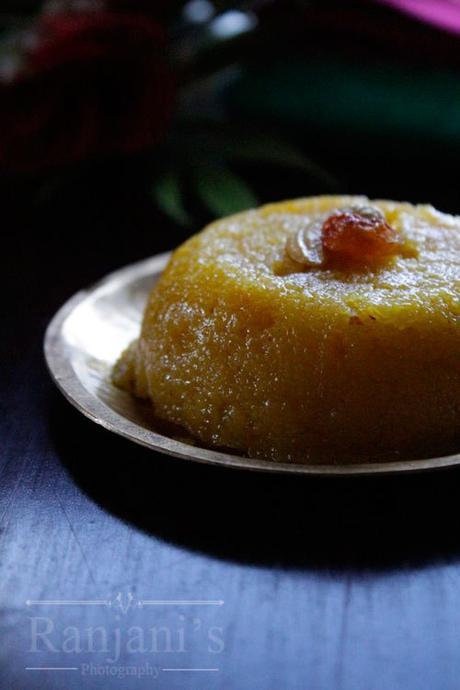 Notes:
You can use any variety of mango to make this rava Kesari.
Adjust the sugar level as of your taste.
Adding a pinch of salt enhances the taste of all sweets. So don't skip it.
While serving the Kesari, drizzle some ghee and place mango pulps on top.