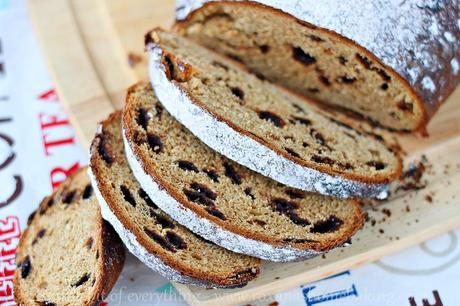 February 1st. A new month. A new beginning. The LOVE month. The Chocolate month.
You, probably, all know by now I love chocolate. My favorite dessert is chocolate cheesecake.
I rarely make it. 90% of the time I end up eating it all by myself.
I have some cream cheese in the fridge, I might make a small cheesecake for Valentine's day. Or maybe a chocolate cake.
Hubby would love some ice-cream and some cookies. So many desserts come to mind when I think about chocolate.
I was asking last night on FaceBook what's everyone's favorite chocolate dessert and almost everyone had a different one.
It's good to be different. It's bad to think about chocolate right before bedtime.
I had to have some chocolate. A square of dark chocolate saves the day. Or a slice of chocolate bread.
Like this one.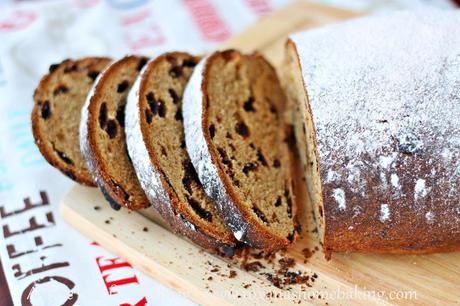 I made this bread the other day. I made this bread last week also. It's so good.
It's a 50% whole wheat bread, sweetened with mango puree and a some sugar.
It was the first time I baked with mango. I was a little skeptical at first. Didn't know what to expect.
After having the first slice I kept asking myself. Why did I wait so long to use mango in bread? I gotta get out from under my rock!
It's a whole new world out there with millions of bread combos I have to try.