Sunderland boss Steve Bruce bagged himself a pair of veteran United defenders yesterday in John O'Shea and Wes Brown.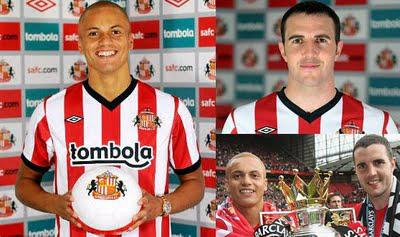 Sunderland's doors have been wide open this summer. Brown and O'Shea mark the 7th and 8th signings made by the club this year, and at least two others (Manchester United's Darron Gibson and Blackpool's David Vaughan) have been strongly linked with a move as well.
What Brown and O'Shea bring to the Stadium of Light is obvious. The 31 year-old Brown has spent 14 seasons (a total of 361 appearances) under the tutelage of Sir Alex Ferguson. His first team opportunities have diminished over the years, mostly due to the defensive dominance of United center backs Nemanja Vidic and Rio Ferdinand, but he was a staple in the United back four between 2000 and 2008. He's a strong tackler and has a big presence in the box, both offensively and defensively. While most prominently a center back, he's proven to be a capable outside back as well - though he may lack the necessary speed to keep up with today's fleet-footed wingers.
John O'Shea has been a beloved cult hero for United since he started making regular first team appearances in 2002. He appeared in 392 matches for the club, including a career high 54 in 2008-09. His versatility will be a major help for Steve Bruce & Co.'s new-look squad; he's capable at every defensive and midfield position, and can even fill in at keeper if need be. Like Brown, O'Shea's first team opportunities have dwindled, and he was rarely in the lineup for big matches. Sunderland offers the duo a chance to feature on a Sunderland squad looking to improve even further upon a strong, mid-table finish in 2010-11.

On a personal note, I'll miss Johnny marching down the United wing come August. O'Shea! O'Shea!