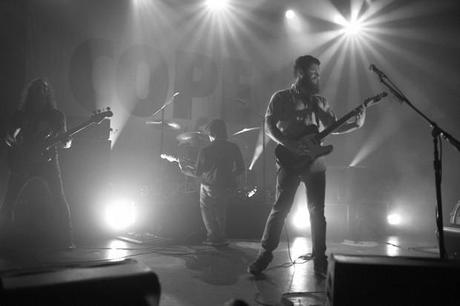 Photos by Jayson Yee
Kevin Devine and the Goddamn Band was a great opener for Manchester Orchestra on Thursday night. These guys have a really great stage presence and know how to get a crowd hyped for a killer show. Each song flowed well into the next, as Kevin sang his heart out on stage and his skilled backing band jammed and seemed to have an amazing time. Everything seemed so natural and fluid, not choreographed, and overall the set was fantastic to watch. These guys love what they do, give off a great vibe and are absolutely worth seeing.
Next up was Balance and Composure. Led by the guttural vocals of Jon Simmons, this band dove straight into their very forceful and passionate set. This band is excellent at sounding angry, but they still manage blend in many upbeat, well-crafted guitar riffs and heavy rhythms, keeping your head bobbing throughout the set.
After two great supporting acts, Manchester Orchestra finally took the stage. The roar of Man-Orch lifers, as well as the many first-timers, filled every inch of the three level venue. Manchester Orchestra's newest album, Cope, is their first release in three years, and while a majority of their set list for the night was comprised of songs from Mean Everything, they blended both old and new material exceptionally well. The alternative, indie-grunge sound of Manchester Orchestra's brown-bearded leader, Andy Hull, filled the room as he rolled through songs that hit the audience like walls of sound. Everyone in the crowd sang along with Hull for the entire hour-and-a-half set, nodding their heads to the rhythm. All left with elated expressions, already looking forward to the next time Manchester Orchestra comes to town.
Manchester Orchestra











Balance and Composure






Kevin Devine and the Goddamn Band