What's better than spending some time in the lap of nature, sky-high, snow-capped mountains surrounding you and the sunlight reflecting off the peaks giving them a heavenly glow, with the river flowing underneath your window and the sound of it lulling you off to sleep? India is one country that offers travelers the widest variety of places to unwind, rejuvenate and discover another side of life. From the picturesque hill stations, to riversides, to desert safaris, to forts, temples, beaches and the incredible variations of weather, India has it all.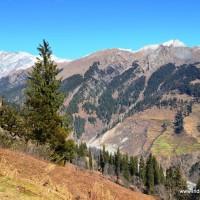 My recent trip to Manali underscored this immense diversity that India is. Aptly called the "Queen of Hills", Manali leaves you spellbound with its natural beauty, the waterfalls, the valleys and the peace and quiet that it bestows upon the travelers. It was our second marriage anniversary, and we planned a three-day trip. Since this was our first time, I and the wife tried to get as much information as we could from the internet and friends. We had a 400 plus kilometers to drive and the roads are BAD.  I would therefore not advise to travel by your own vehicle or a taxi, or you might end up really tired and perhaps like me, with a sore back. Alternatively, since there's no rail link to Manali, one can either take a flight from Delhi to Kullu, the district center (40 Km from Manali) and reach Manali by road, or one of those overnight air-conditioned buses that run every night from Delhi, Chandigarh and various other towns in Punjab and Haryana.

Day-I: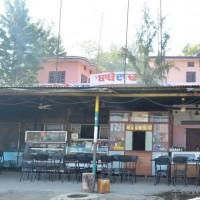 We had started from Jalandhar at around 8 am, and stopped at a roadside dhaba outside of Garhshankar, just before the Punjab- Himachal border, called Babe da Dhaba. This guy served us a parathas the size of a steel plate, of which one was enough for me and wife. The dhaba had all kinds of amusing writings on the walls, which is a first for me. We headed on and didn't stop till we reached our destination. It was 8 pm, and we were starving. Night had fallen, and hence no sceneries were visible. We had a booking at a government guest house, where upon reaching we realized there were no cooking arrangements, so we asked our driver to take us to Mall Road.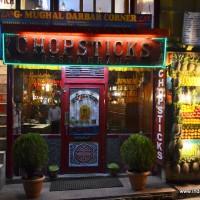 Mall road is not actually a 'road', but a cobblestoned street, where no vehicles are permitted. It is a half-kilometer stretch, with shops selling almost everything under the sun on both sides.  At about 9 pm, it was still buzzing with tourists. Right in the center of the Mall Road is the infamous restaurant- Chopsticks. A lot of people had recommended this place, and without any doubts, I headed towards its door. On entering we found it to be a medium lit, cozy place with simple surroundings. Locally made wine was neatly arranged on a shelf, Chinese lamps were hanging from the ceiling and other Chinese and Tibetan artifacts giving the place a museum-like look. This is perhaps the only place I've seen in the modern times that still plays music on audio cassettes! We ordered the much-hyped Chicken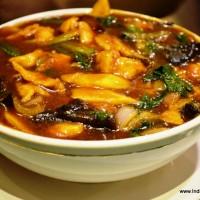 Talumein Soup, Vegetarian Spring Rolls, Chicken with Mushrooms & Bamboo Shoot and Vegetarian Fried Rice, all accompanied with a beer. Almost all restaurants and hotels in Manali have a fireplace, owing to the extremely chilly weather, and Chopsticks was no exception. The soup was nicely textured, though it didn't look like the Talumein I've had elsewhere. It had generous portions of chicken and vegetables, almost a meal in itself. The downside perhaps was an overdose of corn flour, making it *quite* thick and extra use of soya. The Spring Rolls were crisp and the filling felt fresh. Chicken with Mushrooms and Bamboo Shoot was mild, and went well with the fried rice.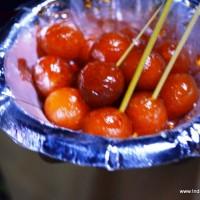 Food over, we came out and felt the bone-chilling cold after a long time. I live in Ahmedabad, where the peak of winters is just a nip in the air and a little cool wind, much like Delhi in October-end. We were walking back to our car, when we saw this guy, sitting on his haunches, selling those little gulab jamuns, piping hot. Taste-wise mediocre, they felt great going down the throat, providing the much needed warmth.

Day-2: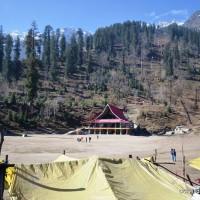 It was a crisp sunny day. Breakfast was aloo parathas and pickle cooked by the caretaker of the guest house. Our driver suggested we go to the much-heard-about Solang Valley. It took about 30-minutes, all uphill, from Manali to reach. Solang is a beautiful valley with enchanting views of snow capped mountains, thick conifer forests and the meandering river Beas in between. It is host to a large variety of adventure activities like skiing, snowboarding and paragliding, hiking, camping, traversing, snow mobiling, mountain biking, horse riding and many more. We had gone in November, so there wasn't much snow, but could be seen on the mountain tops.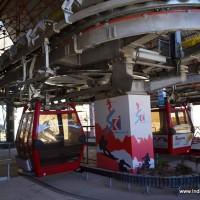 Taking a ride in the state-of-the-art ropeway to Mt. Phatru at an elevation of 3200 mt. and enchanting its breathtaking views is an experience in itself. The ropeway consists of 19 gondolas with a seating capacity of eight persons each. It is a state-of-the-art engineering marvel built with foreign collaboration & Indian private entities and it covers a distance of 1.3 km having a vertical rise of 500 meters and a top speed of 6 m/s. Once on top, the snow-capped mountains and the beautiful scenery around takes your breath away. Once you come down, there are various roadside stalls serving tea, coffee, Maggi, bhutta (grilled corn on the cob) and various other snacks.

We were recommended Rohtang Pass by our driver, but we decided to skip it, as the road leading there is quite treacherous, and the chill was a bit too much for us to bear with.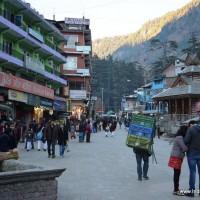 After spending a few hours at Solang, we began our hunt for the well-known Johnson's Lodge restaurant. We found it easily, it being located on the Circuit House road, winding and mostly uphill leading to old Manali. This is another lovely property, comprising a hotel and restaurant, with garden and indoor seating. The restaurant is all wood, with a fireplace in the center and low tables and chairs. We ordered brushetta, a vegetarian pizza and pan-fried trout, along with a Bloody Mary. Trout is the most widely available and consumed fish in Manali and perhaps all of Himachal. The brushetta was one of the best I've had. Simple, light and full of flavors, it was a delight. The trout was another gem, with soft, crusty and flaky fish, accompanied with rosemary potatoes and salad. The pizza was nice too, with spinach, olives, peppers and tomatoes giving a burst of flavors.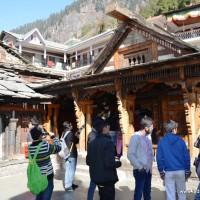 This done, we headed for another famous place called Hidimba Temple, further up the road from Johnson Lodge. The temple is located amidst lush green coniferous forests, and walking the cobblestoned path leading to the temple is a pleasure in itself. We paid our respects, took some pictures, and came back to Mall Road for some shopping. Dinner was again at Chopsticks, consisting of talumein Soup, roast mutton with vegetables & fries (Wow!) and vegetarian noodles (Okay).   

Day-3: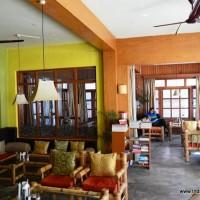 I had heard a lot about the restaurants in Old Manali, namely The Lazy Dog, Drifter's Inn, Bella Pasta, et al.  Driving down past the road leading to Hidimba temple in the morning, we realized that Old Manali is, in fact, nothing but a long, narrow street, winding uphill. We were informed by our driver that Old Manali is inhabited by a lot of foreigners, from different parts of the world, so one can find the effect in food and atmosphere, so the expectations ran high, especially about the different kinds of food that I assumed would be available. But, and it's a BIG but, when we reached there, the whole placed was closed! We passed by the Lazy Dog, and it was closed, we went uphill and reached Drifter's Inn, and it, though open, was devoid of any customers. We asked the guy there about this phenomenon, and we were informed that this part of Manali opens up only during the tourist season! Gross disappointment!

Next stop was the hot water springs, which is not actually a spring, but a bathhouse, where natural hot water comes from the mountains, said to have healing properties. This is located in the Vashisht temple complex.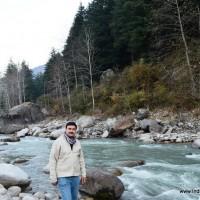 We came down to Mall Road again, did some shopping, and spent a few hours sitting and clicking pictures by riverbank, which is an experience in itself. Dinner was at the restaurant at the River Country Resort's restaurant, preceded by a few drinks at their bar. We had butter chicken (average, no 'butteriness', but a spicy red colored gravy), dal makhani (nothing much there too) and rotis.

Day-4: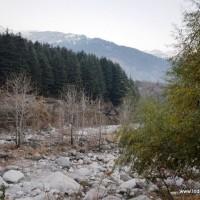 Time to leave, though with a heavy heart. I can't say we saw all there is to see in Manali, in fact it isn't even half of it, but looking at the limited time we had, this was enough to remember the beautiful place that Manali is. On the way back, we stopped at a dhaba called Swarghat Eating Point, located near the little town of Swarghat for lunch. Apart from other dishes, the dal we had there was undoubtedly one of the best I've ever had!
This piece has been written almost two months after I visited Manali, but the memories remain etched on the mind, and so shall they remain.