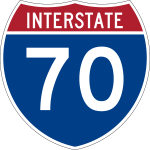 Head-On Collision on I-70
A 35-year old man has been killed in a wrong-way car accident with a semi-truck near Kansas City over the weekend.  The man was a passenger in a car driven by a female when they entered Interstate 70 via an exit ramp. They were traveling westbound in the eastbound land of Interstate 70 when the vehicle was hit by a semi-truck that was traveling eastbound. The
head-on collision
killed the 35 year old man and he was pronounced dead at the scene. The woman was injured and taken to a local hospital in critical condition. According to the police, the semi-truck driver said the accident was unavoidable and police say that alcohol may have been a factor in the accident. The accident is currently still under investigation.
Interstate 70
Interstate 70 is one of the oldest interstate highways in the country, it runs from Baltimore, Maryland to Interstate 15 near Cover Fort, Utah.  I-70 is one of the major highways connecting many of the states in the Midwest.  It runs directly thorough St. Louis and Kansas City in Missouri.  As speeds are generally high on interstates and because there is heavy traffic, accidents on this interstate tend to be serious in nature if not fatal. Head-on vehicle crashes are particularly serious in nature. Head-on collisions tend to be some of the most dangerous of all wrecks  for several reasons. One, two vehicles crash into one another head on will usually strike with greater force than when hit at another angle because of the combined force of both vehicles. In the accident above involving a passenger car and a
semi-truck
, the combined force was probably greater due to size of the semi-truck.  The other reason head-on collisions are so dangerous is that much of the force is concentrated close to the driver and the front-seat passenger.  In a head-on crash, the victim (s) in the front may absorb the bulk of the direct hit.
Head-On Collisions
Many factors cause head-on collisions, but a wrong-way collision on a busy interstate like I-70 would have to be one of the more serious scenarios. As stated, speeds on I-70 can easily exceed 60 mph and if the semi-truck was traveling at 60 or 65 mph within the speed limit, the force to a wrong-way traveling vehicle could have been extremely great.  We do not know what kind of braking the semi-truck did in advance nor do we know if the driver of the passenger car was able to brake.  Even under the best circumstances, a head-on collision on a busy interstate is serious. While this accident is under investigation, it will interesting to see if alcohol did play a role in the  driver choosing to get on the interstate via the exit ramp.  Investigators are able to analyze witness statements, driver statements, blood tests and examine the physical terrain of the accident in order to discover a lot of information about the factors contributing to the accident. If, in fact, drunk driving  was a factor in this accident, then it is all the more tragic because it may have been avoidable.  A young life was lost. If you have been involved in a car accident or a truck accident or have lost a loved one due to the negligence of another, then you will need a personal injury attorney. In the scenario above, the family of the young man killed may have a wrongful death claim depending on the results of the investigation. In the days following such a tragedy, it is hard to think about legal representation. A personal injury attorney can handle all of the legal matters while you focus on rehabilitation or mourn the loss of your loved one.  The last thing a family or individual should have to do is worry about accident reconstruction and preserving evidence for an insurance claim later.  A skilled personal injury attorney can handle all of those matters for you. If you are uncertain if you need an attorney, our attorneys are available seven days a week to talk to you confidentially about the facts of your accident.  Consultations are always free toll free (800) 685-3302 or locally (314) 276-1681 Source: 
Man killed in wrong-way accident on I-70 in KCK
. Kansas City Kansan 2/17/14