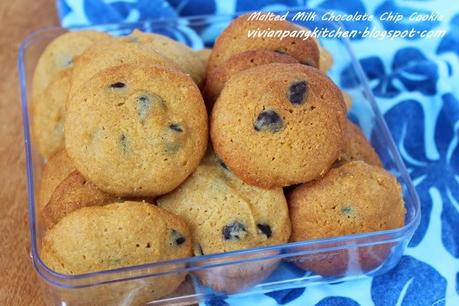 I have Horlicks (malted milk) in my kitchen which left unattended. My kids including myself do not like to have it as drinks. So I use it in Malted Milk Chocolate Chip Cookie, originated from The Pioneer Woman. These cookies texture can be chewy and crispy. It depends the baking time. Long baking time will give crispy texture which I prefer.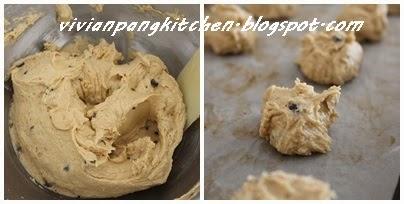 The cookie batter is sticky. However it is still easy to spoon the batter on lined baking pan. A round cookie batter will flatten once it is in oven. Since I want to get crispy cookies I monitor my baking time closely.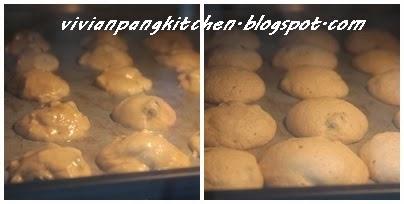 A tip I read from a cookies recipe book, once is cooked leaving baked cookies inside oven for further 10 minutes will give crispy texture. My cookies are brown after 14 minutes baking time. I off the oven and leave them inside for further cooking (cookies are cooked with remaining heat). For the 1stbatch I took out after 8 minutes as worried my cookies might burnt. After cooled and tasted I found out it still has chewy texture within the cookies. So I kept the 2nd batch cooked cookies inside oven for completely 10 minutes. Yes! This time I manage to get perfectly crispy cookies. Crispy cookies are looking darker. Phong Hong has been baked these Malted Milk Chocolate Chip Cookie too. She has photos showing how cookies vary with different baking time.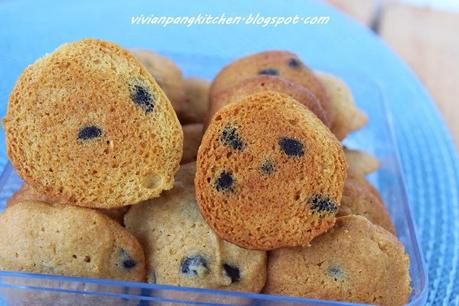 Looking at base, the one on right is darker with crispy texture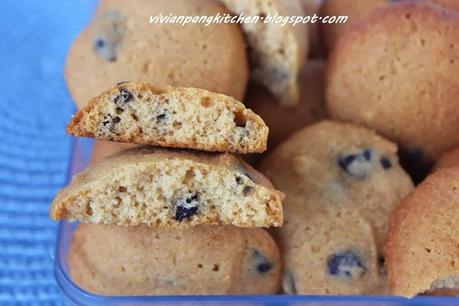 The top one is crispy. Hardly see the differences 
Like Phong Hong mentioned Americans sweetness acceptance level is far too sweet for us. I reduced the sugar as well. I believe cutting down the sugar is the reason why ours not as flat as

The Pioneer Woman.

I bake with half of the recipe with 75g light brown sugar only. However it is still a too sweet for my liking. Next time I will reduce to 50g just like Phong Hong did.
Adapted from

The Pioneer Woman

with minor changes
Half the recipe
Malted Milk Chocolate Chip Cookie
Ingredients:
(A)
125g unsalted butter, softened
75g light brown sugar (will reduce to 50g next time)
(B)
1 whole egg
1 teaspoon vanilla extract
¼ cup Horlics powder
(C)
1 cup wholewheat flour (replace for all-purpose flour)
¾ teaspoon baking powder (substitute for baking soda)
1/8 teaspoon salt
½ cup milk chocolate chips
Methods:
1. Cream butter and sugar until fluffy.
2. Add egg and beat slightly, then add vanilla and beat until combined.
3. Add Horlics powder and beat until combined.
4. Sift together flour, baking powder and salt. Add into butter mixture, beating gently until just combined.
5. Add chocolate chips and stir in gently.
6. Drop by teaspoonfuls (or use a cookie scoop) on lined baking pan. Bake in preheated oven at 170C for 14 minutes. For getting crispy cookies, I off the oven heat and leave my cookies inside for 10 minutes before transfer on wire rack to cool.
* Bake less time if you prefer chewy cookies; more if you prefer crispy cookies.
######################################################
For those who resident in Kuching area interested to place order, please inbox me at 
[email protected]