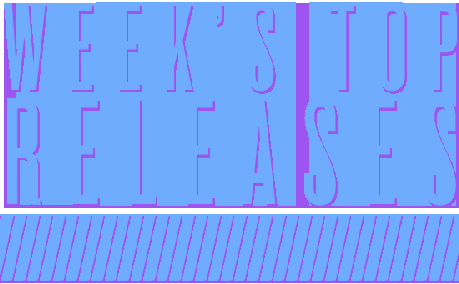 Each week, we'll be giving you a list of the new releases that we're most stoked to hear. From the pop of Juliana Hatfield to the Red Hot Chili Peppers sound without John Frusciante, this round should certainly be filled with a few surprises. Enjoy!

The second full-length from Londoners Male Bonding comes rather quickly after their debut just last year, but Endless Now promises even more rushing guitars than its predecessor Nothing Hurts. It also includes the incomparable Frankie Rose on background vocals, so there really is no excuse to not listen.
/// buy ///

Way before Bethany Cosentino of Best Coast was mixing pop songs with a female-tinted grunge sensibility, Juliana Hatfield had the genre down to a science. It seems contradictory to conceive her eleventh (no really, ELEVENTH) studio album around the concept of failure, but as the title track suggests, "People love it when a beautiful woman self-destructs." I doubt Ms. Hatfield is talking about herself though. Seriously, she is here to stay.
/// buy ///

Mike Doughty has always been a sometimes on/sometimes off kind of artist for me, but his newest LP will be released by his brand new Snack Bar record label (Dubious Luxury, the "appetizer" to Yes And Also Yes came out earlier this year) Given the self-release, I'm anxious to see what he will do with the creative freedom this new venture will afford him. Apparently, Doughty used anti-depressent capsule (Cymbalta) as a percussion instrument on one of the tracks. If that's not enough to make me curious, a Christmas song duet with Roseanne Cash certainly is.
/// buy ///

CSS have failed to repeat the success they achieved with their 2006 single "Music Is My Hot Hot Sex" and 2008's Donkey was dismally disappointing. With a name like La Liberacion, here's to hoping the group injects some of their Brazilian roots into their newest effort.
/// buy ///

Irreplaceable guitarist John Frusciante is no longer with the band on Red Hot Chili Peppers' first album since 2006's Stadium Arcadium, so I'm With You deserves at least one spin if only to determine whether or not he is missed (my prediction: an overwhelming YES).
/// buy ///