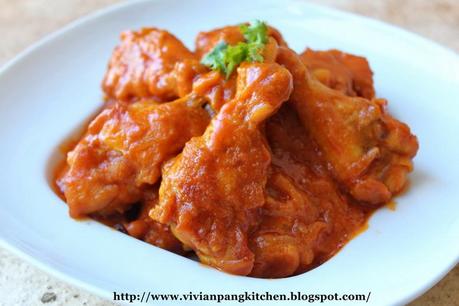 I never think that I can cook Malay Red Cooked Chicken for kids until I read it from

My Little Favourite DIY

. I omit chili totally as my kids can't take any heat. Yes this dish is well received by them. But for me I prefer to go with some hot chili sauce :D Next time will cook it and serve with pasta as main course.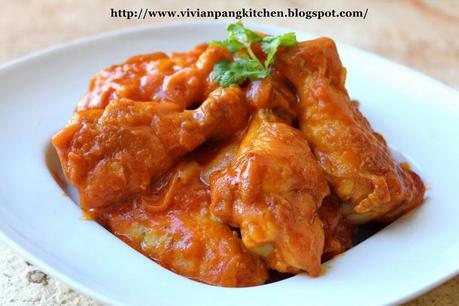 Adapted and slightly modified from My Little Favourite DIY 
Malay Red Cooked Chicken / Ayam Masak Merah
Ingredients:
(A)
6 chicken wings (used the drumlet and middle joint, about 600g)
½ teaspoon salt
½ teaspoon turmeric powder
Dash of pepper
(B)

2 shallots




½ cm ginger




2 cloves of garlic




1 inch cinnamon stick

2 cloves (bunga cengkih)

3 cardamoms (buah pelaga)

1 red onion sliced

(C)

½ cup tomato ketchup

½ cup evaporated milk (or coconut milk)

½ cup water

½ teaspoon salt

1-2 tablespoon sugar to taste

Methods: 1. Marinate chicken with salt, turmeric and pepper for at least 30 minutes.

2. Mill shallots, ginger and garlic.

3. Heat wok, add in 1 tablespoon cooking oil. Arrange chicken parts and pan fry till the skin turns brown. Dish up. *It's ok if the chicken is not cooked thoroughly and still oozes some blood.

4. Add in 1-2 tablespoons oil, sauté the milled ingredients on medium heat until it looks glossy, put in dry spices and sliced onion and continue to sauté until the onions looks translucent and wilts.

5. Put in the ingredients (C), return chicken into the wok and cook until the gravy reduces to preferred amount. Serve!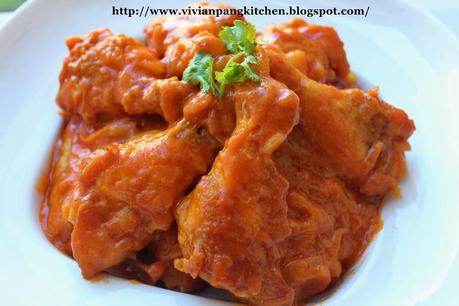 I like to link this post to 
~Recipe Box#38 hosted by Bizzy Bakes ~ See Ya In The Gumbo hosted by Ms. enPlace
~

Little Thumbs Up event organised by 

Zoe from Bake for Happy Kids

 and 

My Little Favourite DIY

 with 'Tomato' as March theme