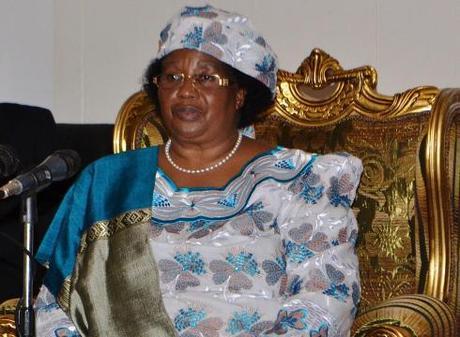 Malawian President Joyce Banda (Photo: AFP)
The late president of Malawi, Bingu wa Mutharika, was fond of saying, "Lolani ntchito za manja anga zindichitire umboni," or, in English, "Let the work of my hands speak for me." These words were immortalized on billboards across the country. During my three and a half years working in Malawi as the program manager for H.E.L.P., the meaning behind the President's words and the feelings they evoked changed radically.
President Mutharika accomplished much in his first term from 2004 to 2008. He received the Medal of Glory Award for bold reforms that were credited with spurring Malawi's economic growth. The annual GDP growth rate increased from only 2.6% in 2005 to 8.6% in 2008. Additionally, President Mutharika championed The Farm Input Subsidy Program (FISP) which increased the country's maize production to levels of surplus. Progress was being made, or so it seemed.
President Mutharika's record of good democratic governance and sound policy, however, would come to a tumultuous end. The situation in Malawi declined as the President became increasingly autocratic in his second term. In 2011 Malawi fell 67 places on the Worldwide Press Freedom Index, the largest drop of any nation. Facing bad governance and human rights violations, donors froze millions of dollars in aid money. This presented an uncertain future for a country which receives 40 percent of its government budget from external sources.
Daily life ground to a standstill. A lack of foreign exchange made it difficult to import goods. This led to fuel shortages and long queues at gas stations that lasted for days and impacted the entire country. I spent countless hours looking for diesel in order to keep operations running. Ambulances were unable to travel to rural health facilities. The price of virtually everything increased dramatically.
In response, Malawian civil society activists staged a series of protests against what was perceived as an increasingly repressive government. At least 18 civilians were killed during protests in July of 2011 when police shot at demonstrators with live ammunition and tear gas. These events forced me to question the viability of continuing the very program I was managing. This was not the same Malawi I had come to know and love.
In April of this year, President Mutharika suffered a heart attack and suddenly passed away. While tragic, the state of the country had become so calamitous that many Malawians received the news with jubilation. Unfortunately, his death did not automatically signal a new beginning. Malawians waited with baited breath to see if a democratic and constitutional process of succession would occur.
Many feared the late President's brother, Peter Mutharika, was going to steal the presidency. Word surfaced about a constitutional coup attempt. Malawi was on the brink of an important tipping point. For forty eight hours after the President's death, Mutharika loyalists and members of the Democratic Progressive Party (DPP) tried to prevent Vice President Joyce Banda from taking over as stipulated in the constitution. However, at the end of two long days Malawians breathed a collective sigh of relief.
On April 7, 2012, Joyce Banda was sworn in as Malawi's first and Africa's second female head of state. She took command of a country that was once considered a promising and growing democracy. Under Mutharika, though, Malawi had alienated and insulted the majority of its donors, committed a slew of human rights violations, and cracked down on freedom of speech. This left President Banda with considerable work to be done—and undone.
Thus far she has risen to the challenge. Throughout her first three months the President has been vocal on issues concerning human rights and freedom of press. She has persuaded Parliament to repeal repressive laws enacted by her predecessor. She has addressed corruption and led by example, selling the presidential jet and a collection of limousines. Many of Malawi's donors have noticed this trend of good governance and the accompanying positive changes.
The International Monetary Fund reached staff-level agreements with Malawian authorities to put $157 million back on the table. The Millennium Challenge Corporation decided to recommence its $350 million grant with Malawi. The World Bank is set to invest at least $125 million. Britain, Malawi's largest donor, has been more cautious about resuming their general aid program; however they still released $51 million to assist with medicines, seeds, and fertilizer.
President Banda has made most, if not all, the right moves to begin correcting the situation she inherited. She understands the interconnectedness between political and economic freedom. She has been quick to combat corruption and increase access to information. She realizes the latent power in her country's women and youth. She can relate to every day Malawians and is proud of her 'mandasi' roots. These are all vital signs that the democratic environment in Malawi is once again strengthening – and at a fast rate.
While this period of transition continues, Malawians cannot become complacent. It is crucial to remember that President Banda is supposed to make the right decisions. It is her duty. It is what we must demand of our leaders. Currently in Malawi there is a 100 Days campaign celebrating the first 100 days of the Banda Presidency. The theme of the campaign is that "a better Malawi is possible." Not only is it possible, but it is what the Malawian people deserve and should insist upon.
Most would say that circumstances in Malawi are improving, and for that President Banda ought to be commended. At the same time, we should remember that just as President Banda is being praised now, so was President Mutharika in the early days of his rule. A good start does not necessitate a good ending. In order to lead the country effectively into the future, President Banda must stay in tune with the various levels of Malawian society.
It will be the responsibility of the President to foster a vibrant public-private dialog that encourages a democratic environment where entrepreneurship can flourish. While Banda's willingness to reform has already unlocked over $600 million in international aid, this is only part of the overall picture. It is essential that her reforms also constructively engage the private sector. As the founder of the National Association of Business Women in Malawi and a former CIPE partner, this is an area where she already has considerable experience.