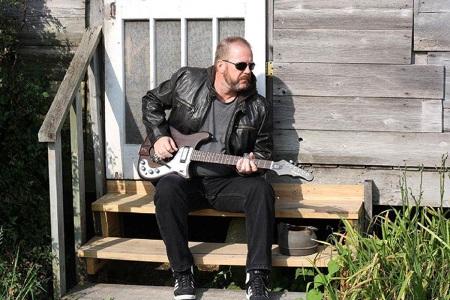 Dutch drummer Peter Lebbink, better known as Maks A, has been in and out of the music scene since the late Seventies. When he stepped in as a last minute replacement for an American tour by he JVT Band in 2013 he realized it was time to become a solo artist writing his own material. He taught himself to play guitar, bass, keyboards and - perhaps the biggest challenge of them all - find his bearings as a singer. He shouldn't have worried about that. His gravely voice has a rough-around-the-edges charm. The solo effort turned into a rock project named Maks for which he called in the favours of his fellow musicians. 3Ft No Diving is an album drenched in blues, rock, and New Wave-inspired keyboard parts.
Being on the road as an artist is the main influence for his songs. The ups and the downs are put to good use inThe Gods in My Head and Winter in Vegas. The two covers - Robert Johnson's Stones in My Passway gets a Sevtneis rock funk treatment and an upbeat version of the Velvet Underground's I'm Waiting for the Man - sit comfortably next to his originals.
3Ft No Diving is the culmination of a long career for Lebbink. He has taken a change and it has paid of in spades. Go in at the deep end for the next one. The water is fine and he can pick from a wide variety of swimming style.
Maks:
Maks A: vocals, guitar, bass, keyboards, drums
Peter Barnouw: dobro (2), guitar (4, 7, 9, 11, 12)
Claudia Guliker: bass (3)
Andy Kockelkoren: synthesizer (7)
Tommy Stillwell: guitar (8)
Jeroen van Tuijl: guitar (6)
Onno de Visser: bass (4)
Ron Woestenburg: flute (4)

3Ft No Diving is a self-released album. Buy it from his website.
Tracks:
Portal
Lay Down Low
Career
The Gods in My Head
Stones in My Passway
Critical Mess
Last Thing on Your Mind
Look at You
Xhair
Waiting for the Man
Winter in Vegas
Snow
» maksagency.com