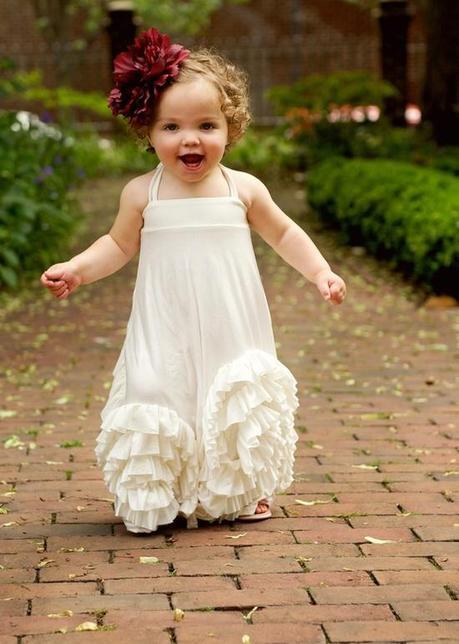 If you just had a baby and would like her to be a mini fashionista, you must be a fashionista yourself! It's fun for a mom to make their baby girl look extra special and not only does this include purchasing adorable clothing, but this means decorating her posh nursery, buying her sparkling accessories, and teaching her how to be a fashionista-in-the-making even in their younger years. If you're lacking inspiration or are in need of some fashion revamping, why not start now? Begin by investing in a few fashionable items and pretty soon you'll have a little diva on your hands. You better watch out!
Delicate Accessories – From pearls and lace to precious little booties, a little fashionista has to have a variety of fashion accessories for every occasion. Have fun putting darling little booties on her little feet that will go perfectly with her precious dress. Depending on your baby's age you can put a pearl necklace around her neck for special occasions or if you feel this is dangerous, just clip a lace bow in her hair instead. There are easy ways to make her look lovely without over doing it.
Redecorate Her Crib – Perhaps it is time to redecorate your little one's crib. Implement cute decorations such soft stuffed animals and the perfect decorative pillows. Of course a newly decorated crib won't be the same without new baby bedding as well. Find bedding with the perfect girlie pattern and your baby will look precious sleeping in her new comfy and chic crib surrounded by pretty bedding.
Ruffle Dresses – Your baby girl will look sweet wearing a ruffle dress this Easter. Find one in the perfect color of pink or if you'd like to switch to another color such as lavender or a light green, this colored dress will also be perfect for spring time too. She'll look lovely on a warm spring day wearing an adorable outfit. Maybe it's time to take advantage of her cute style and snap a few pictures too!
Dress Like Your Little Fashionista – Nothing screams fashionista more than dressing like your little fashionista. It might be fun to buy similar outfits and have a mommy-and-baby photo shoot. Whether you both like ruffles, lace, pink, or all of the above are up to mommy – she's allowed to spoil her daughter rotten and help her become the perfect fashionista!
About the Author: Corinne adores fashion. One day she'd like to have a mini fashionista and provide her with adorable clothing, beautiful baby bedding, and more.