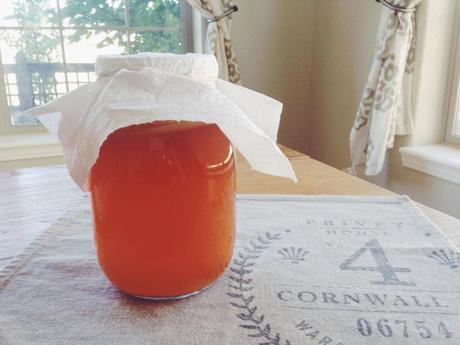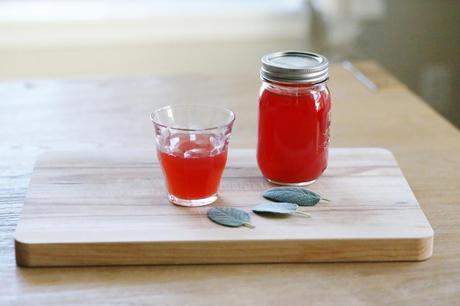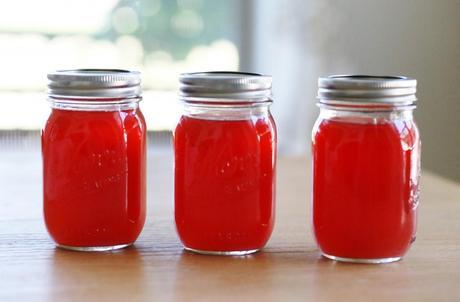 A friend of mine introduced me to kombucha this summer.  I knew what it was -- my hubby buys and drinks it, but I had not tried it until the day my friend brought some of her own brew along on a play date  with our kiddos.  Until that day, I also did not know the process of making kombucha, nor did I know about the possible health benefits of drinking it.  I instantly liked it.  A bit sour, a bit sweet.  Not bubbly, not flat.  And once she described the process of making it, along with the fascinating SCOBY, I knew I wanted to try brewing my own.  A couple weeks later she brought me a SCOBY.  I can honestly say, it was one of the coolest things anyone has ever given me.
That night I googled kombucha and began learning about the symbiotic colony of bacteria and yeast ("SCOBY"), very much like a sourdough starter.  I was definitely intrigued.  I watched a couple Youtube videos on how to make it, and came across this post from the Kitchn, which I really like and have been using so far.
Each batch of kombucha grows a new SCOBY.  I use the fresh SCOBY in each new batch I start and put the old SCOBY in my garden to compost.  They break down so fast that I just put them right on top of the dirt and turn them into the soil a few days later.  Instant mega soil building nutrients!
What I'm loving about brewing kombucha and drinking it, is not only the process of making it, but the endless ideas for flavoring it.  The batch in these pictures is blackberry-sage.  Currently, I have a batch brewing in which I plan on flavoring with raspberries from my neighbor's garden and fresh thyme.  After that batch, I'm thinking something hibiscus-y.  I'm hooked!
So far this is my method for brewing and crafting:
1.  I brew my tea using the instructions from the Kitchn. 2.  *After 8 days, I strain the tea into a large glass pitcher and add a handful of fresh fruit and fresh herbs.  I cover the pitcher with a paper towel and a rubber-band to keep a seal so nothing can get into the batch of tea.  I let this mixture steep for 3 days, occasionally swirling the pitcher gently to keep the fruit and herbs saturated.  After 3 days, I pour the tea through a strainer into the jars or bottles.  It is now ready for refrigeration and drinking.  I'm still experimenting with the carbonating phase.  I tend to like a bit more of a bubbly tea.  With my next batch I might try 4 days before bottling.
*Note this is when you start your next batch of tea using one to two cups of tea from current batch.
Do you brew kombucha?  Any tips, especially on the carbonating process?  How about some of your favorite flavors?  I'm still quite new to this craft, so any advice is much appreciated.