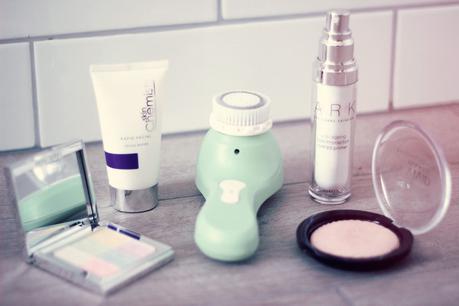 The harsh winter weather really took it out of my skin, so in order to try and get a bit of glow and life back into it there are a couple of products that I've been employing the use of more than usual to try and inject some dewiness into my otherwise lifeless skin. 
Skincare: Exfoliating is key to getting a nice, glowing look. I couldn't live without my Magnitone Lucid, which helps to really get in deep and exfoliate the skin, leaving you with a brighter complexion and I love chemical exfoliating masks like the SkinChemists Rapid Facial Mask, which instantly gets rid of dry skin, leaving it feeling super soft and invigorated. Don't be scared of the acid, it plumps and firms and definitely isn't as dangerous as it sounds! 
Primer: I really like the ARK Anti-Ageing Glow Primer to inject a little bit of radiance into my skin before going on with the rest of my makeup. It blurs and evens out skin tone and has the added bonus of helping to make my makeup last a little longer throughout the day as well. 
Makeup: After spending so much time on my skincare, I like to keep the makeup as light as possible to let the natural glow, 'glow' through. A light finish tinted moisturiser like the Bobbi Brown one is perfect for the job as it's not too heavy coverage yet helps to hide anything that needs to be. To add a bit more, I love the Makeup Revolution Glow in Peach Lights, which I add on the top of my cheekbones to give a reflective yet subtle finish and a lit from within look. Finally, to finish, I really like Bourjois Java Rice Powder, which sets everything down like a normal powder, but without creating that really flat, matte look, adding radiance without being obvious at all. 
Are you more of a fan of a matte or dewy look? What products do you use to give your skin a boost?