For this window-mirror, I wanted to use rectangular glazing that would complement the functional window that this construction is likely to be situated across the room from. Looking around at various packs of glass tiles and they only appeared to come in square sizes. For a while, I was tempted to buy a pack of mirrored-acrylic tiles from a seller on eBay, knowing they can be cut with woodworking equipment.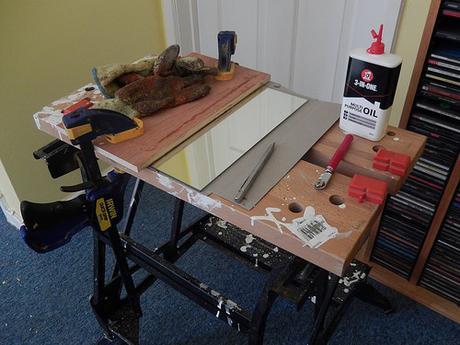 Looking around some more and I found Ikea's Lots mirror tiles and, for the quantity I required, they were set to work out at around half the cost of the acrylic, even before postage. So, after collecting three packs from Ikea in Bristol, I was left with the challenge of having to cut the glass myself – all of which is detailed below.
To begin with, I had a piece of 12mm plywood cut to the finished width (200mm) of each tile and slightly longer so that I could use it as a straightedge.
When it came to the actual cutting, I searched high and low but could not find the unused glass-cutting wheel I know I bought as part of a job lot of tools a few years ago. So, I rushed out, buying two types of brand-new tools at less than £2 each.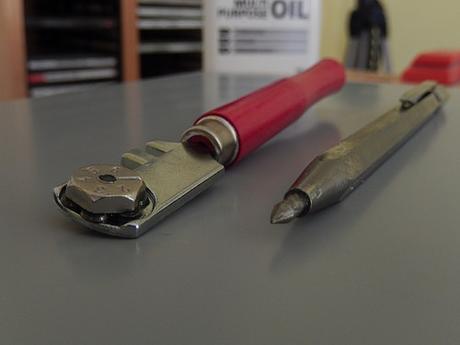 My first few attempts at cutting the glass were with the tipped scribe. I ran it down the edge of the plywood once on the mirrored side, turned the tile over, tapped along the score line and then positioned it over the edge of the plywood and firmly snapped, pushing down evenly with both hands – and that first break was very clean and almost flawless. Certainly, fine where the rough edge would be concealed within the wooden frame.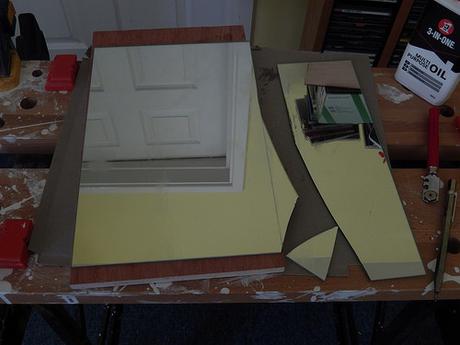 Persevering with the same tool, I did not get another clean break on any of the next four cuts – at which point, I decided to change over to the cutting wheel, having effectively 'lost' an entire pack of tiles (worth £6).
My first break with the wheel was even cleaner than the first with the scribe. It was a lot easier, as well: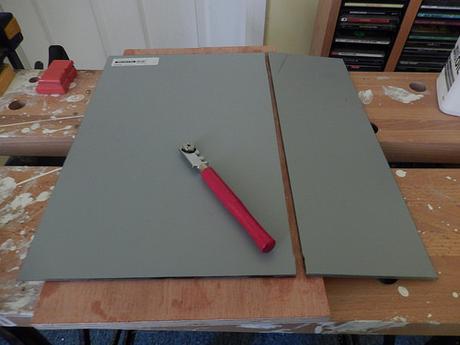 I had to offset by straightedge by a few millimetres as the cutting wheel runs 'inside' the tool and not flush with any external reference edge. But with one stroke, I flipped the tile over, tapped it along the length of the cut and without anything more, the break was made.
Of course, had I tried to use the cutting wheel first of all, I never would've touched scribe at all! I imagine pointed scribes are ideal for when cutting a radius.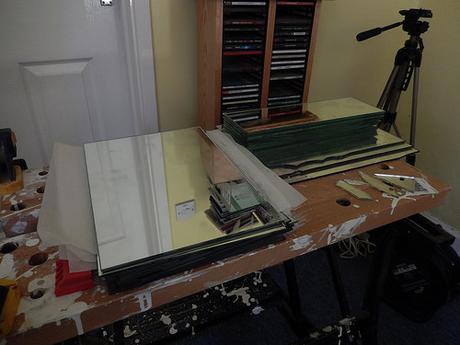 Of the twelve tiles (three packs worth) I purchased, I currently have eight of which I am happy to use. I'm planning another trip to collect one more pack of four but it would also be prudent to add a second pack to my trolley in the event of further breakages – if nothing more, it might encourage me to make a smaller frame as a gift or something!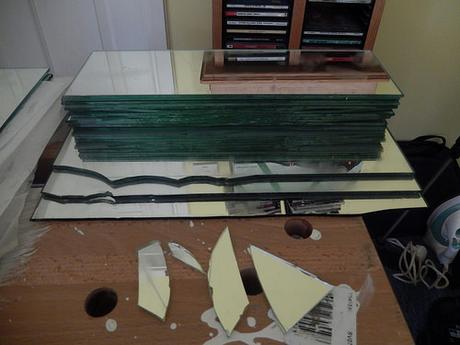 I also have a stack of offcuts (approximately 300mm x 100mm) that I'm unsure of what to do with. If you have any suggestions, I welcome them. If not, I may offer them on Freecycle to 'crafty' people, in the hope I don't have to take them to the tip.
Some of the wreckage I'd created earlier was salvageable, where the scribe line remained in tact and all I needed to do was clean off the jagged excess from the break: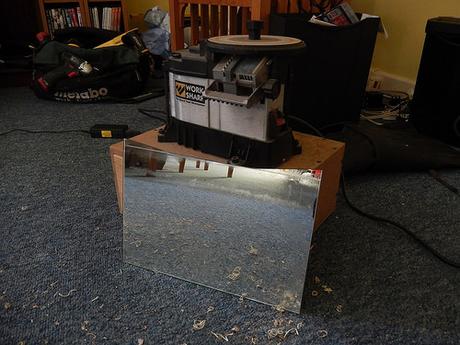 That example in the photo above was too extreme for this and has been placed to one side. But with a lot of patience (not to mention a few Mirka Gold sanding discs), I was able to tidy up some of the unbroken edges on my WorkSharp 300 tool sharpener. It also gave me the incentive to sharpen a few neglected chisels.
My old friend Hindsight has decided to show up after the horse had bolted, to tell me that I could've tried asking local glazing companies for quotes that would've provided me with glass tiles cut to size and with smooth edges all round… He then went on to accuse me of liking Ikea too much!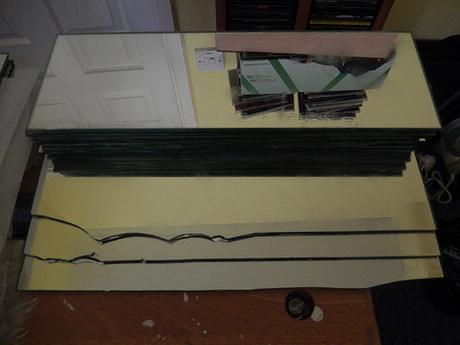 As things stand today; the frame has been coated twice with a gloss white paint and is all but ready to hang, one I've attached the glass tiles. I even decided to scrape away much of the 'excess' paint that may have been undeniably visible in photos from my previous post. I also found it was much easier to paint something of this size in a vertical orientation – much like a real window.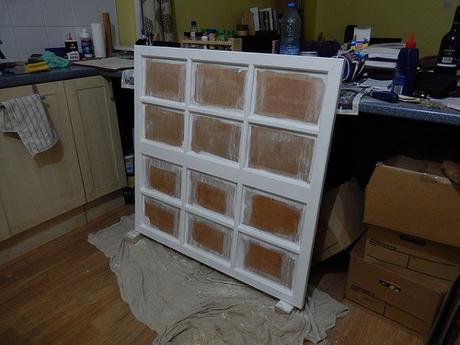 You'll get to see the completed mirror in Part 3. I may also post some photos ahead of that, asking for thoughts on the best place to position the mirror (eg. Should it be opposite a window or light source?).
So, if you're looking to cut glass tiles, but a cutting wheel – the one I found came with six interchangeable wheels so that you can get your money's worth and retain a sharp cutting edge.
Thanks for reading.