So finally I'm reviewing the Real Techniques brushes that I got in February. I have this rule where I test out makeup tools for atleast 6 months before I review them because I feel like anything wrong that can happen with tools - becoming rough, loosing shape, loosing bristles- will most likely happen within that period & then I can give a well rounded review. I have been testing this set ever since I got it in February, I actually had to resist opening the packaging while taking the pics back then because I was so excited to finally get my hands on them. But enough talk, lets get on to the review.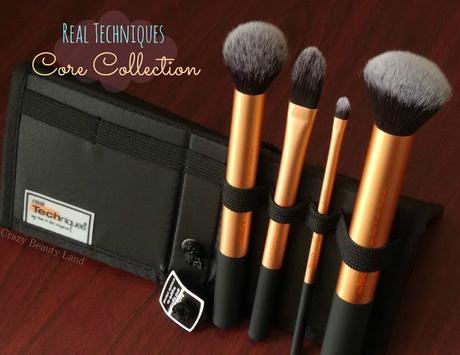 The entire set comes in a plastic box which is sealed very well, my guess is that its sealed this way so that no one steals the individual brushes in it(coz its also sold in shops outside India). You get four brushes and a black stand which also doubles up as a case. To be honest, it isn't of use to me because I already have pouches in which can carry a lot more brushes. The brushes have golden-orange colored handles, although they look yellow-gold in the pictures, trust me they are actually orange-gold and they look very pretty ! Each brush is labeled.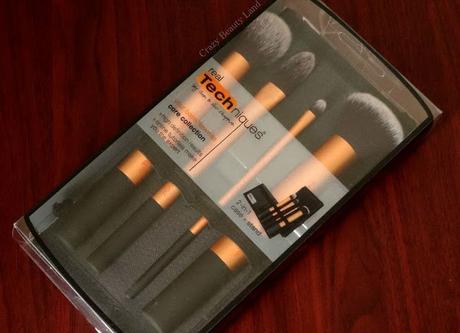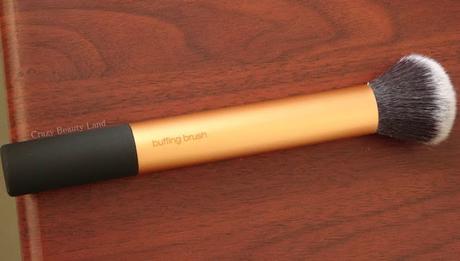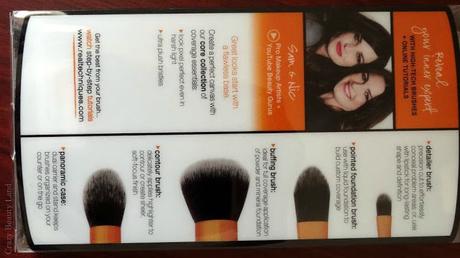 The back of the plastic box describes the set :
Create a perfect canvas with this collection of coverage essentials:
look pixel-perfect even in harsh light
ultra-plush, synthetic bristles are hand-cut and 100% cruelty-free
detailer brush: precision cut to effortlessly conceal problem areas; or, use with lipstick for long-lasting shape and definition
pointed foundation brush: Use with liquid foundation to build custom coverage
buffing brush: ideal for full coverage application of powder and mineral foundation
contour brush: delicately applies highlighter to contour or create sheer, soft-focus finish
panoramic brush case is a 2-in-1 case + stand
My experience with the Real Techniques Core Collection Set :
Buffing brush is one of the most raved about brushes from Real Techniques, it is the Holy Grail foundation brush of many people. When I first got it, it was the only foundation brush I had at the time & I liked it. However, since then I have purchased some more foundation brushes and I don't reach for this one as much as I did before. Real Techniques brushes are synthetic, and therefore they can be used for any purpose, even though this brush is meant for powder foundation application, it works with a lot of different textures - liquid, mousse, cream. Real Techniques has repeatedly specified in the comments section of the videos on their channel thatthe Buffing Brush is meant for sheer coverage - and I agree with them. Compared to other brushes that I've used, this one gives a relatively sheerer coverage. It has soft bristles and it dries up quite fast after washing.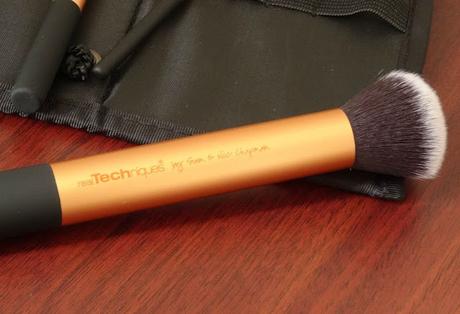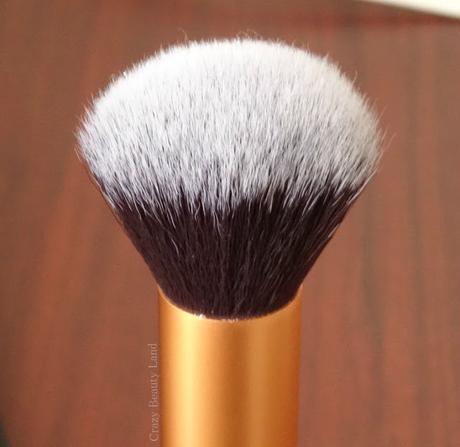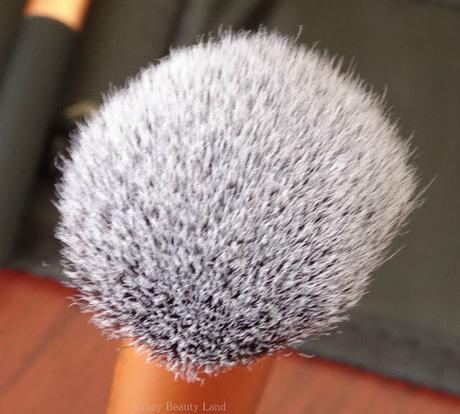 Since the core collection set is supposed to contain 'coverage essential' brushes, I am surprised that it contains a contour brush because contouring is not a basic makeup technique. Real Techniques has described it as 'delicately applies highlighter to contour' which creates even more confusion! A lot of people use it to highlight underneath their eyes, but I prefer smaller, more precise brushes. For contour as well, I prefer to use a fluffy eye makeup blending brush to map out the contour, then I go in with this brush to blend out the color. This brush is like a large, rounded blending brush. Its also soft & dries up soon! I find it large to map the contour on cheekbones & jawline, however it's the right size for mapping the contour my neck. It does a good job of blending the contour shade.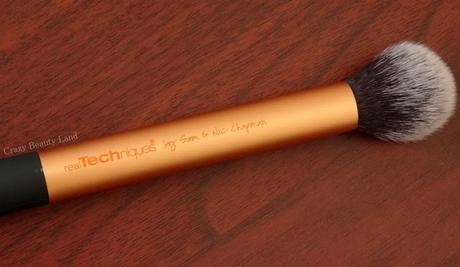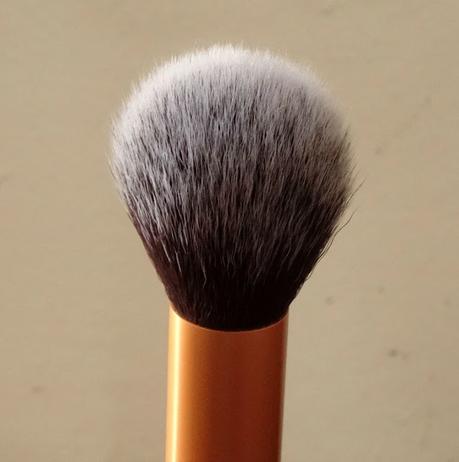 comparision between the buffing brush & contour brush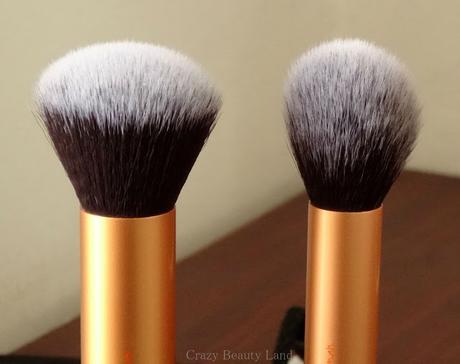 : This is one brush that I really, really wish wasn't there in the set. I have Pointed Foundation Brush tried using it for foundation, concealer, highlighting but its bristles are just so pointed they feel sharp against my face. It feels like the brush is poking you. Another thing is that its stiff, yet floppy. This makes it hard to precisely apply anything with it. I wish this kit had a proper concealer brush instead of this pointed foundation brush. I still reach for my Colorbar emphaseyes eye blending brush for my eye contour area. Its bristles are soft, but due to the shape of the brush, they poke your face.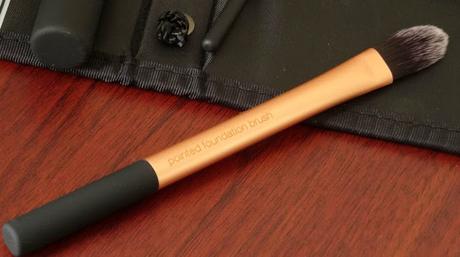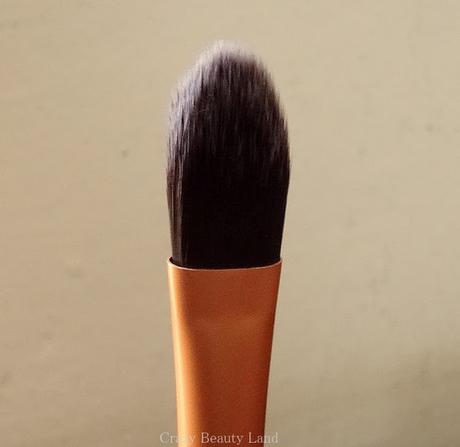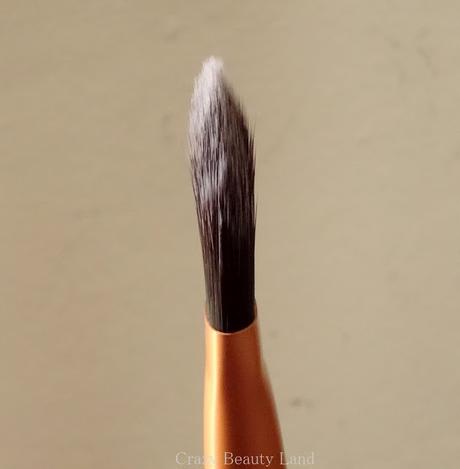 : this is Detailer brush one of my favorites from this set. I love how tiny it is, it's the perfect size for concealing blemishes & applying lipstick. I wish that there were two of this in the set because if it is used for lips, it cannot be used as a concealer brush in the same sitting :/ It is soft and dries up in a jiffy due to its small size.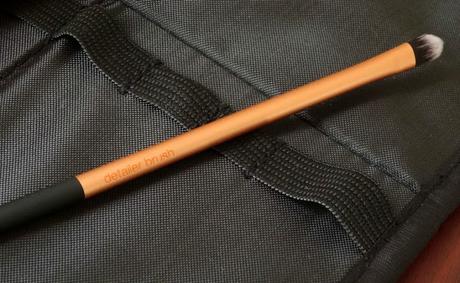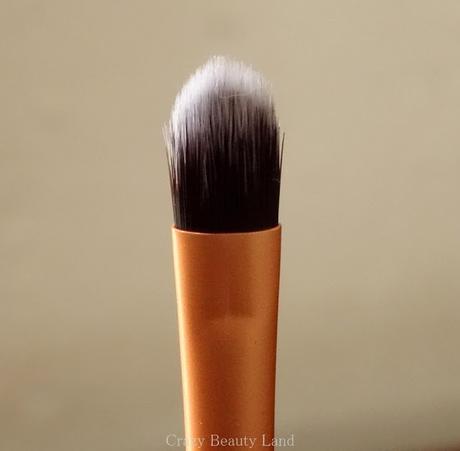 like The Body Shop brushes are. However, All the brushes are soft, but they aren't silky soft they are not rough at all & I have used them(except the foundation brush) regularly and they have not become rough/scratchyneither have they shed any bristles. When I spray alcohol over the brushes, to sanitize them, they do become rough, but after using a bit of conditioner in the next wash, they are back to their initial softness. The contour brush tends to change its shape during use, but it doesn't permanently loose its initial shape. The contour brush & buffing brush can stand on their own.
Price : $18 (in US) / Rs. 1400-2000 in India
It is also available at Luxola, but wayyy overpriced. I feel like the Real Techniques brushes are overpriced in the Indian market, but if you are willing to wait you can get them at good discounts. Currently the Real Techniques Core Collection being sold with discount on Amazon & Flipkart.
The Real Techniques core collection set has a good set of brushes, however, alone they aren't enough for my base makeup, I need to use a concealer brush for my eye contour area separately. If you don't have any major dark circles to cover, this set alone will be sufficient for your base makeup! I also don't thing the panoramic stand included is necessary, since some of the brushes can stand on their own already.