It is important that you choose the right eye shadow for your eyes. This enhances the beauty of your eyes. It can be a daunting task, especially if you have blue-green eyes. This eye color is not very common, but it is a striking hue and very attractive. With the right shade of eye shadow, you can make your eyes look even more captivating. You can choose eye shadow colours from blue to brown color. Here is how you can make your blue-green eyes attractive with the right makeup: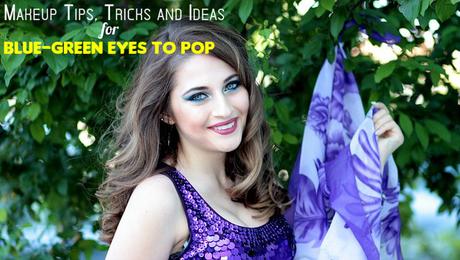 Choosing Makeup for Blue Green Eyes:
Beautilicious brown:
Simplicity always adds to your beauty. Brown eye shadow is perfect for getting a more versatile and flattering look. Apply a dash of the brown eye shadow on your eyelids. This will make you edgy, but pretty.
Tip: Urban Decay Naked Eyeshadow Palette shade of brown is great for your blue-green eyes. Match your sexy pair of eyes with minimal makeup and strawberry lip.
Delicious Bordeaux:
If you are getting bored with using the same old, heavy dark effects that can make your dreamy eyes look severe, then you can go for a Bordeaux tone. Bordeaux is a classy, daring and interesting shade. It works well on blue-green eyes. It can add warmth to your eyes and create a softer look. It has the same glistening effect as the brown colour, but it is less dark than the black, which is a color that is played out by all.
Tip: Estee Lauder Pure Color Envy Sculpting Eyeshadow Palette in Current Desire is a good choice. It can create a little unexpected but sophisticated look to your eyes.
Daring berry:
If you are going for a high voltage look, glisten your blue-green eyes by enhancing the red undertone with a dash of cranberry on your eyelids and a smoky black contour in the crease.
Tip: Pick this warmer undertone, like MAC Cranberry – medium-dark burgundy with a frost finish. Smudge it around your eyes evenly and then apply a double coat of mascara. This is apt for a lovely day to night look.
Go bold:
You can create a magical effect to your blue-green eyes by playing with blue hues. If you can't believe, read on and you will know. Contrary to the general rule, you can go wild with blue eye shadow for your blue-green eyes. However, you should know the right combination to get the desired result.  This means that even if you are using a color that is same as the color of your eyes, you could still play around by blending it with a lighter eye shadow. The look you create can be really stunning.
Tip: A perfect tone that can match with your eye color is Urban Decay Kiddie Pool In Ocean Blue. This helps in accentuating your features in addition to giving a magical effect to your eyes. Just add different textures to both the shades. If your pick one in glitter, remember to pick the other in matte. This way you will be able to make your eyes stand out.
Pretty pink:
If you are thinking of giving a subtle look to your eyes, then you can choose pink eye shadows. The feminine tone of pink helps in giving depth to your blue-green eyes and makes your eyes look very captivating. Make sure that you blend it the right way. This will give a refined and flawless look to your eyes.
Tip: Pick Maybelline Color Tattoo Pure Pigments in Pink Rebel and swipe a little of this across your eye sockets. Now blend it well. This will give a smoky effect as well as a bright look to your eyes. This adds glamour to your eyes and gives it an ethereal look.
Va-Va Voom Violet:
Any deep shade of purple can make blue-green eyes look attractive. So, choose a bolder, light or romantic hue of purple for your eyes. Sweep this color on the center of the eyelid and create an elegant effect. You can choose a shade according to the look you want to create. Tarina Tarantino's Jewel Eye Shadow Palette In Fantastical and Guerlain Ecrin 6 Couleurs eye shadow palette is a good option. Both the colours give extra warmth to your look and help you pop your eyes without giving a feeling that you have gone overboard.
Tip: For best results it is better to avoid smoky effect. All you have to do is to keep your eye shadow limited to your eyelids.
Celebrities with Blue-Green Eyes:
Aishwarya Rai Bachchan: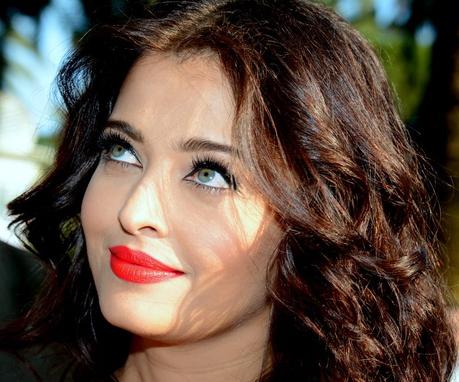 Aishwarya Rai, one of the most beautiful woman and Bollywood actress, is known for her lovely blue green eyes, which attract everyone. People are still confused whether her eyes are blue, green or brown. For this, her answer is that her eyes pick up different tones depending on what she wears.
Paired with plum lipstick and smoky eye makeup, she looks gorgeous. To recreate her look, you can experiment with various shades in Pop Beauty's Eye Shaper Palette in Plum Popper and pair it with mauve lipstick, like L'Oreal's Endless Lipcolour Lipstick in Undeniably Mauve.
Olivia Wilde:
Olivia Wilde also has a beautiful pair of blue-green eyes, which are her most distinguishing feature. When encircled with a copper shadow, her eyes become even more intense. You can recreate her tightly lined eye look by using dark eyeliner rimmed with perfection around the lash lines. Use liquid or gel-based eyeliner for this. Then you can smudge some fun apricot-hued shadow. Bare Escentuals Eye Colour in Iced Tangerine is a good product you can use.