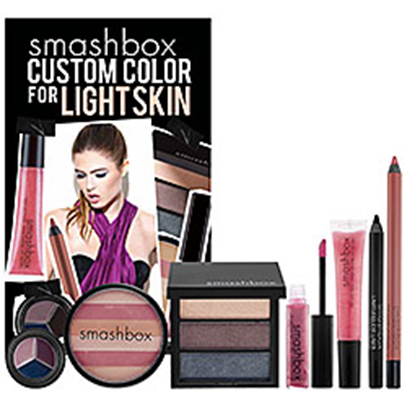 An exclusive collection created specially by the artists at Smashbox to complement light complexions and enhance your most gorgeous features.
This set features a variety of shades as well as a Step by Step Get-the-Look Guide that shows you how to wear them. Each Custom Color Set includes an eye shadow trio compact in the new luxurious Photo Op formula, as well as a variety of cult-favorite cream eye liner shades housed in a portable trio. Also included are two lip glosses, a nude lip pencil, a waterproof eye liner pencil and Fusion Soft Lights —all of Smashbox's favorite photo-worthy products packed into one incredibly customized kit!
 
This set contains:
- 0.053 oz Cream Liner Trio for light skin (soft plum, dark brown, deep royal blue)
- 0.34 oz Fusion Soft Lights for light skin (champagne, peach, rose)
- 0.075 oz Eye Shadow Trio in Fizz, Minx, and Obsidian (peach beige shimmer, silvery taupe shimmer, pewter gray shimmer)
- 0.14 oz Lip Enhancing Gloss in Radiant (sheer color/ metallic golden rose)
- 0.19 oz Reflection High Shine Lip Gloss in Pink Sorbet (sheer golden pink)
- 0.04 oz Limitless Eye Liner in Onyx (black)
- 0.04 oz The Nude Lip Pencil in Light (soft nude)
formulated WITHOUT:
- Parabens
This set, also offered in Medium and Dark, houses a full face of products that provide the most glamorous range of colors for your unique skintone.