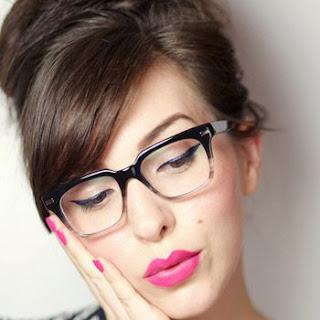 Girls who wear eye glasses often find it impossible to get the ideal makeup look. Most of the time to make their eyes look behind the glasses they over do it and sometimes leave their eyes nude because they think that with those glasses their eyes are not going to show anyways. This attitude of girls with glasses is wrong because makeup can transform you even in case you wear glasses. What you require to do is, pay a small more attention and do the ideal make for girls with glasses.
Start With A Primed Eye
First you require to start with a primed eye as well as a defined eyebrow because when you wear glasses your eyebrows stand out more. Make definite your eye brows are well formed and neatly plucked. You can use an eyebrow kit to make it dark or use a dark brown eye brow pencil l to fill in the gaps or to make it dark. Never use a black pencil. It will look fake.
Apply Shimmery Taupe Color
Now apply a shimmery taupe color all over the lid, bringing it up past the crease. This will make your eyes look bigger and show a small color past the frames. After this, intensify your outer corner and the crease with a plum color. This will give definition and depth to your lids and make them look less dull. Now apply a light nude color under your eye brow to highlight it. This will enhance your eyes and your eyes will look bigger with those glasses on your face.
Enhance Your Eyes With Eyeliner
Make a narrow line on your lower lash line with a black eye liner pencil. On top of that apply a shimmery plum pencil liner. This will bring light to your lower lash line, making your eyes look more wake and your eyes will be noticed with those glasses. Now apply a black liquid eye liner on your upper lid, curl your lashes, apply mascara and youre done. Now you will notice that behind the frames of your glasses you can see large, awake and fresh looking eyes.
Eye Makeup According To The Frames of Eye Glasses
The frames of your glasses make an impact on your eye shadow color choice. In case you wear frameless glasses or your frames are simple then you can use a variety of different eye shades but in case you wear bold or colored framed glasses then go for subtle eye shades.
Eye Makeup According To Vision
Your vision matters . In case you are near sighted this means that your eyes behind glasses will look smaller and in that case you ought to make use of makeup techniques that make your eyes look bigger such as the described above. In case you are far sighted then your eyes behind the glasses look bigger. In that case you ought to not use make up techniques that make them look even bigger. Do not make wings with eye liner or make heavy dark crease.