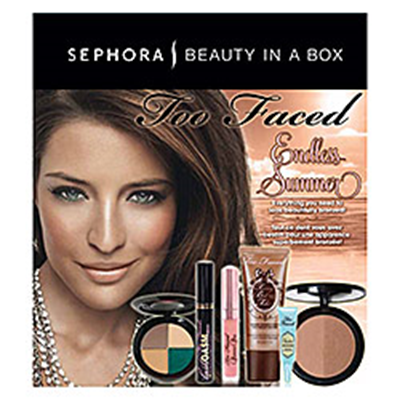 limited-edition kit featuring a handpicked collection of our favorites from Too Faced, plus a how-to guide. 
Sephora has teamed up with Too Faced to bring you this exclusive "Beauty in a Box" set featuring our latest product fixations, plus a step-by-step tutorial. Available for a limited time only.
This set contains:
0.17 oz Eye Shadow Quad in Lovey Dovey, Heaven, Honey Pot, Neptune
0.4 oz Lashgasm Mascara in Black
- 0.12 oz Glamour Gloss in Plush
- 1 oz Tanning Bed In A Tube
- 0.11 oz Shadow Insurance
- 0.33 oz Sun Bunny Bronzer
This kit includes an array of gorgeous and fun products. Glamour Gloss lets you shine beautifully with a formula that has an addictive, plumping, cooling sensation. Sun Bunny Bronzer, Too Faced's bestselling universal bronzer, provides all skintones with the ideal bronzed effect. Get fluffy, long, thick, and healthy looking lashes with Lashgasm Mascara's customized brush that flexes and combs though every lash. Achieve golden goddess eyes with the limited-edition Exclusive Shadow Quad, an array of summer shadows that apply effortlessly. The Exclusive Tanning Bed in a Tube features a lightweight sunless tanning formula that instantly provides a golden bronze tone to skin and gradually deepens with continued use. There's no streaking or staining, and its tropical scent is decadent. Silicone-based Deluxe Shadow Insurance eyeshadow primer transforms any eye shadow into a perfectly blendable color-drenched intensified version of itself, then locks it down perfectly until you take it off.