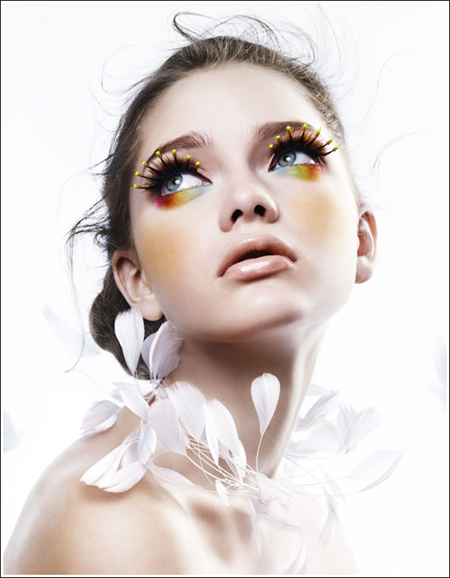 shu uemura consistently challenges the boundaries of expression with unparalleled expertise and vision. In1968 founder Shu Uemura introduced the world to "mode make-up", a make-up collection of cutting-edge design and concept that led the world to new trends and elevated make-up to a state of art. Eyes embellished with shu uemura's iconic false eyelashes broadened the possibilities of expression and were often used as the means to express the concept of "mode".

tokyo lash bar is a modern lash play-space providing total eye make-up service enabling customers to freely explore unique eye designs with make-up and beyond. The first tokyo lash bar opened in 2004 and quickly expanded to become an international beauty staple, providing a stage for shu uemura's annual false eyelash collection. 2011's tokyo lash bar collection, "ethnocolor-scope" features the beauty of intricate decoration inspired by handicrafts. A signature fusion of fashion trends, art, and innovations catapulted shu uemura into an industry vanguard. Discover the innovation emboldening women around the world.
Ethnic Charm
Lively and charming eyelashes trimmed with yellow, green and orange beads. The vivid décor on the tips of these lashes gives a fun, youthful look.
Tribal Patch
Wear these cheeky lashes to accent a casual look. Inspired by patchwork designs, they dazzle with striking colors, adding a rich graphic accent to your eyes.
Green Folklore
Intricately layered eyelashes with an accent of luscious feathers. This extraordinarily elaborate design creates a refreshing verdant gaze. The green-feather mini eyelashes.
Oriental Arch
The elegance of Asia inspires eyelashes with a rare splendor. A silky woven thread forms a unique arch shape to accentuate your oriental beauty.
Mini Fancy Bonbon
The delightful bonbons on natural brown lashes add a festive and candy-sweet flavor to your gaze.
Mini Violet
Purple cotton threads and a delicate flower motif enhance an adorably girly look.