Ice Cream Magic, As Seen on TV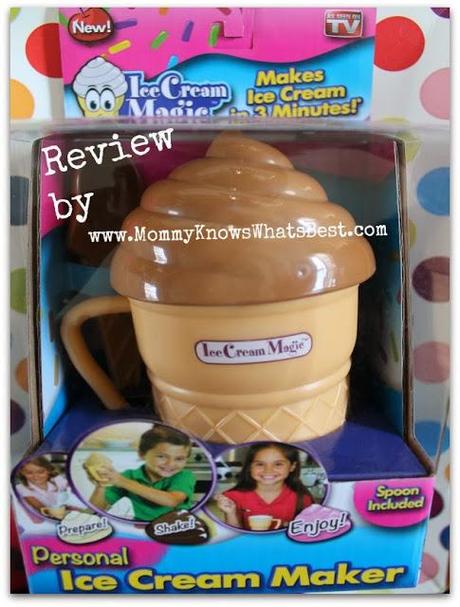 Review of Ice Cream Magic, As Seen on TV
I scream, you scream, we all scream for ice cream! If you're a mom of young kids, you know this old saying to be completely true; there may be a lot of screaming for ice cream in your house! 
Thanks to IdeaVillage.com, I was given the opportunity to review the Ice Cream Magic Personal Ice Cream Maker, an As Seen on TV product for kids. 
The Ice Cream Magic ice cream maker promises a scoop of ice cream in about three minutes. It comes with an outer cone, a freezing bowl, a lid, and and swirl cap. A cute ice cream cone spoon is also included in the package, along with instructions and recipes.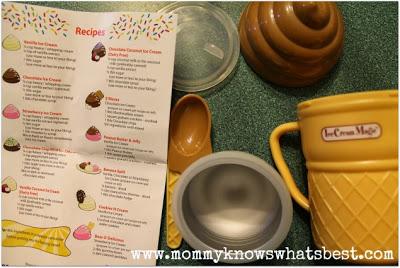 To make the ice cream, you fill the outer cone with ice, water, and salt, and then add the ingredients to the freezing bowl. After shaking the whole thing continuously for three minutes, you should have about a scoop of ice cream in any flavor you choose. 

This is my first attempt at making a green tea ice cream. I followed all of the directions, using heavy whipping cream as my main ingredient. All of the ingredients were very chilled, as was suggested in the instructions. 
I set a timer for three minutes and shook the Ice Cream Magic maker like crazy. What a workout! At least I was burning off the calories I was then going to eat. 
After three minutes, I had green tea ice cream soup. The instructions said to try again for another minute, so I did so, but still, soup. There was minimal frosted cream around the freezing bowl, but that was about all. I had to shake it for an additional 5 minutes before it got any thicker, but at best, it was a milk shake. A rather good tasting milk shake, but still not ice cream.
Since I was tired, my son gave it a shot. He was dying to try it since it arrived at the house. He decided to make chocolate ice cream, using chocolate syrup.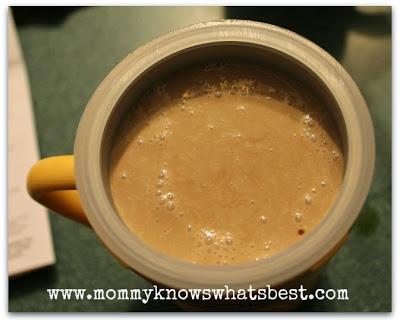 Now, if you knew my son, you know that from dawn to dusk he is like the Energizer Bunny. He keeps going, and going... He's a ball of energy in a 5 year old body. If any kid could shake this ice cream maker, it would be him.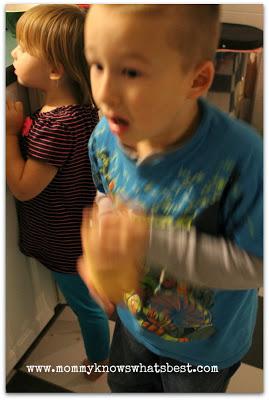 After roughly 30 seconds, he handed it back to me to finish...After three minutes, we once again got soup, but this time chocolate. I shook it for another 5-6 minutes, and it did get thicker, even thicker than my first batch.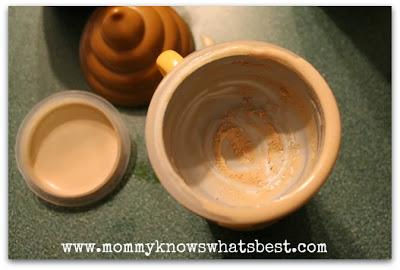 You can see the ice cream we did get on the outer part of the freezing bowl (this is after we scooped most of it out). 
We tried once more for my daughter. She shook hers for roughly 20 seconds before handing it over. This time my husband did the shaking and shook it vigorously for about 7 minutes. This time we got an even thicker version. There is hope! 
I thought we had to be doing something wrong, so I searched online for some other reviews to see what I wasn't doing right. I discovered some things:
Other people were using straight up heavy cream, not heavy whipping cream. 

One person suggested using less water and less salt in the outer cone. They also suggested shaking for 2 minutes, scraping down the sides, and then shaking for two minutes more. 

Other little kids couldn't handle the shaking either. It's more of a thing for kids 7 and older. 
It makes more sense to me to use straight up heavy cream, even though that might get pretty heavy on the calories, etc. It also makes perfect sense to scrape down the sides to allow the rest of the mix to touch the outer part of the freezing bowl as well. 
Pros:
Fun

Control of the ingredients

Cute design

Can be used for holding other cold treats and keeping them cold
Cons:
It doesn't take just three minutes, at least using heavy whipping cream as was suggested on the recipe sheet.

It's hard for kids 5 and under to shake for three consecutive minutes. 
Bottom line? It's fun and it can keep your kids busy for a while making their own edible creations.
The 
Ice Cream Magic Personal Ice Cream Maker
is available at fine retailers everywhere for around $9.99. It's also available on Amazon. 


I was given this item to review in exchange for my review. The words and opinions are mine and may differ from your experience. This post contains affiliate links, which help to cover the costs of running this blog. Thanks! 

Marissa is a stay-at-home mom who writes pregnancy and parenting articles on HubPages as ThePracticalMommy, as well as shares her motherly escapades on Mommy Knows What's Best.