Rosaries, is a religious jewelry. According to different religions, we can mainly found catholic rosaries, Muslim rosaries and Chinese rosaries.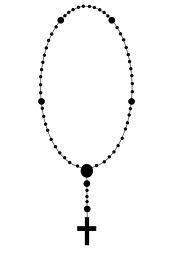 If you are a rosary wholesaler, you will wish you have unique and nice rosaries for your customers. Then, how to make your custom rosaries? How to order custom rosary? Here, as a mainly rosary factory in China, we would like to share our idea how to make custom rosaries with you. Let us start by catholic rosaries? To make custom Muslim rosaries or Chinese rosaries will be similar. 1.

  

We should know how many decade rosaries we need to make. This will be the mainly part of the rosary. At present, 5 decade

rosary necklaces

and 1 decade rosary bracelets are the most popular rosaries in the world. There are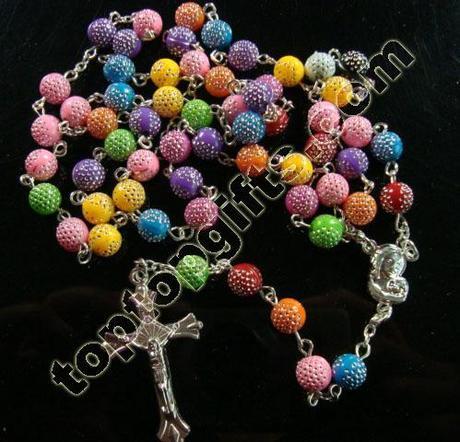 59 pcs of rosary beads in the 5 decade rosary necklace, as there are 50 pcs of 5 decade rosary beads, and 4 pcs of Father Beads to connect with decade beads, and 5 pcs of the rosary tail to connect with Madonna and cross with the necklace. While there are 11 pcs of rosary beads for one decade rosary bracelet.2.

  

After we choose how many decade rosaries- the length of the rosary, then we shall choose what size of the rosary beads. 4mm rosary beads, 6mm rosary beads and 8 mm rosary beads are the most popular sizes rosary prayer beads all the time. Also, you can use 10mm, 12mm, or 3mm. Besides, there are oval rosary, such as 6*8mm... 3.

  

Then we should consider the shape of the rosaries use. Rosary beads are the mainly part of the rosary. According to different shape of the beads, we can choose bicone rosary beads, oval rosary beads, rondelle rosary beads,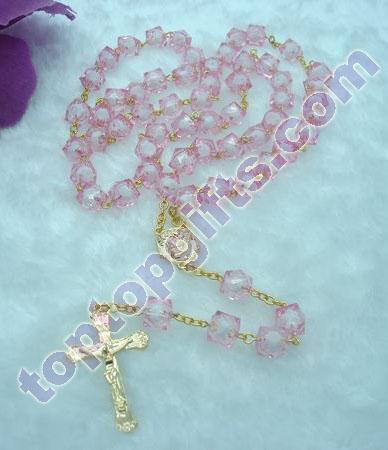 square rosary beads, round rosary beads, triangle rosary beads… Also, because there are different surface of the jewelry beads, we should also tell the rosary factory need faceted or plain surface. Above rosary beads are simple rosary beads as one unit. Some people will also like to have assembled rosary beads as one unit to make the rosary necklace or rosary bracelet. For example – a round beads with double caps, two rondelle rhinestone beads with a bicone crystal beads in the middle.4.

  

Father beads are the beads to connect with decade beads. Some prayers will like to have different Father Beads, for example – different color with the decade beads, bigger Father Beads,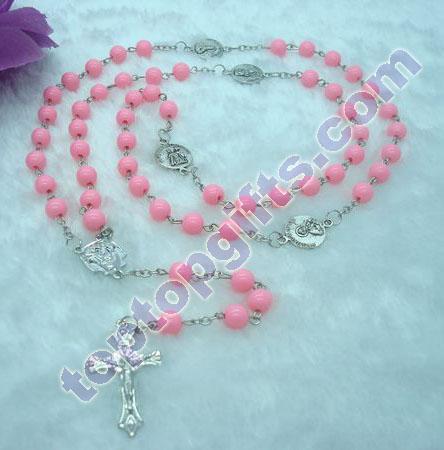 or different shape Father Beads… Usually, the top and bottom beads of the rosary tail will same as Father Beads.5.

  

The material of the rosary beads is the mainly cost of the rosary. So, to choose suitable material rosary beads are very important. Till now, almost all of the jewelry beads can make into rosaries. So, we can choose crystal rosaries, glass rosaries, pearl rosaries, plastic rosaries, acrylic rosaries, metal rosaries, cloisonné rosaries, crackle rosaries, wood rosaries…6.

  

Next, we can decide what color of the eye pins, chains, Madonna, and cross to match with the custom rosary. Gold, silver, iron are the mainly colors for rosaries.7.

  

The material of chains, eye pins, Madonna, and cross. Brass chains and eye pins with alloy Madonna and cross are the mainly rosaries now days.8.

  

The style of the Madonna/Centerpiece and cross are the follow step we should consider. Including the material of the Madonna/Centerpiece and cross, the design of the Madonna/Centerpiece.9.

  

Besides the eye pins rosaries, some prayers also like the beaded rosaries. That is not eye pins to connect with the rosary beads, but small seed beads. Above are the main assembled to order custom rosaries. Do you have any idea to make custom rosary? Share with us any time for rosaries.