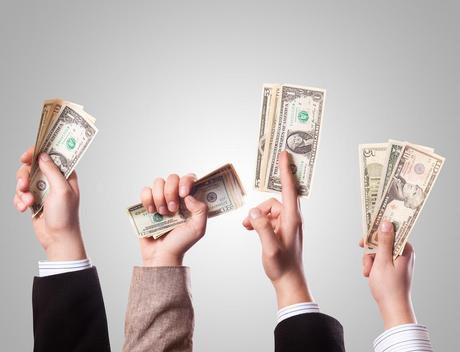 "If you have a talented skill, never show it for free."
The above quote provides enough information on how one can utilize their skills and passions to make some good money. A boring job would provide you with money but it won't brighten up you from the inside. So, if you are into blogging then go for it. But a beginner would surely want to know how one can make money from this creative activity. So a few simple rules that can help you get your money flowing in through your blogs is what briefly described below. So take a look at the money pumping ideas that a majority of successful bloggers offer:
1. Money through Advertisements
This method is considered the primary one for a the earnings of a blogger. If you have a decent amount of traffic at your site then advertising other companies on your website can get you heavy sums of money. The advantage of search Engine marketing has made it easy to get the most relevant ads on websites that users find interesting. This makes advertising an effective strategy for many. If you consider this method false then consider looking at the histories of many popular blogging sites like Mashable, Huffington Post etc.; you will find that a majority of their revenues are ad driven. Being the most popular method did make its revenue rates decline but still the method is the easiest one with really less efforts.
2. Getting Sponsorships
If you have something worth showing the world then with a reasonable presentation of your work you can get sponsorships for your blogs. Many popular bloggers like Susan Dafnis utilized the trick to get sponsorships that made them filthy rich.
3. Seminars and Webinars
The world does not only like to read about something interesting but also is keen to hear what you have to say. Seminars and Webinars have also been commendable strategies that can create an impact on the public. With them interested enough to look at your presentations you are surely to get sponsors and traffic for your blogs.
Mike Stelzner a highly talented blogger used the trick and made millions in the past years. His Social Media Examiner blog is one of the top blogs around the world. And the majority of the credit goes to his Webinars.
4. Conferencing
If you are not good at writing then probably you are wonderful at speaking. Blogs nowadays are not just about writing about something that is interesting. Most people love listening than reading which gives better scope for making money. And if you are proficient enough then probably both reading and conferencing mechanisms can be used in your blogs.
5. Novels and Books
Again if you are a good writer then you can take your blogging experience to the next level. Start writing books to exhibit your story to the world. A majority of best seller novels have made their writers popular through this method only. If your blogging site has traffic then this is obvious that they will be the first ones to buy your completed books as they will be the first ones to know it. If they like your book then they would recommend to other people which create a chain reaction of inevitable success. Promoting your books through your sites can save extra money.
6. Affiliate Marketing
If you have connections with other bloggers who have decent traffic on their sites then why not affiliate with one another. All you have to do is sell each other's services on your sites so that your individual traffic can be add up. Two targets with one arrow are what you get by the technique. You can make money through ads and also get more traffic; a proliferous strategy to work upon.
7. Consultations
Blogging is not just about writing about topics that interest people but is also about providing services that might help people. Consulting services can also be a source of income in the online world. And with a global reach, there is not a better platform to spread the roots of your consulting services. If you are a physical trainer then utilize your blog to provide training blogs. Or if you are a counselor then providing solutions to people's problems can be the right thing for you.
8. Online Courses
You must have seen ads online that show some course online. The strategy is a good way of promoting your business and earning money. If you have something to give the world then why not authenticate the process in the form of an online course module that people can purchase through your blog sites.
9. EBooks
The benefits of blogging are not limited to just one source of income; you can use a diversified platform of ways and regulate them flawlessly to earn really high. Publishing ebooks can also be one of the sources of your income. Ebooks are easy to carry and easily downloadable too giving it a benefit over print books and novels. People read those more often nowadays and therefore they are a good source of income if managed properly.
10. Premium membership
You can find this technique of money making on a majority of sites. And even though this method is a common technique it does not affect the overall revenues of the sites. If you have traffic and have special services for your users then why not give them premium memberships for which they have to pay a certain reasonable amount. It not only provides them with extra content or service but also gives them an impression of being a VIP which they would surely love to be. But the premium services needs to be catchy enough to attract the users.
11. Sell Products
Having a family business or similar type of business can be promoted through your online blogs. You can even sell those products gaining access to the global market. It surely becomes easier and easily accessible through the online world.
Despite so may techniques for online money making the most essential part is your efforts in the process; without which none o the above techniques are of consistent usage. A few months of dedicated efforts can gain you a lifetime achievement through the above ideas and strategies used in Blogging for money.