There's nothing better than a good sell-off (see Dave Fry's SPY charts) when you're ready for it.  The stocks we want to buy get cheaper and we're able to raise money to buy them by cashing in our hedges and the VIX jumps back (18.59) to levels that make it fun to sell short puts again (our favorite way to initiate a long position).  
Take LULU, for example, they BEAT by 6.7% and the stock fell from $82.50 to $64 (22%) and now we can sell 2015 $50 puts for $4.30 for a net $45.70 entry. 
The margin on that sale is about $4.50 to make $4.30 (95%) in 18 months if LULU simply doesn't drop another 22% and our break-even is another 10% below that!  That's what we call a "set and forget" trade and we'll add 5 of those to our Income Portfolio and collect $2,150 now in exchange for our promise to buy 500 shares of LULU at $50 ($25,000) in Jan 2015 – if they are trading below that line.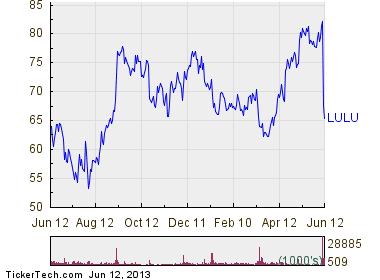 Following through that trade – should LULU be put to us at, say $40 (50% off the highs), then we could sell the 2017 $40 puts and calls for at least $10 (the 2015 $65 puts and calls are $26) and that would drop our net basis to $30 with a commitment to own 1,000 shares of LULU at an average of $35 if they are below $40 in 2017.  That's what we're committing to by taking a position in LULU at $64, buying 1,000 shares for $35.  As long as we REALLY want to own 1,000 shares of LULU at net $35 in 2017 ($17,500 of ordinary margin), then there couldn't be an easier way to collect $2,150 today.  
As I always tell people at our conferences, a good put sale is one in which you are UNHAPPY not to get the stock assigned to you at the net price.  We're being paid $2,150 by the put buyer NOT to take their stock from them.  They buy those puts because they FEAR it will go lower and they want someone to promise to buy the stock at a certain price, worst case.  Once that worst-case scenario washes out – those short buyers are very regretful of their panicked decisions.  
That's our job – to take advantage of…
This article will become free after 48 hours (see below for free content). To read the rest of this article now, along with Phil's live intra-day comments, live trading ideas, Phil's market calls, additional member comments, and other members-only features -
Subscribe to Phil's Stock World by clicking here
.