In today's post in this series, I am going to give you one of the easiest tips on how to upgrade your work outfits.  It's so easy, and requires so little effort, that after I tell you what it is you are going to be shocked that you didn't think to do it yourself.
My tip:  Get rid of the massive collection of black shoes in your closet.
Now hear me out.  I am not saying that you be as crazy as I am and not own any black shoes at all.  I am merely suggesting that every pair of shoes in your closet not be black.
When the time is right I have certainly styled my share of clients with black shoes.  I want to be clear, I have nothing against them even though I don't wear them.  However, what I do see is a huge reliance on black shoes.  I have cleaned piles and piles of black shoes out of the closets of clients and have taught many of my clients that with just a shoe change an outfit can go from basic to really interesting.  Therefore, I want you to see black shoes as an option and not a necessity.
Here are some looks to show you the difference a shoe change can make and to inspire you to start thinking outside the box, the shoe box, that is.
Look #1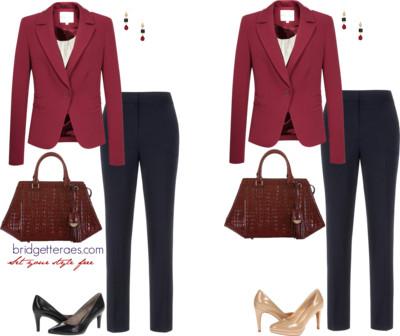 The outfit on the left and the outfit on the right are identical, except for the shoes.  On the left the black pumps by Rockport are style with a pair of Reiss pants a Reiss Blazer, Jones New York top and Brahmin handbag.  Simple earrings by Blu Bijoux finish the look.   This outfit is perfectly fine.
Now, to change up the look slightly and to give it, what i like to call a cubicle to corner office look, I swapped out the black pumps for a pair of tan ones by Cole Haan.   Tan shoes aren't just great with dresses, they go great with pants, too.
Look #2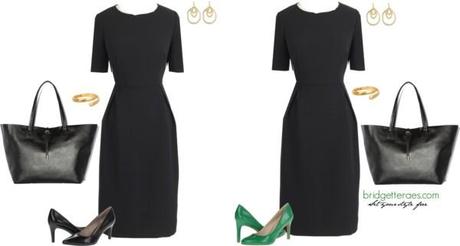 This simple black J. Crew dress looks great with the same black pumps as used in the last look.  The outfit is styled with a Vince Camuto tote, a gold bangle by LAUREN Ralph Lauren and a pair of earrings by Yochi Gold.
Yet, don't stop there!  Any color shoes can be worn with a black dress.  In this case, I chose a pair of green shoes from Nine West, but the options are limitless, including the tan shoes shown above.  With just a shoe change a pop is added to this dress.
Look #3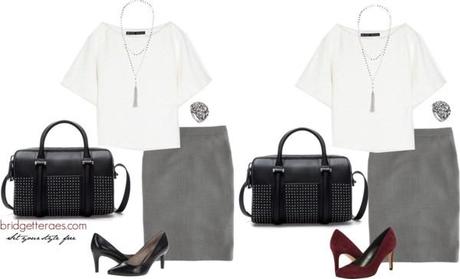 Lastly, a basic gray pencil skirt and boxy top from Zara looks fantastic with this black handbag and shoes used in the previous two looks, especially when styled with this Stella & Dot necklace and Swarovski cocktail ring.
However, with just a shoe change to a burgundy pair by Vigotti the outfit gets a fresh update.
Again, there is nothing wrong with having black shoes in your wardrobe or wearing them often.  However, what I want to point out is an extreme reliance on black shoes can often hold back all your wardrobe options along with a super simple way to add some punch to an outfit.

Repost This Article