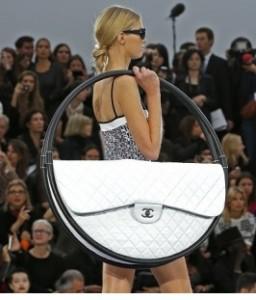 Seriously, what the heck is this?
Karl Lagerfeld paraded a larger-than-life handbag down the runway for Chanel's spring 2013 collection this morning that more resembled a hula hoop than a handbag.
Where is she going in this?  Honestly, I thought she was carrying some sort of a Chanel beach chair or picnic table in the iconic quilt design.   Well, as Lagerfeld said, this bag (which seems about as large as his ego) "It's for the beach" Lagerfeld explained after the show in the Grand Palais. "You need space for the beach towel, huh? And then you can put it into the sand and hang things on it."  Hmm, a couture drying rack.  Uh, okay…I guess.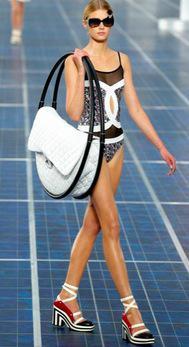 To those of you who need a designer handbag the size of Alaska to impress  others, the handbag isn't available for retail.  Even though it was paraded down the runway, couture fashion like this is more about selling a dream than it is merchandise.  As ridiculous as this thing of a beach bag looks, you can almost bet that it will influence fashion as its design trickles all the way down to some bargain bin at your local Target.  This is the way fashion works, boys and girls.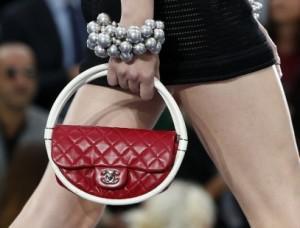 In fact, a smaller version of this bag was also seen during the show.
So, see how inspiration works?  You can bet someone will happily carry this one.  It wouldn't be me, but I'm sure someone would.