The United States is exceptional in the world when it comes to the protection of free speech. But that distinction is now endangered.
Peter Moore reports for YouGov, May 20, 2015, that its latest research shows that many Americans support making "hate speech" a criminal offense, by a margin of 41% for vs. 37% against.
Hate speech is vaguely defined by YouGov as public statements which would "stir up hatred against a group based on such things as their race, gender, religion, ethnic origin, or sexual orientation."
Note that "hate speech" doesn't mean a public statement that explicitly advocates or incites violence against a group, instead it is about "stirring up hatred," which is vague and subjective.
What does "stir up" mean? What does "hatred" mean?
The same statement may arouse ill will in someone, but not in another. In other words, what is considered "hate speech" means many things to many people.
On this issue of supporting criminalizing hate speech, as on others, there are partisan and racial differences:
The majority (51%) of Democrats support criminalizing hate speech

; only 26% oppose.
In contrast,

a majority of both Republicans (47%) and Independents (41%)

oppose

criminalizing hate speech

, with 37% of Republicans and 35% of Independents in support.

The majority of blacks (62%) and Hispanics (50%) support criminalizing hate speech

, with only 14% of blacks and 24% of Hispanics opposed.
In contrast,

a majority (43%) of whites

oppose

criminalizing hate speech

, with 36% favoring criminalizing.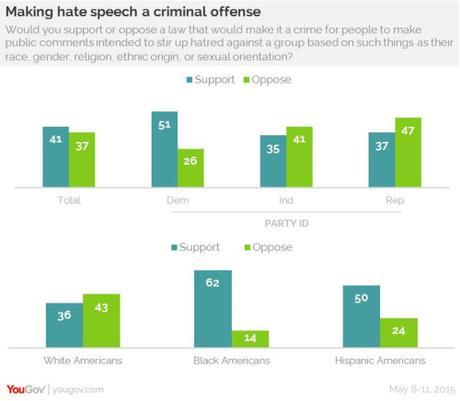 Charles C.W. Cooke of National Review points out that
It's important to note here that "stir up hatred against" does not mean "instruct a crowd to kill" or "explicitly incite violence against." Both of those things are already illegal under the Supreme Court's 1969 Brandenburg standard. Rather, it is a fancy way of saying "be really mean to."
Cooke notes that in the UK, prominent British columnist Katie Hopkins is being investigated by the police and may be prosecuted under the Public Order Act, for referring to African migrants crossing the Mediterranean as "cockroaches". But Hopkins did not threaten African migrants, nor did she ask her readers to meet her the next day and embark upon a violent crusade. She merely called African migrants by an ugly word.
Should Americans wish to become more like the British — as YouGov's research shows a majority of Democrats, blacks and Hispanics want to — they would have to do no less than to repeal the First Amendment.
H/t FOTM's MomOfIV
~Éowyn