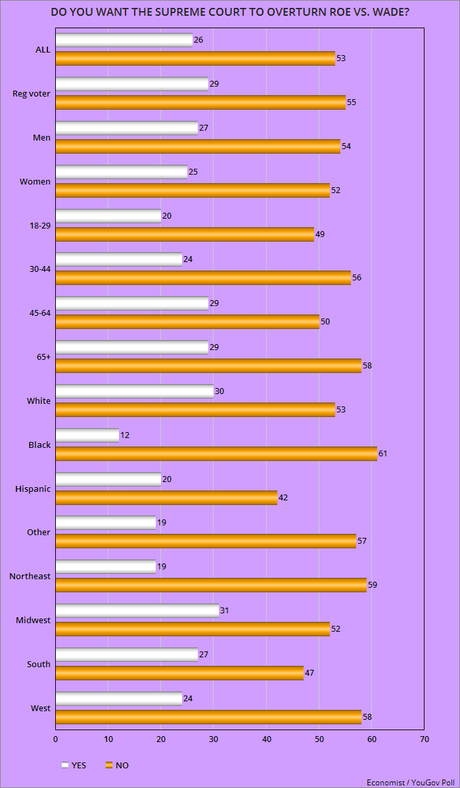 Donald Trump has said he will appoint a new Supreme Court justice by this weekend, and Mitch McConnell has said the Senate will vote on Trump nomination. This means Trump will have chosen 3 of the 9 court justices, and it would give the court a 6 to 3 majority for conservatives.
This puts Roe vs. Wade in danger -- the Supreme Court decision that allows a woman to choose whether to have an abortion or not. Trump promised his base that he would only choose justices that would vote to overturn Roe vs. Wade. He has already chosen two that feel that way, and a third would probably be enough to change the law (overturn Roe vs. Wade).
That may make the right-wing fundamentalists in his base happy, but it is not what the American people want. About 53% of the public (and 55% of registered voters) -- clear majorities -- are opposed to the Supreme Court overturning Roe vs. Wade. And that is true of both genders, all age groups, all race and ethnicities, and all regions of the country.
Once again, Trump and Republicans find themselves at odds with what the public and voters want. This is not going to help them in the coming election.
The chart above reflects the results of the new Economist / YouGov Poll -- done between September 20th and 22nd of 1,500 adults nationally (including 1,282 registered voters), with a 3.6 point margin of error.