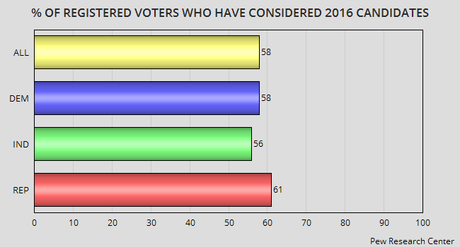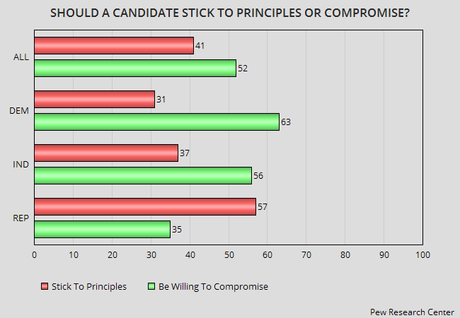 Political junkies like me, and the paid political pundits both on TV and in print, have been talking about the 2016 presidential election (and the possible candidates) for quite a while now -- in spite of the fact there's only one declared candidate, Ted Cruz, and he just declared a few days ago. That's natural, and to be expected. But what about the general public? Are they interested yet? Are they paying attention?
It turns out that a majority of them are interested, and they've been scoping out the candidates. About 58% of the general public say they've been considering the candidates (including 58% of Democrats, 56% of Independents, and 61% of Republicans). And a whopping 87% says it is very important who gets elected in 2016.
These numbers come from a new Pew Research Center Poll -- taken between March 25th and 29th of a random national sample of 1,500 adults, with a margin of error of 2.9 points.
An interest aspect of this survey is what the people want to see in their next president -- a person who will stick to principle, or one who will be willing to compromise for the good of the country. A majority (52%) of the public wants a person willing to compromise, and 63% of Democrats and 56% of Independents agree with that. Only the Republicans disagree, with 57% saying that want someone who will stick to principle and not compromise.
This is good for Democrats, because it makes it likely that the GOP primary voters will select a far-right ideologue as their nominee -- a nominee that the majority of Americans simply cannot support.
The survey also asked respondents which of the candidates they would be able to vote for right now (see chart below). Note that only one candidate from either party has a majority of Americans saying they could see themselves voting for her -- Hillary Clinton. The closest hopefuls to Clinton are Joe Biden (10 points behind) and Jeb Bush (11 points behind). No one else is even close.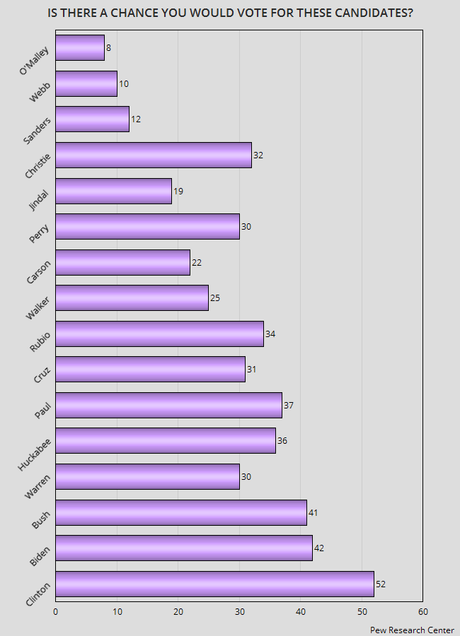 The survey also asked that same question of members of each party about their own party's candidates. Those results are in the charts below.