By any chance you missed the 'Let's Talk iPhone' event held on Oct 4th 2011 which was led by the new CEO of Apple, Tim Cook. Here is the gist of the complete event.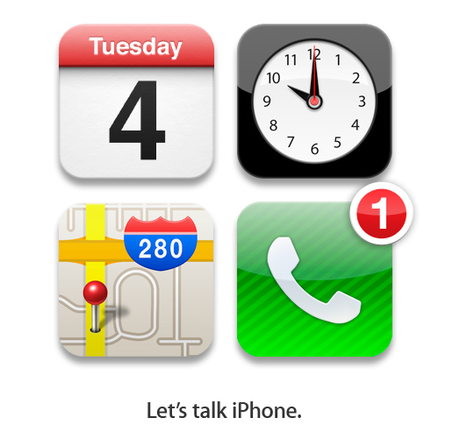 250 million iOS devices sold till now.
500,000 apps in the App Store.
18 billion App downloads in less than 3 years, with  over 1billion downloads every month. Developers have been paid $3 billion in revenue till date.
iOS 5 will be available as a free download for iPhone 3GS, iPhone 4, iPad 1, iPad 2, iPod touch 3G, and 4G from October 12.
61% share in mobile browser usage in the US, with Android coming second at 31%
iCloud to be available for iOS 5 and OS X Lion users from October 12. This includes iTunes in the Cloud, Photo Stream, Documents in the Cloud and iTunes Match (US-only).
Cards App : You can create and edit cards from your iPhone or iPod Touch. You shoot a photo, edit it, create a card between the 21 designs in the App and just send it to Apple. Apple will print it on a high quality 100% cotton paper and mail it. You will receive a push notification upon mail delivery through USPS. The app will be available from Oct 12 with the iOS5 launch and will be available for $2.99 in the US, $4.99 elsewhere.
Find My Friends App : This app makes location sharing very easy. Once you set it up you can share your location for few days and at the end of the  day it stops automatically. You can locate your friends and family using this app, provided they are sharing their location. .
iPad
95% customer satisfaction rate. 3 out of 4 tablets sold in the US are iPads.
140,000 dedicated iPad Apps in AppStore.
Every US State either has an iPad pilot program, or are deploying one for educators. Changing the way Schools and colleges teach.
80% of the top hospitals in the US are either testing or piloting the iPad.
92% of Fortune 500 companies are either testing or deploying iPad in less than 18 months of launch.
Pilots are also using iPads in order to become more efficient.
iPhone 4 has sold more than half of all iPhones ever sold and is currently the no.1 smartphone in the world. It has recorded 125% growth year-to-year.
93% of Fortune 500 companies are testing or deploying the iPhone.
Apple has 5% share in the mobile phone market worldwide.
J.D. Power has ranked it as the number one smartphone six times in a row
In the US, 8GB iPhone 4 will now be available for $99 and iPhone 3GS will be available for free with a two-year contract
iPhone 4S launched -
iPhone 4S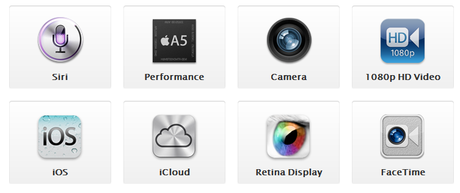 Retains the same design from iPhone 4 with an addition of Apple A5 chip, 8 megapixel camera, 1080p video capture. It comes in black and white variants and will be available in the US from October 14 with pre-orders starting from October 7. The prices will start at $199 for 16GB version, followed by $299 for 32GB and $399 for 64GB. Sprint will also be getting iPhone 4S in US this time around, along with AT&T and Verizon Wireless.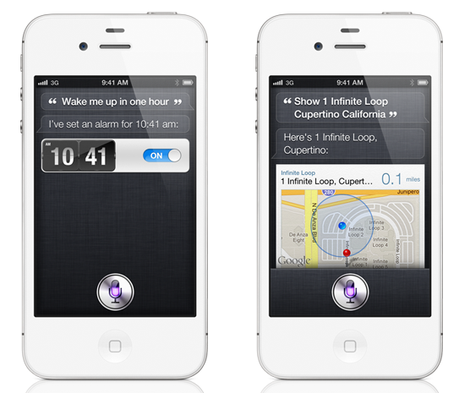 Siri, an intelligent voice assistant is integrated into the phone. This App defines this smartphone from any other phones in market right now. You ask a  question and Siri finds a solution/answer for you. It understands the context based on your questions and allows you to send messages, schedule meetings, set remainders, make phone calls or use services like Yelp and WolframAlpha all this just through your voice. It is currently in beta and supports English, French, and German languages with more languages and services to be added over time.
October 14 Release : Australia, Canada, France, Germany, Japan, and the UK will get the iPhone 4S
End of October Release : Austria, Belgium, Czech Republic, Denmark, Estonia, Finland, Hungary, Ireland, Italy, Latvia, Liechtenstein, Lithuania, Luxembourg, Mexico, Netherlands, Norway, Singapore, Slovakia, Slovenia, Spain, Sweden and Switzerland.
By December, the iPhone will be in more than 70 countries on more than 100 carriers.
iPod
The iPod, which launched 10 years ago, is still the number one music player in the world.
Over 300 million iPods have been sold till now with 45 million since last June.
It has a market share of 78% in the US and is #1 portable game player.
20 million songs on iTunes with 16 billion downloads recorded till now.
iPod Nano get a refresh and the new iPod Nano sports a

Redesigned interface with bigger icons,
16 new digital clock faces and improved built-in fitness features.
Seven colors – silver, graphite, blue, green, orange and pink and will be available for $129 for the 8GB model, followed by $149 for the 16GB model.
New iPod Touch running on iOS 5 with iCloud services, will be available from October 12 in new black and white models starting at $199 for 8 GB model, followed by $299 for the 16GB model and $399 for the 32GB model.
Awesome Apple Stats
It had sold more Macs on the opening day in this store than any store in the world.
There are now 20 million songs in iTunes; over 16 billion songs have been downloaded from it to date.
Apple now has 357 stores across the world and it said it will continue to invest in more stores globally.
Around 6 million copies of the latest OS X version, Lion were downloaded, which is 80% more than Snow Leopard.
MacBook Pro and iMac are the #1 best selling notebook and desktop in the US.
Mac outgrew the PC market by almost 6x, with an 23% year-on-year (YOY) growth.
Mac now has a user base of 58 million with 23% market share in the US.