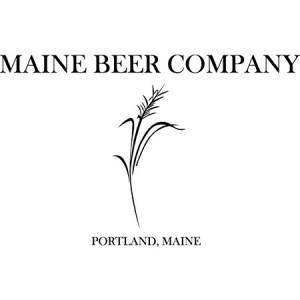 Company
In 1986, the D.L. Geary Brewing Company in Portland, Maine became, for all intents and purposes, New England's first microbrewery, and one of the first microbreweries east of the Mississippi River.  Since then Maine has become a hotbed of craft beer, and "Down East" craft breweries are quickly becoming some of the most respected in the country.  Not bad for a state that was one of the first to approve temperance laws in America.  One craft brewery in particular is making a name for itself in high-end beer geek circles: Maine Beer Co. (MBC), a small 5,000 barrel brewery that has been cooking up some of  New England's hoppiest beers since 2009.  Although ambitious, from its beginnings, MBC has embraced its conscious, seeking to "do what's right," and has instituted a number of sustainable initiatives, including signing up for wind energy credits to offset its energy usage, and becoming one of a handful of breweries that has joined One Percent For the Planet, assuring that 1% of its gross sales go to select environmental non-profits.

Brothers Daniel and David Kleban were avid homebrewers, until, like a select few, they realized that they could do it for a living.  In 2009, they established MBC as what has come to be called a "nanobrewery," essentially, a really small legal microbrewery.  Balancing their respective day jobs, Daniel and David continued perfecting their recipes, and after some early successes, most notably Peeper Ale (see below), and some encouraging words from craft beer legend Charlie Papazian, they graduated to a larger space and systems. Successes have continued to follow, and in April 2013, MBC completed its new facility in Freeport, ME, a short drive from their original location in Portland.
As MBC continues to grow, it makes a point to retain service as a key aspect of its business model.  Like many of the breweries featured in Revolutionary Spirits, MBC purchases e-certified wind credits to offset its electricity usage, supports many local charities, and donates its spent grain to a local farmer.  Interestingly, MBC is a member of One Percent for the Planet, whereby it donates 1% of its gross sales to environmental non-profits, including Allied Whale and the Dian Fossey Gorilla Fund International.
Beer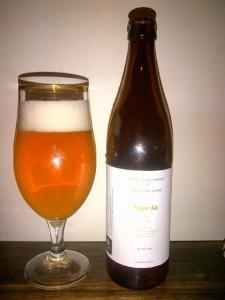 MBC has a full lineup of beers, including a stout, an amber, and a pale ale, among others, and it has made made its name by brewing them hoppy.  What has set MBC apart, however, is that it does not produce the chewy, resiny, thick IPA's and double IPAs that have come to saturate the market.  Rather, MBC's beers are crisp and refreshing.  The best example of this is MBC's flagship brew, Peeper Ale (right).
Looking at the picture on the right, it's easy to see why Peeper Ale is MBC's bread and butter.  The beer pours a pristine golden orange (some would even say radiant), with almost two inches of lacing that comes up right to the rim.  On the nose, there are A LOT of citrusy hops, and you get hints mostly of grapefruit.  On first swig, the hops are obvious, but Peeper has enough grain to balance it out.  It has moderate to high carbonation, enough to make this beer extremely crisp and refreshing.  So, although it is very hoppy, it won't kill your taste buds.  Plus, it clocks in at 5.5% so it's pretty much a "slower" session beer.
BeerAdvocate – 4.12/5
Rate Beer – 3.69/5
Mac's Untappd – 4.5/5