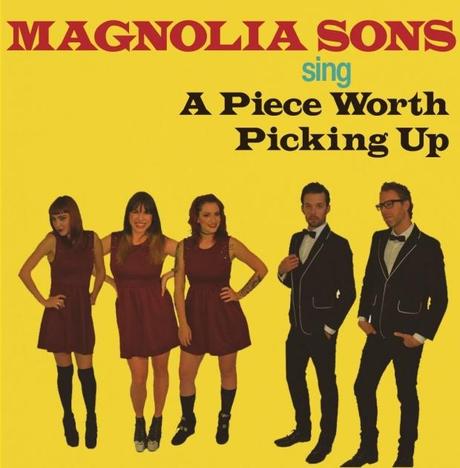 Magnolia Sons – A Piece Worth Picking Up
SoundCloud
From a very young age, oldies radio was my mainstay. While my friends sang along to pop radio in 1995, I was obsessing over the pop radio of 1965 — not because I thought I was above it, but because I wasn't allowed. My parents were/are very conservative and didn't want me being exposed to the "blatant sexuality" that modern pop promoted (don't worry, I snuck and listened to that dirty pop aka *N Sync). My earliest memories of being super obsessed with music consist of calling up our oldies station and requesting Simon and Garfunkel or The Beatles so I could add them to my latest mix tape and memorize all the words. I explain all of this to say that when I heard Nashville's Magnolia Sons for the first time a few days ago, I felt entirely at home.
Magnolia Sons are an 11-12 piece "super group" who make throwback pop of the sweetest 1960s variety. Featuring an obligatory horn section and pretty lady backup singers, you can almost hear their pastel tuxedos and go-go boots. The lead vocalist's crooning hints at an affection for rock and roll, but, for the most part, their sound as a whole stays mainly in classic soul and pop territory. The best part is — they fully commit. Where other retro-themed bands might reference the sound or the style of the 60s, Magnolia Sons go all the way. Even the love they sing about is the pre-sexual revolution "nobody but you" sort vs. the "give me everything tonight" sort, i.e., everybody was having sex, but nobody was talking about it (…yet. Oh, Elvis. You and your vulgar pelvic thrusts!). Consequentially, the music reflected mainly the sentimental side of love, leading them to say things like, "Listen, baby, don't know how you got the notion, but, baby, take it slow," which happens to be the opening line of Magnolia Sons' recent single "A Piece Worth Picking Up", a Motown-drenched piece of perfection in which they don't miss a single authenticating detail, and I love every second.
If The Shangri-la's and The Temptations make you swoon, you've got to hear this. Listen to Magnolia Sons' latest, "A Piece Worth Picking Up," above and add some fine retro flavor to your day.