New to little Indiana? Subscribe for free to my RSS feed. Thanks for stopping by!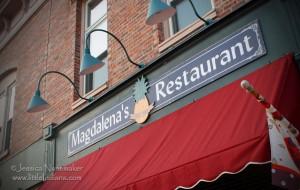 Corydon, Indiana: Magdalena's Restaurant and Cafe
Corydon, Indiana
Step through the front doors (under the pineapple sign) and enter this warm and cozy Indiana restaurant.
Magdalena's Restaurant and Cafe in Corydon, Indiana
little Indiana and family chose Magdalena's based on local suggestions. It didn't disappoint!
In business since 1991, Magdalena's Restaurant has quite the menu! But more than a restaurant, you can order coffee drinks and the like because there is a connecting coffee shop.
Hubs was super happy about that one. He didn't waste any time deciding on a coffee drink, either!
Magdalena's Restaurant Food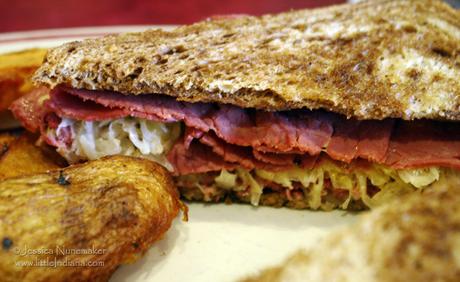 Corydon, Indiana: Magdalena's Restaurant Reuben Sandwich
Hubs ordered the Grilled Portabella Mushroom "Burger" which came with a side of Sweet Potato Patties.
I got the Reuben Sandwich, a lean cut topped with their own special sauce. What do you mean I never try anything new?
Joking aside, well, you know I can't resist a good Reuben Sandwich!
The kids were very happy with their order– Chicken Strips.
I wish I had noticed before that they had Pierogies! Oh my goodness would I like to try theirs! Oh, well. There's always next time!
Go There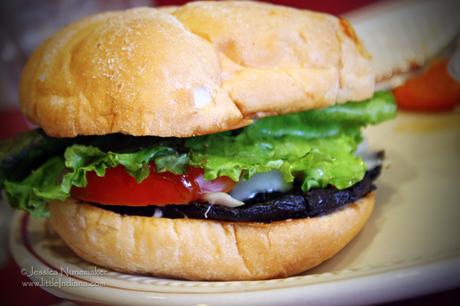 Corydon, Indiana: Magdalena's Restaurant Grilled Portabella Burger
A hometown staple, Magdalena's Restaurant and Cafe is a great dining option in Harrison County.
It's the kind of place that invites you to linger, have that extra cup of coffee, and enjoy yourself. What a great ending to our day!
Go There
Remember to tell 'em little Indiana sent you! Oh–and make sure to save room for dessert. I heard it's good!
See Magdalena's Restaurant and other pictures in Corydon, Indiana on my Flickr photostream.
Magdalena's Restaurant and Cafe
103 E. Chestnut Street
Corydon, Indiana 47112
812.738.8075

View Larger Map
little Indiana: Where to Stay, Play, and Eat in Small Towns in Indiana. Discovering Indiana's best small towns! Now get little Indiana on your Kindle.
Targeted. Relevant. Affordable! little Indiana advertising!