Madras café is not just another Bollywood masala story with 2-3 item numbers thrown here and there. This movie is thought provoking, emotionally shaking, patriotic and deeply connecting you to the political front of the nation.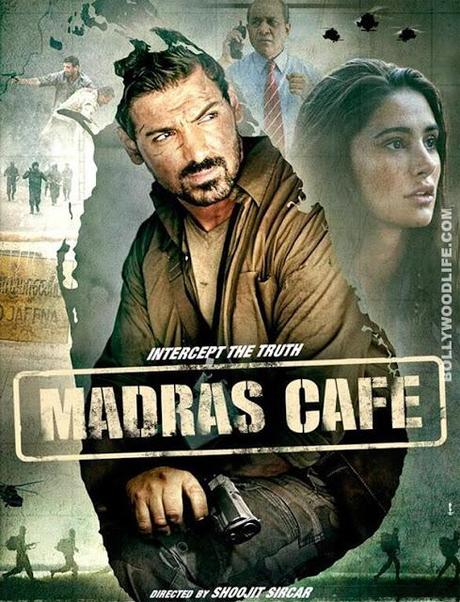 Cast:John, Abraham, Nargis Fakhri and Rashi Khanna
Director: Shoojit Sircar
The movie begins under the backdrop of Lankan wars and the innumerous innocent killings that took place then. The reel is quite made out of real photographs and you cannot believe your eyes when you see few of them. The entire story runs in a flashback mode well put by a now drunken John Abraham who pays regular visits to the church since a long time.
Soojit Sircar has made a very beautiful attempt at staying true to the facts and keeping a well-balanced nature between the imagination and the fiction.
Though thrpught out the film we are aware that there is a assassination that is going to take place, those who are good at history even know how and when…even then this movie will keep you glued to your seats. You want to know what happens next and how it happened.
There is no hero or villain in the film. John has played the hero but he is not given a larger than life role like the normal Bollywood films (people die here realistically even with 2 bullet shots…unlike most of the Bollywood films where they are alive even after pouring half a kg of iron into them). Everyone here has an important role. The film doesn't show excess of anything.
It has hit the bullets eye while keeping it realistic. The film sticks to its genre of political drama without any unnecessary romances, love triangles, songs etc. its right to the core and is not beating around the bush and that keeps the viewer's interest intact. Everyone has acted well and has not overdone or underdone anything which would spoil the flow of the film.
This movie showcases a volatile piece of Indian history. Some of the images are still alive in some generation across the nation. It leaves us with a thought that what do we gain at the end of

 

a war and who wins. It's always the civilains who lose at the end of each war.
Rating:

 

5/5 
That is because it sticks totally to its genre. This movie might not be for everyone but for those who are a part of this genre will love it.