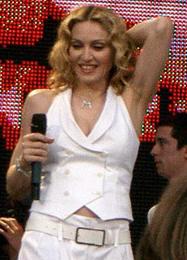 Image via Wikipedia
Madonna Fans Rejoice: New Album Due in Spring 2012 | Billboard.com.
Madonna says that she's "started a little bit of work in the studio" for the forthcoming album and will continue recording in "New York, until the end of the year" when she returns to the United States. The entertainer began working on the album officially on July 4, as confirmed by her manager Guy Oseary, via a tweet. That day marked her "1st day in the recording studio for the new album."
To read more click above.