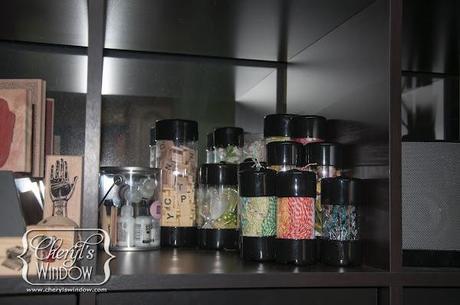 This shelf was full with boxes and assorted containers holding only a portion of what it now holds and I apologize that I forgot to take a picture.  I was so excited when I figured out what I was going to organize with these Viewtainers, that I got busy sorting and filling and forgot to take a before picture.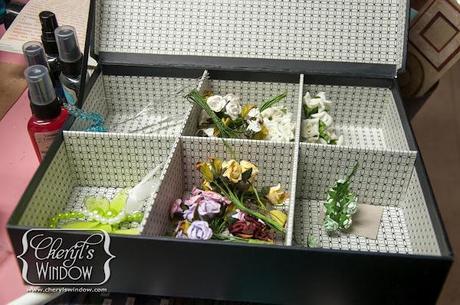 This is one of the boxes that was on the shelf.  While I love the divided box, I was stacking other things on it and kept forgetting about these little flowers I had stashed.   With the clear Viewtainer, I can now see all my little doodads in a glance, which means I'll use them.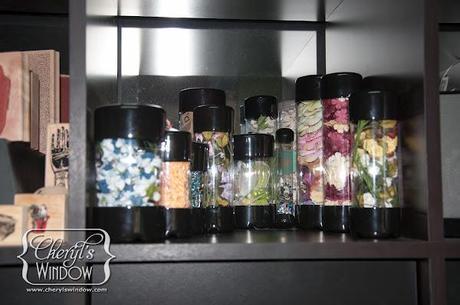 I spread them out here so you could see more of what I have stashed in there.  Lots of Prima flowers of all sizes.   Extra game pieces, tiny flowers, dragonflies, bling stems, extra gems, tiny flowers and twine all contained in various sizes of Viewtainers.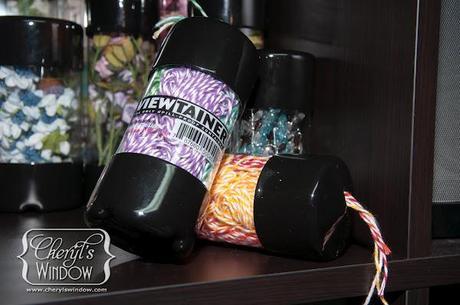 Brilliant planning went into these.  I love that the top can be squeezed to dump out a little scrabble tile, or give me space to pull out one flower or bling stem.  However, I also loved that I could put twine in a Viewtainer and thread the end out of the slit.  I can pull out and cut just what I need.   I can easily view what is in my Viewtainer collection now and it looks like I have enough room that I can order some more and continuing organizing my stash!
The Viewtainers have a variety of uses.  My husband had a few in the garage that he is storing screws and bits in.  My daughter snatched one to keep change in her car contained.   What would you store in a Viewtainer? Please visit their Viewtainer FaceBook page and tell them I sent you and what you would store in a Viewtainer.
Thanks for stopping by,