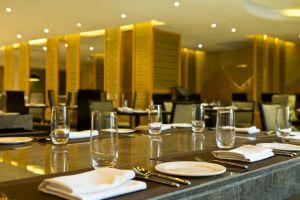 It was somewhere towards the fag end of 2013 that "Made In Punjab" restaurant opened its doors in DLF Cyber Hub, Gurgaon with a view to showcasing the cuisine of notable regions in the erstwhile Princely State of Punjab such as Amritsar, Lahore and Peshawar.
With no shortage of Punjabi food lovers in Delhi - NCR and given the reputation for serving good food that Massive Hospitality (the group beyond Made in Punjab) has, there was never a doubt that Made in Punjab would become a success.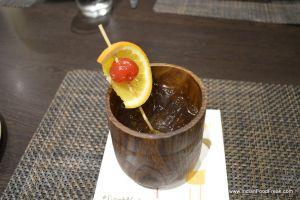 And now, slightly over two years later, the menu of Made in Punjab has been revamped though some of the old favourites have been retained.
For starters, the presentation of the menu is looking more funky now with Hinglish (Hindi and English) names, chat and Chinjabi food (Chinese which is not authentic but with a Punjabi twist) has been added and there is a kid section called Garbarh.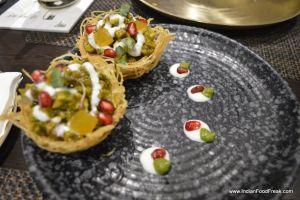 My friend and I started with Tokri Chat, an edible, deep fried, grated potato basket with a pre-tossed chat of potatoes, colacassia, sprouts, corn, cottage cheese, kala chana, sweet aam papad (dehydrated mango pulp) in chutney and curd and garnished with pomegranate seeds. Beautiful presentation and takes you immediately to the street of Delhi famous for chats.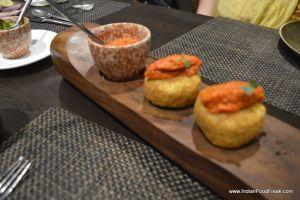 Next was Lol Tikki with smoked tomato chutney - a six hour slow cooked pulled lamb seasoned very well with a little tangy hit of raw mangoes which is panko crusted and deep fried. The coarsely chopped tomato chutney was one of the best that I have ever had - garlicky with a little tang.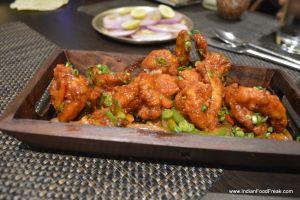 Prawn Chili Fry was from the Chinese section. This was a take off on the popular chili chicken. Again very well made with batter fried jumbo prawns tossed with julienned onion and capsicum in Chinese sauces. This would make perfect accompaniments to drinks.
Tha Fish Fry was sole fish batter fried crisp. It was kind of bland and I felt it needed a nice marinate to uplift the taste. I would also have preferred Singhara fish.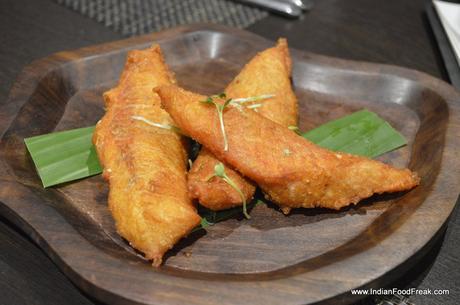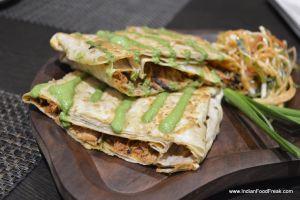 Raan Pockets - twelve hour slow cooked lamb with onion, yoghurt and various spices. The lamb was to die for - slow cooking had as if infused each fibre of lamb with flavour. But what went wrong with it was that lamb was served inside a roomali roti in a pocket and not rolled like a kathi kebab. Not only was it a messy affair, but half way through, the roomali roti disintegrated because it had got wet with the chutney. Maybe if pita bread was used as was mentioned in the menu, it would have held its own. Nevertheless, a must try dish for the raan.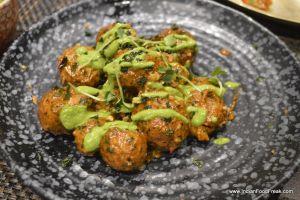 were baby potatoes boiled, deep fried and tossed in a lovely thick sauce. From the first bite, you get hooked on to them till you finish them. It can be made better if they are a little crushed. This way the potatoes will not retain the water and will become more crisp. Chef took our suggestion and agreed that this way they taste better. Perhaps they will tweak their recipe to incorporate our suggestion.
Nalli Hard Kaur - slow braised kid lamb shanks, bone marrow cooked in onion and yoghurt. This was simply a wow dish where the gluttonous marrow from the bones had thickened the gravy giving it an awesome flavor.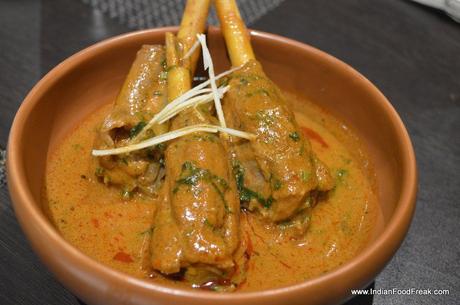 Fauji Chowk Di Chicken Curry - This dish should be tasted by all hardcore mutton lovers just to tempt them to convert to chicken One of the best chicken curries that I have had - make sure you do try it. The deep brown colour alone tells a story of really well caramelised onions with perfect spice balance and flavors.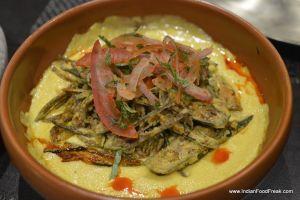 Kunda Dahi Bhindi - spiced ginger yoghurt karhi garnished with crispy, batter fried, ajwain tempered bhindi and seasoned raw onion. This dish would be loved by every Punjabi who loves his pakora karhi - only pakoras get replaced with crispy bhindi. A must try again.
Raan Yani - a subtle biryani made with pulled lamb from the raan. The fibre of the lamb gets mixed up with the rice and is not chunky pieces. Lovely innovative dish.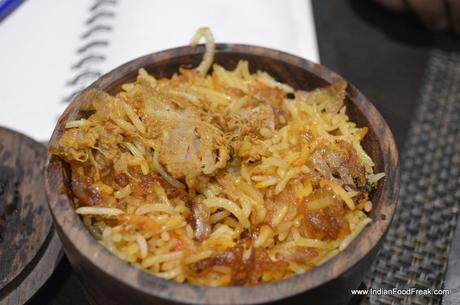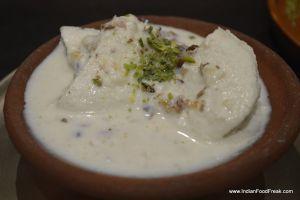 Ras "Dates" Malai - was ras malai sandwiched with chopped and soaked dates served in an earthen dish. At first, I thought it would be too sweet but it was very well balanced and not too sweet.
Gulaboooo - petite, soft gulab jamuns served on a rose baked yoghurt. The baked yoghurt had fresh rose petals embedded in it which was a pleasant surprise.
Overall, some interesting twist to the menu and the introduction to the Chinjabi dishes gives one more reasons to revisit Made in Punjab once again.
Ratings (Out of 5)
Meal For Two: Rs2000 | Wheel Chair Friendly: Yes | Credit Card: Yes | Alcohol: Yes
Address: Made In Punjab, 6-7 Ground Floor, Cyberhub, DLF Cyber City, Gurgaon | Phone: 0124-4949605, +91 8130911899
Disclaimer: This review was done on an invitation from the restaurant. Due judgement and care has been applied by the author to remain objective and unbiased in the review, but readers need to consider this review keeping this fact in mind.