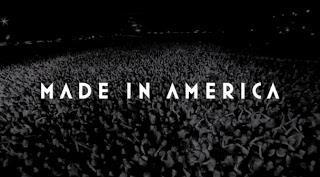 The time has come for the second rendition of
Budweiser's Made in America Music Festival
. By the way, if you're going, get used to see "Budweiser" everywhere. The commercialism here is insane. But if you can get past it, you're sure to have a good time.
Let's get right into it.
Expect:
1. Heat & Rain.
2. Massive Crowds (approx. 80,000 people)
3. Commercialism (Duracell, Bud, and others will be everywhere. Try to ignore it)
4. Overpriced food and beverages.
5. In spite of that, an overall positive crowd overall and great live music.
Here are my picks for acts I'm very excited to see for the first time (Yes, there are conflicts. No, I don't as of yet know how I'm going to handle them):
1.
Deadmau5
(Saturday 9:30-10:30 Liberty Stage)
2.
Phoenix
(Saturday 8:30-9:30 Rocky Stage)
3.
Imagine Dragons
(Saturday 6:30-7:30 Rocky Stage)
4.
A$AP Rocky
 (Saturday 3:15-4 Rocky Stage)
5.
Beyonce
(Saturday 10:30-midnight Rocky Stage)
6.
Porter Robinson
(Saturday 7-8:15 Freedom Stage)
7.
GTA
(Sunday 5:30-6:30 Freedom Stage)
8.
Emile Sande
 (Saturday 4-4:45 Liberty Stage)
9.
Wolfgang Gartner
(Saturday 8:15-9:30 Freedom Stage)
10.
Gaslight Anthem
(Sunday 3-3:45 Rocky Stage)
*Note -
Calvin Harris
&
Kendrick Lamar
have proven themselves to me already. Go see them too. I'm skeptical of
Macklemore & Ryan Lewis
, but happy to give them a shot, and
Wiz Khalifa
disappointed me once before in Camden in 2011, but who knows. Maybe he's changed.
Are you tired of seeing "music festival tips and tricks?" Yeah, me too cause they're all generic and obvious, but here's a quick and dirty list specific to MiA Fest.
1. Take Septa
. Seriously. I know this may seem like a no brainer, to some, but a
no way
 for others. But honestly, why would you bother driving? If you do drive, drive to a random neighborhood on the outskirts, and take the train or subway to Suburban Station. It just makes sense, you won't get grumpy trying to find parking, you won't pay an arm and a leg for parking, and you boost city revenue, not just some dude who is collecting $30 to park for the day in his unmonitored lot.
2. Camelbak
. There's free water, take a Camelbak, or a generic version. Don't make a rookie mistake.(PS, pack it with small snacks to sneak in with. It's a long day and food is expensive)
3. Towel
. To sit on, wipe off sweat, protect from sun, any of all of the above. Not a big ass beach towel, think hotel towel. Something cheap you can throw over your shoulders and you don't mind getting ruined.
4. Go see a band you've never heard of.
Or two. They may surprise you. I've found some of my favorite bands by seeing them live even though I had no previous knowledge of them.
5. Use port-o-pottys that are in the shade.
Think about it... got it? Okay good. Let's continue.
6. Don't expect greatness from hip hop acts
. I love hip hop. But it's hard for a rapper to put on a good live performance. That having been said,
Jay-Z
and
Run DMC
were amazing last year. But other than that... eh. From experience, go see
Kendrick Lamar
. He's the real deal
.
But I cannot vouch for the likes of
2 Chainz
, or
A$AP Rocky
. I'll check them out, and you should too, but don't get your hopes up to be wowed.
7. America
. Wear something that's goofy and American. Why not? It's an American holiday weekend. It's the Made in America festival. Let's celebrate.
8. Get there early
. Don't be a Miami Heat fan and just come while the action is already going. This isn't a popularity contest where you get cool points for showing up late. Get there around 2, check out the likes of
HAIM
and
Walk The Moon
, and some little guys. It'll be the closest to the stage you get all day.
9. Pace yourself
. Since you've taken my advice and gotten there early (right?) you definitely want to take some breaks throughout the day. There are picnic tables and plenty of trees with shade. Chill out for a while. If there's not someone you're dying to see, have a seat by a tree close to the stage. You'll still be able to hear them but you'll give your legs a break. (Can you tell this wasn't written by or for an 18 year old, yet?)
10. Be responsible
. For yourself and your friends. No one likes that guy. Wear a smile, pass it on, do good, help strangers. Seriously
Posted in: A$AP Rocky,Beyonce,Calvin Harris,Deadmau5,Emile Sande,Feature,Gaslight Anthem,GTA,Imagine Dragons,Kendrick Lamar,Macklemore,Made in America,Phoenix,Porter Robinson,Wiz Khalifa